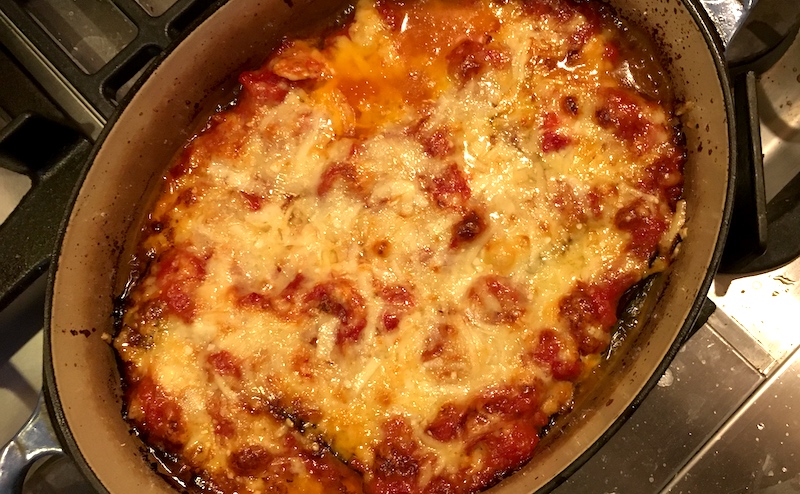 Nothing's better on a crisp, blustery fall day than something cheesy, melty and creamy. Grilled cheese sandwiches with a steaming bowl of cream of tomato soup. A multi-layered lasagne infused with sauce, mushrooms and meat, its edges crusted with caramelized cheese. An eggplant parmesan, the meltingly tender purple-rimmed slices stacked in their casserole as carefully as a fieldstone wall, held together by roasted tomatoes and parmesan.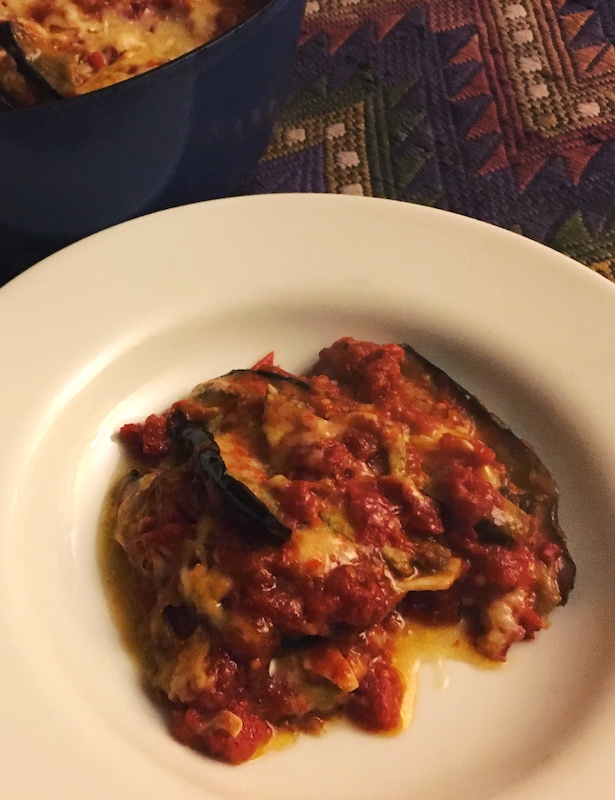 My go-to recipe for eggplant parmesan was one from "The Cooking of Italy," part of the Time-Life "Foods of the World" series that my mother had subscribed to when I was a child. It calls for salting the sliced eggplant to draw out moisture, then frying the slices in olive oil. It says to somehow limit the amount of oil, a task I've found impossible since the slices soak up oil like a shaggy dog in the rain. Plus it takes way too long to do, at least for this impatient cook.
That was when I started searching online and found a recipe by Food52's Nancy Jo that called for roasting the slices in the oven, which made much more sense since I could cook all of them at once. (Thanks, Nancy!)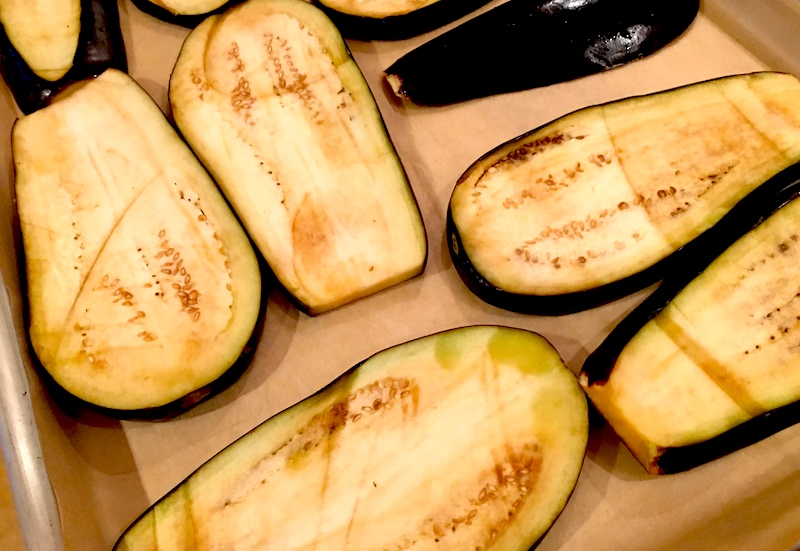 The Time-Life recipe is extremely simple—other than its time-consuming eggplant prep—only calling for five ingredients: the eggplant, salt, flour, tomato sauce and cheese. I dispensed with the tomato sauce recipe it uses, since at the time it was published, cooks like my mother would have used little cans of not-very-flavorful industrial tomatoes that required some "doctoring" (another common phrase back in the day). I had my roasted Astiana tomatoes that require no zhooshing other than a few slices of garlic.
I had picked up some aged provolone to accompany the Parmegiano Reggiano and Pecorino Romano we always have on hand, so those were mixed and layered with the roasted slices and sauce. The result was a bubbling, rich, gooey, hearty casserole that I think my mom would have approved of.
Eggplant Parmesan
3 lbs. eggplant
6 oz. Parmigiano Reggiano, Pecorino Romano and/or aged Provolone, grated*
1 qt. roasted tomatoes
3 garlic cloves
Flour
Salt
Preheat oven to 450°.
Slice eggplants lengthwise into 1/4" slices. Salt both sides and place in single layer on paper towels to drain, at least 30 min. Pat dry and dredge in flour, knocking off extra flour that may be clinging to the slices. Line baking sheet(s) with parchment and lay the eggplant slices on the sheet in a single layer, lightly drizzling them with olive oil. Bake eggplant slices for 15 min., then flip slices over and bake another 15 min. Remove from oven and reduce oven heat to 400°.
While eggplant bakes, slice garlic cloves thinly. Heat olive oil in small skillet over medium heat. When the oil shimmers, add garlic slices and heat briefly, then add roasted tomatoes. When sauce just begins to boil, reduce heat and simmer.
Oil casserole or baking dish. Add a thin layer of tomato sauce in the bottom of the dish. Place a single layer of eggplant slices on it, then a thin scattering of grated cheese, then another layer of sauce. Repeat until all the eggplant is used, then top with a final layer of sauce and cheese.
Bake for 30 min. at 400° until bubbling.
* Can be a mix of any of these cheeses, though I used roughly half provolone, half Romano/Parmesan. Also (note to self) a smoked, aged provolone might be, as they say in Italian, perfetto!
Posted on October 26, 2019