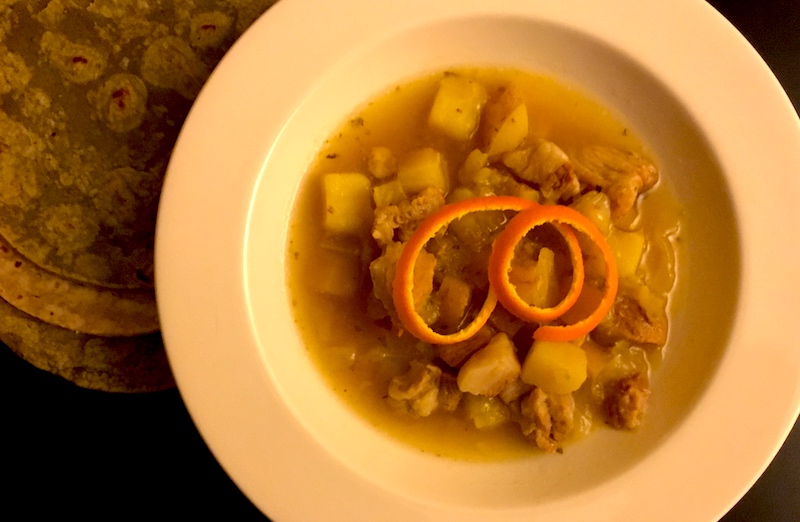 As often happens around my house, this soup recipe came about on a chilly winter night when I didn't have any particular plan for dinner. Which means I started rummaging around in the fridge looking for inspiration, hoping desperately that I wouldn't have to make a trip to the store.
Fortunately there was a smallish chunk of pork shoulder stashed in the meat drawer, a couple of potatoes in the veg bin and half an orange left over from a batch of granola I'd made earlier in the day. Hmmm…maybe carnitas…
The problem? Without that dreaded trip to the store, there wasn't going to be enough to make carnitas tacos for three hungry people. But then it occurred to me that adding pork stock to make a hearty soup—a go-to winter dinner around here—would be a cinch. With tortillas from Three Sisters Nixtamal alongside, this was a simple dinner-on-the-fly recipe that would be fit for company served with a big chicory or winter greens salad.
¡Buen provecho!
Sopa de Carnitas
1 1/2 lbs. boneless pork shoulder, sliced into bite-sized pieces
1 qt. pork or chicken stock
2 c. water
1 onion, cut in 1/4" dice
3 large cloves garlic, roughly chopped
1 tsp. dried oregano
2 bay leaves
1/2 tsp. ground cumin
1/2 orange, cut in quarters
1 tsp. kosher salt plus more to taste
2 yellow potatoes, cut into 1/2" dice
Put all ingredients except potatoes into Dutch oven or soup pot and bring to a boil. Reduce heat to simmer and cover. Simmer for 2 hours until meat is very tender and starting to fall apart.
Remove orange pieces and bay leaves. Add diced potatoes and simmer for 30 minutes until tender. Add salt to taste and serve.
Posted on February 15, 2020