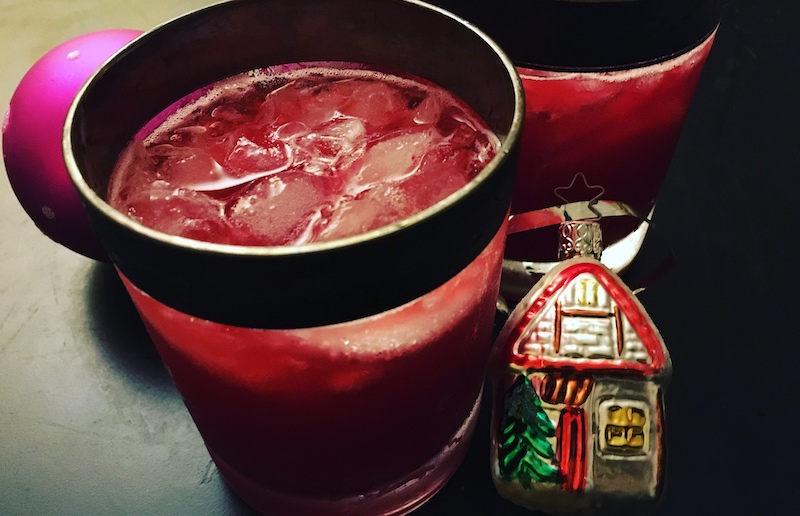 Syrups made from seasonal fruit have become a passion, one way of preserving the distilled essences of the year to enjoy during the darker, rain-soaked days of winter in the Pacific Northwest. I've made syrups from rhubarb, persimmons, elderflowers and even fig leaves, which I'll splash into sprightly spritzers, cocktails and mocktails, often pairing them with whatever spirit seems appropriate, like bourbon, gin or tequila.
Recently my friend Lynne Curry posted a ginger-spiced cranberry syrup recipe on her Forage blog, calling it "the perfect mixer" and including a recipe for a Moscow Mule and another called a Cape Codder. Since I love the tang of cranberry almost as much as Lynne does, and locally grown, organic fruit is plentiful at farmers' markets and greengrocers this time of year, I thought I'd take advantage and make some that might, with a little luck and forbearance, last us through the winter.
We've come up with three cocktails to add to Lynne's list. Do some experimenting on your own and let me know what you make!
Ginger-Spiced Cranberry Syrup
1 lemon
1 c. granulated sugar
1 c. unsweetened cranberry juice
2 c. fresh cranberries
2, 1/4-inch thick slices unpeeled fresh gingerroot
Take the lemon and with a vegetable peeler, cut six 1/2" wide vertical zests about 2-3" long.
Combine the sugar with the cranberry juice in a small saucepan. Bring to a boil over medium heat, stirring to dissolve the sugar. Reduce the heat and simmer for 5 minutes to make a simple syrup.
Remove from pan from the heat and add the lemon zests, cranberries and ginger. Cover and steep for at least 15 minutes.
Puree the cranberries and the ginger in the pot with an immersion blender or use a food processor. Pass the mixture through a fine meshed strainer into a storage jar. Discard the solids. You'll have 1 1/2 cups (12 oz.) cranberry simple syrup.
---
Cranberry Margarita
Makes one cocktail.
2 oz. tequila
3/4 oz. lime juice
3 oz. cranberry syrup (see recipe, above)
1/4 oz Cointreau or triple sec
Salted rim (optional)
Lime wedge (optional)
Put tequila, lime juice, syrup and Cointreau into shaker half-filled with ice. Shake 30 to 40 seconds. Pour into old-fashioned glass containing amount of ice desired.
---
Cranberry Old-Fashioned
Makes one cocktail.
2 oz. rye
1 oz. cranberry syrup (see recipe, above)
2 dashes angustura bitters
Orange twist for garnish (optional)
Combine ingredients in a shaker filled with ice. Shake 30 to 40 seconds. Strain into an Old-Fashioned glass with fresh ice. Garnish, if desired, with orange twist.
---
Cranberry Hot Toddy
Makes one hot toddy.
For the syrup:
4 Tbsp. cranberry syrup (see recipe, above)
3, 3" strips orange zest
3 black peppercorns
2 whole cloves
1 star anise
For the cocktail:
2 oz. bourbon
4-5 oz. boiling water
1/2 oz. lemon juice
In a small saucepan bring the syrup, zest and spices to a bare boil, then reduce the heat and simmer 15 min. Strain solids.
In a mug or appropriate toddy cup, add strained syrup to the bourbon, hot water and lemon juice. Stir.
Posted on December 15, 2021