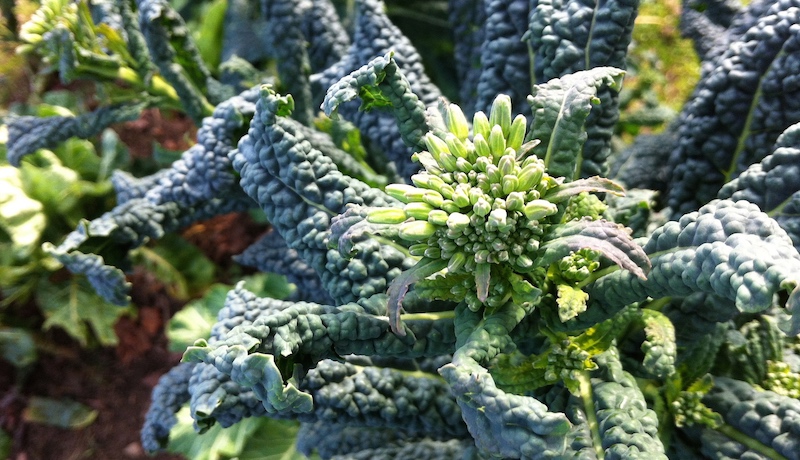 "For people who love greens, this is the best time of the year."
- Josh Alsberg, Rubinette Produce
I've said that the only thing that keeps me from weeping crocodile tears at the end of chicory season every year is the appearance of those bundles of flower sprouts called, variously, raab, rabe or rapini at my farmers' market.
Quoting Ginger Rapport of the Beaverton Farmers Market from the post linked above:
"Cruciferous vegetables are vegetables of the family Brassicacae, known as Brassicas or Crucifers. They include: cauliflower, broccoli, mustard greens, arugula, bok choy, kales and cabbages to name a few. Rapini and broccoli rabe are close cousins and are often used interchangeably. They are in the same subspecies as the turnip, hence they have the characteristically slightly bitter taste of this group. They do not form the large heads that we see in broccoli.

"The flower buds of brassicas from the turnip family are often referred to as rabe, or raab, derived from rapa, which means turnip in Italian. This time of the year, you will find the rabes of many types of brassicas in the market—kale, mustard greens, Brussels sprouts, turnips, bok choy and Chinese cabbage."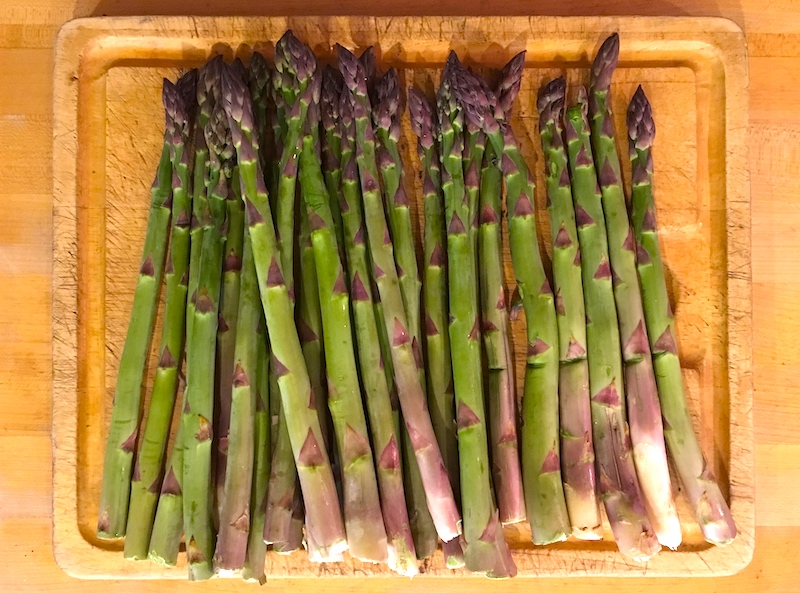 As is my habit at the beginning of every season, I called on Josh Alsberg of Rubinette Produce to get the 411 on what to look for at local farmers' markets in the next month or so.
While it feels a bit early, Josh said we are seeing local asparagus appearing, albeit in limited quantities until Easter weekend, so those who simply must have some, get thee out of bed at the crack—or "butt-crack" as my friend Clare Carver refers to it—of dawn to wait in line at your preferred farm's booth, because it will sell out quickly. Alsberg got 250 pounds of early asparagus into the shop from Middleton Six Sons Farms in Pasco, Washington, and it sold out almost immediately.
And those early spears? He said they had marvelous flavor, "nice'n'snappy," and admitted that early season asparagus, as with many crops, is usually the best in terms of having more robust flavor. And if you see spears that have a slight kink or bend in them? Alsberg said it's most likely caused by windy conditions in the field—spears will bend into the wind rather than swaying with it, causing them to have a bent appearance. Who knew?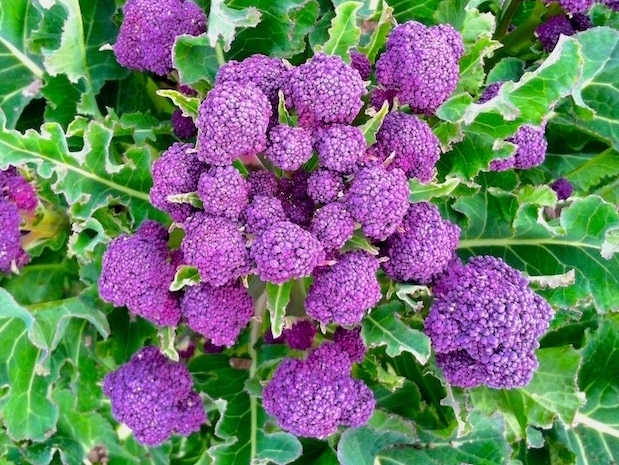 In addition to green asparagus, the purple version will also be available, along with purple sprouting broccoli—aka PSB—an overwintered crop that is planted in the fall. Like many purple-tinged vegetables, the color will disappear if it's boiled or steamed so, next to serving it raw, either roasting or sautéing is your best bet for retaining that gorgeous color.
Other greens to look for include arugula, sorrel, fava tops, pea shoots, and mizuna and other mustards. Gorgeous, vibrant heads of green, red and speckled lettuce will be showing up by the end of the month for your spring salads, and herbs like cilantro, parsley and chervil have already started popping up.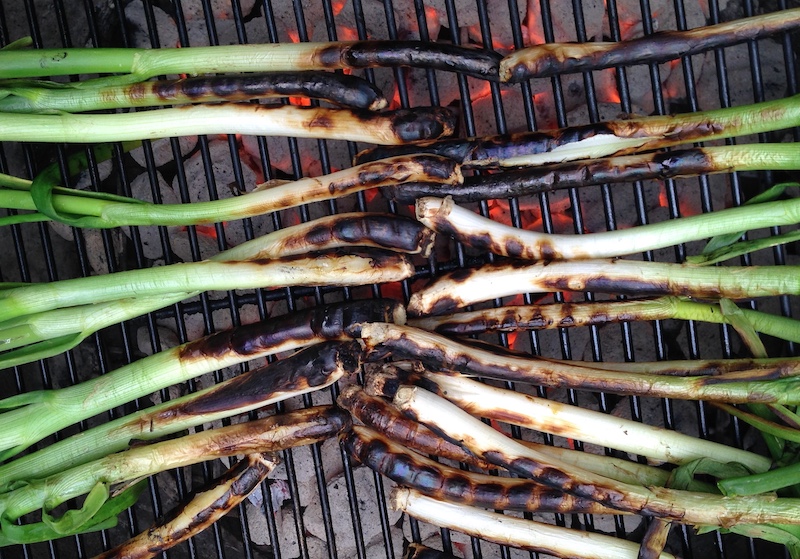 Alsberg notes that spring alliums are appearing on local farms' lists, so start pulling out your recipes for green garlic, spring onions and their Spanish cousins, calçots (left). (Get a recipe for grilled calçots with salbitxada sauce from a calçotada we attended.)
Foragers are already finding nettles, miner's lettuce (Claytonia perfoliata), fiddleheads, wild flowering onions and oxalis in their favorite hunting grounds, so those wild delights will be showing up by the baskets-full at local markets soon, too.
And because it comes up every year, I dutifully asked Alsberg when we might be seeing the first decently flavored local strawberries of the season. "Possibly by Mother's Day [May 8]," he said, noting that he's heard rumors the season may be delayed because of "weird" spring weather patterns. "But definitely by Memorial Day."
Posted on April 6, 2022