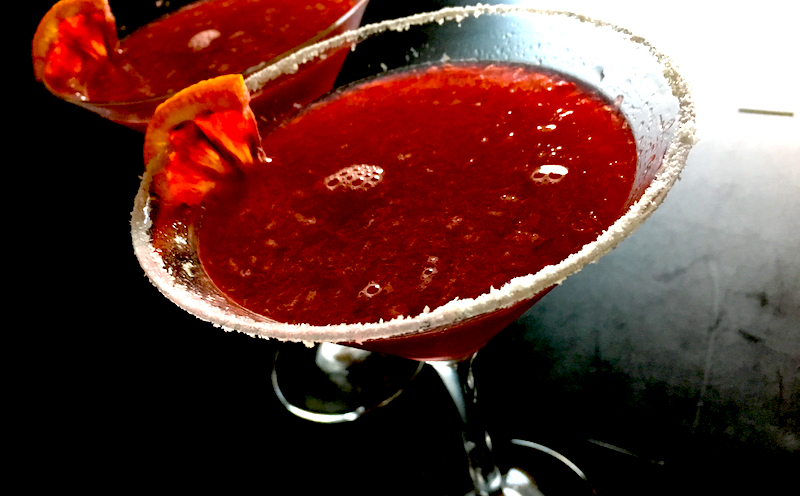 It's like a soupçon of waking up on Christmas morning when I was a kid. Or seeing crocuses blooming in the stubbly, scant grass of a city parking strip. That frisson of excitement that tells you good things are on the way.
That's how I feel about citrus season, that tart, sweet interlude that brightens the leaden skies of winter and whispers in my ear that spring is just around the corner. So when we knocked on the front door of our friends' home the other evening and it opened wide with an invitation to come in the kitchen for a just-mixed blood orange margarita, we had to restrain ourselves from engaging in a full-on footrace.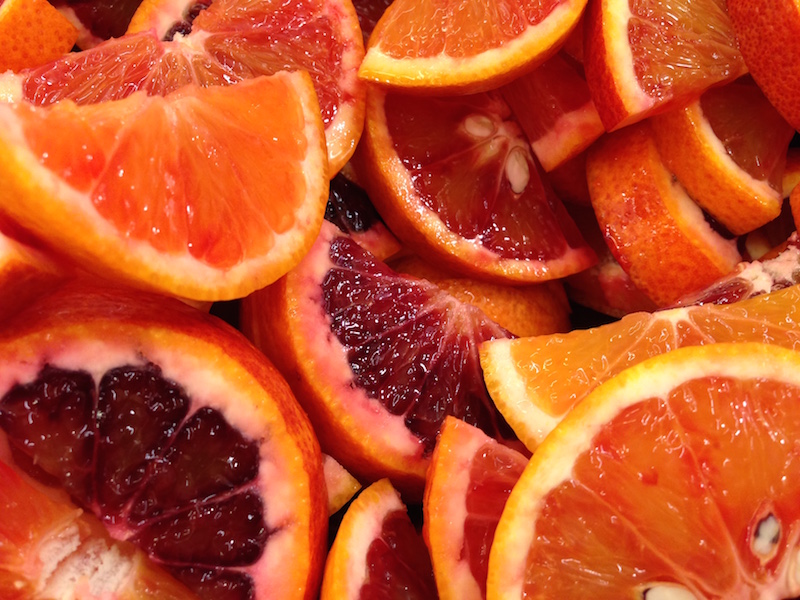 A natural mutation of the orange, which itself is theorized to be a hybrid between a pomelo and a tangerine, the red flesh of a blood orange is due to the presence of anthocyanins, pigments common to many flowers and fruits, but uncommon in citrus fruits. (Thanks, Wikipedia!) The flavor is less tart than many other citrus fruits, with a distinct raspberry-like note.
The recipe below would be wonderful for a small gathering mixed right before serving, but you could also make a pitcher for larger crowds and shake the drinks up in a cocktail shaker or, even easier, serve over ice with slices of lime or blood orange.
Blood Orange Margarita
Adapted from a recipe by Michael Schoenholtz.
Makes two cocktails.
3 oz. reposado tequila
3 oz. fresh-squeezed blood orange juice (straining out pulp optional)
1.5 oz fresh lime juice
1 to 1 1/2 oz. triple sec, Cointreau, or Grand Marnier (can vary depending on sweetness of oranges)
Salt the rims of two martini glasses (if desired).
Fill shaker two-thirds full of ice. Add all ingredients, shake for 30-40 seconds. Strain into glasses and garnish with orange wedge.
Posted on March 15, 2019