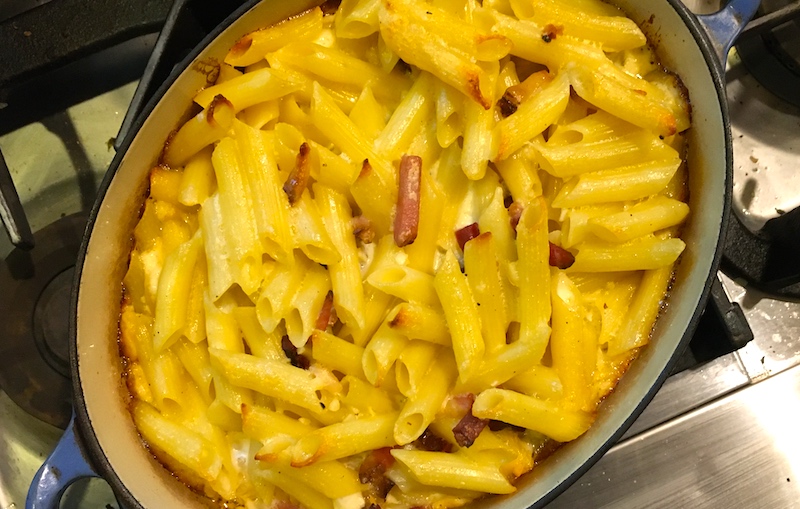 In stressful times like we're in now, where even the smallest effort can seem strangely exhausting and where fear threatens to become a constant companion, I crave the familiar, whether it's my favorite sweatshirt—because, really, who bothers to get dressed up any more?—or the lovely aroma of good food baking in the oven, with the promise of a delicious meal soon to emerge.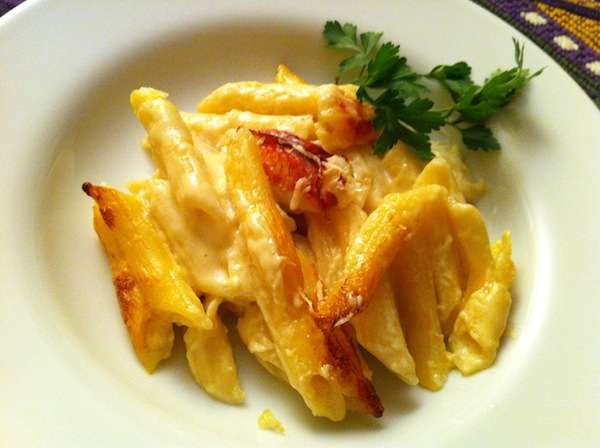 Anything hot and creamy and filling will do, and for me that often takes the shape of a casserole, that standby of my mother's generation that filled her three kids' bellies for a relative pittance. Classics like macaroni and cheese or tuna casserole would come courtesy of a box or with help from a can—we considered cream of mushroom soup part of the glue that held our world together—and could be put together in a few minutes. Then it was popped into the oven for a half hour or so, enough for her and my father to put their feet up and share a glass of wine.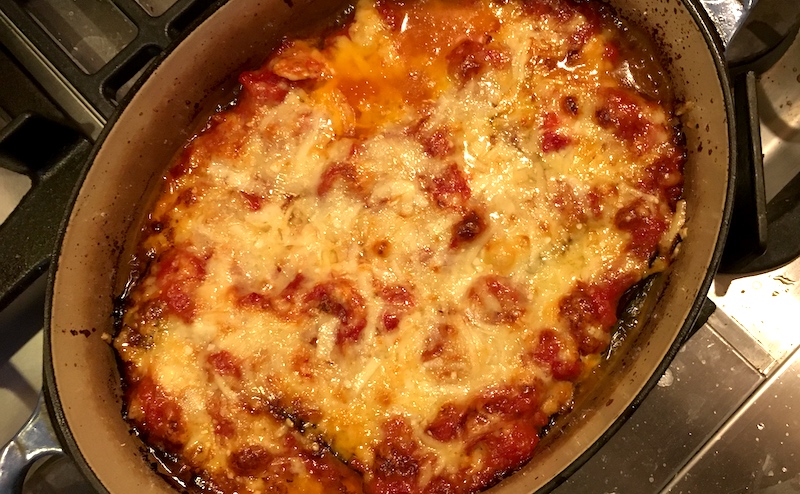 These days I tend to eschew the boxes or cans (so long, Kraft and Campbells!) and make my sauces from scratch, but I still duck into the pantry for staples like pasta or tuna or cornmeal. Knowing what goes into my food rather than trusting a giant corporation to look after my family's health over their bottom line means the preparation might take a few minutes longer, but I still get that blessed half hour while it bubbles away, coming out crisp and creamy and steaming to the table.
Below is my recipe for the creamiest macaroni and cheese I've ever had and a family staple made with cheddar from a local small farm. It's infinitely mutable: I've made versions with bacon and garlic (top photo), salmon and crab, and even a version with pimiento cheese.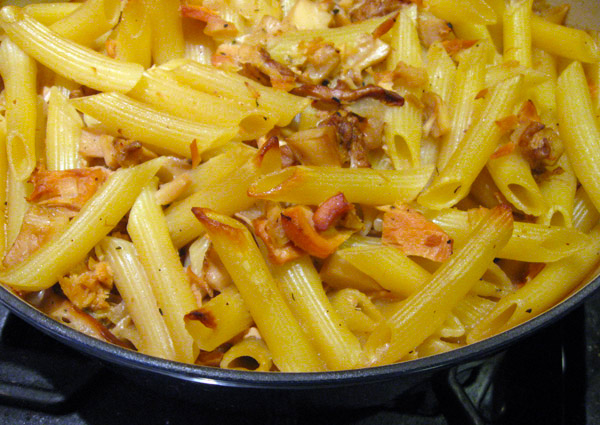 You can also check out my version of classic tuna casserole made with foraged mushrooms that works just as well with button mushrooms from the store. Then there's a fabulous eggplant parmesan that is so sumptuous it's perfect as a main dish yet extremely simple to prepare—and vegetarian, even! And another regular from my childhood, a tamale pie that I make from pasture-raised hamburger, corn I froze from the summer and cornmeal ground and grown an hour's drive from the city.
I hope you're staying safe and healthy, and that these recipes bring a measure of comfort to your tables and your lives. Enjoy!
Creamy Macaroni and Cheese
1 lb. dried pasta
4 Tbsp. butter
4 Tbsp. flour
2 c. milk
8-12 oz. aged cheddar cheese, grated*
8 oz. cream cheese
1/2 tsp. hot pepper sauce
Salt and pepper to taste
Boil large pot of salted water. While water is heating, melt butter in medium-sized saucepan. Remove from burner and add flour, stirring to combine. Place saucepan back on burner and cook on low heat for 1 minute, stirring constantly. Add milk gradually, stirring/whisking until thickened, then add cheese in handfuls, stirring until melted. Add cream cheese and stir until sauce is thick and creamy, then add hot sauce with salt and pepper to taste. (The sauce should be slightly saltier than you'd normally make it, since when combined with the pasta it will tend to make it taste less salty.)
Add pasta to boiling water and cook till al dente. Drain and put back in pasta pot, add cheese sauce and stir gently to combine. Transfer to baking dish. Bake in 350 degree oven 30 minutes.
* I like a couple of sharp cheddars made locally, and recommend Face Rock Aged Cheddar and TMK Creamery Cheddar. Also Organic Valley Raw Sharp Cheddar and Organic Valley Grassmilk Cheddar are excellent.
Posted on May 2, 2020