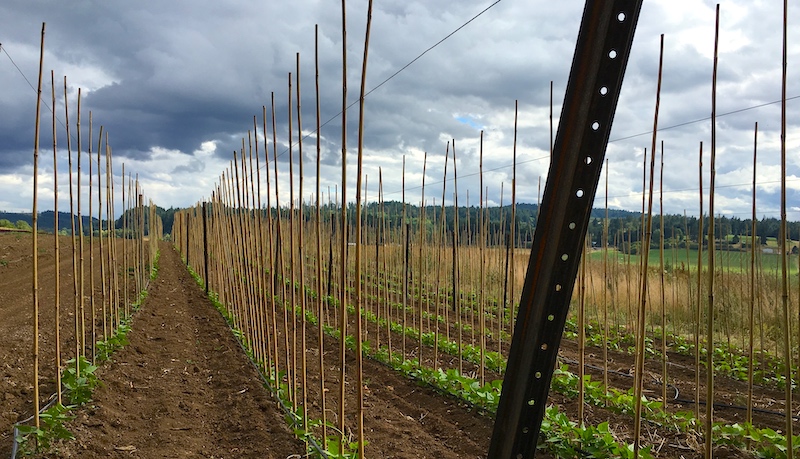 I've seen folks posting pictures on their social media feeds of some early season grains and produce from Ayers Creek Farm, so I was glad when the following update from contributor Anthony Boutard arrived in my in-box.
Around this time of year I receive inquiries regarding the upcoming season. Might as well get a jump on the questions. Here is how things look in the field.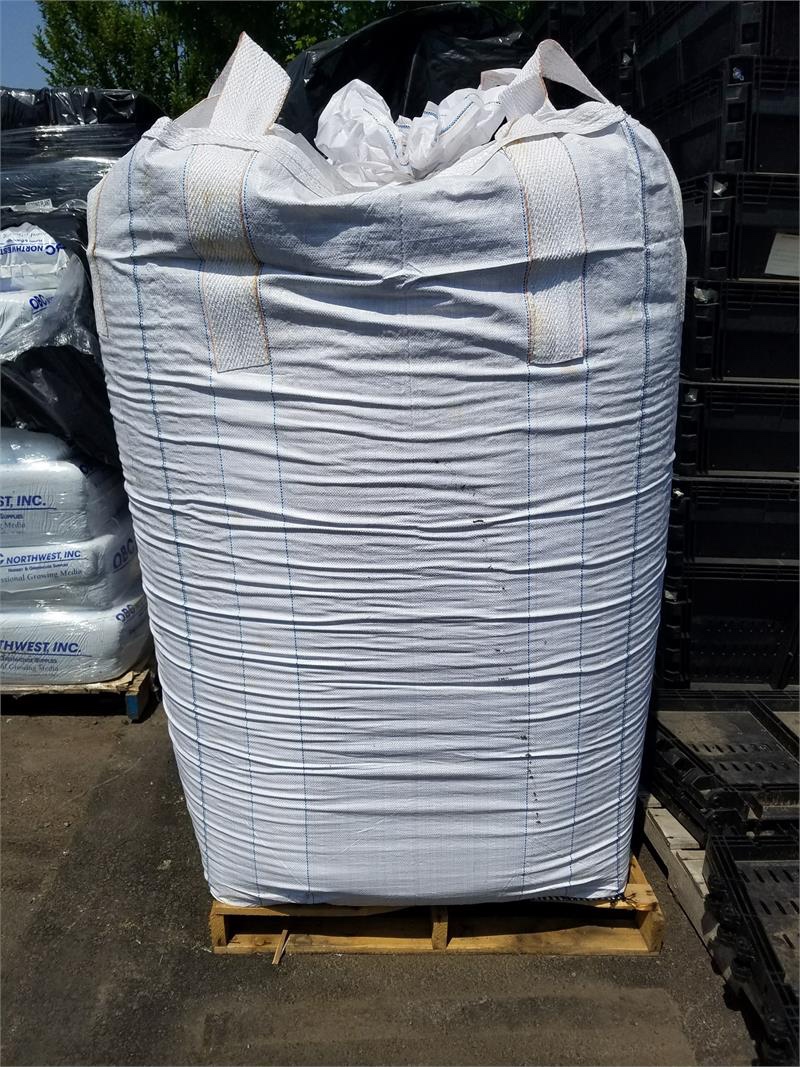 After dealing with last year's disastrous brand name starting mix, chronicled earlier, this year we purchased our potting mix from OBC Northwest. OBC, once the Oregon Bag Company, morphed into supplying greenhouse supplies when cleaning and reusing bags became a historical artifact. No lofty claims advanced by creative artwork on the package (below left). It is a simple and generic organic mix in a plain white tote which we supplement on our own by adding some bonemeal, kelp, humic acid and supplemental wetting agent.
The wetting agent allowed in organic farming is derived from yucca and is a very important component of the mix. In soilless potting mixes, the yucca extract promotes the even wetting of the peat and compost. At transplanting, it keeps the area around the roots moist so they will grow easily into the surrounding native soil. As the yucca extract is an organic compound, it is perishable, breaking down over time, rendering the mix stale after a few months. At that point it is nearly impossible to resaturate the soilless mix properly. The water just passes through as in a sieve, though it is not obvious that the mix has not absorbed adequate water. Refreshing the wetting agent is an insurance policy. The other problem with last year's mix was low-grade compost. The company was obviously cutting corners to meet demand.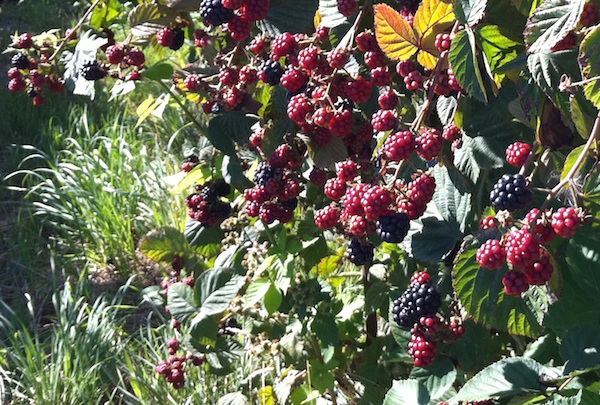 The peppers and tomatoes are now in the field and look great. The first run of direct sown crops—the corns, beans and chickpeas—are in the ground as well. The rain has come at the right times. Mustard, durum and soft red wheat are sown in November, and are also in fine shape. Sometimes a planting season will, by chance, progress smoothly, much in the same way as a Saturday delivery run when we happen to be in the van for every aria in the Met's broadcast of La Boheme. Some years, on the other hand, are a challenge, a delivery with no relief from unsatisfying driving music.
The pollination of the perennial fruits occurs April through June. For the small fruits, the crop looks excellent. Prompting us to buy another freezer to increase production of Loganberry and Boysenberry preserves. Plums and apples have a good set. The cherries were in bloom during several frosty nights and the crop is sparse, noncommercial. The Chester blackberry bloom is beginning, the hives were placed last week, and this run of dry, warm weather is helpful.
In early May, we were inspected for compliance with the rules of the National Organic Program (NOP). This is our 20th year as certified organic growers. The first four years preceded the NOP, and compliance was measured against the standards laid out by the International Federation of Organic Movements (IFOAM). Every few years, the certifying agency decides they need to bust you for something. Predictable and infuriating, but nothing personal.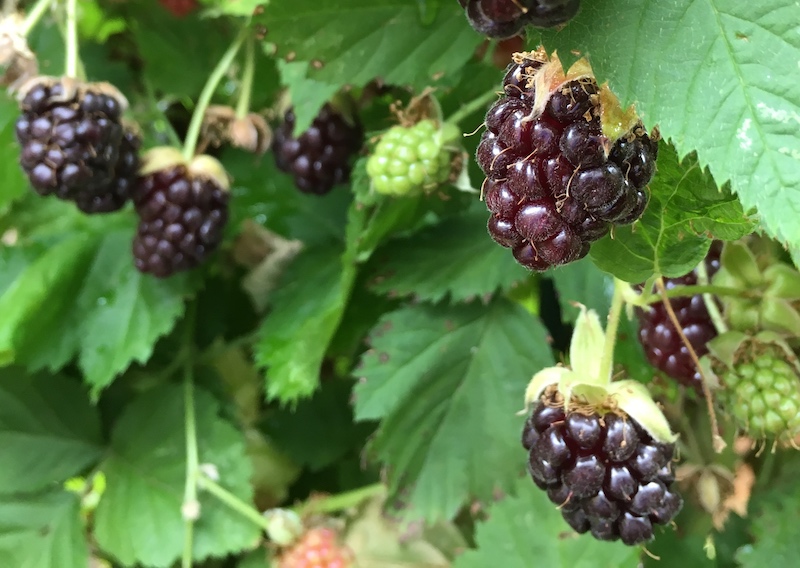 This year, our certifier decided that we needed to have an Organic Handler Plan in addition to the Organic Crop Plan. Never mind that every crop we sell is grown by us, and every detail required in the handling plan is already covered in the crop plan, making the handler plan a pointless redundancy. As an aside, it is very hard to be a commercial farmer who does not handle the crops they grow. For 19 years this was deemed sensible by a succession of reviewers and inspectors, but now it is obvious to a new inspector that has never seen seen our farm that we might be perpetuating an epic fraud.
With a well-articulated snarl, the handler plan was submitted. Apparently, a big potential for fraud was averted as a result. Now we have to put a sticker in the bags denoting the lot number. Simply adding "Lot number 2018" will placate the bean counters. Without a handler plan, this fraud preventing measure would have gone uncorrected. Navigating life, it is best not to get hung up on these arbitrary indignities.
We will be scheduling some open days again this year, coinciding with the early cane berry ripening, the first week for the Chesters, early September for the Astianas and grapes, an early October date, culminating with days before Thanksgiving and Christmas.
In between, Josh Alsberg at Rubinette Produce (2340 NE Sandy) maintains a good selection of our goods—fresh and dry. Jim Dixon at Real Good Food also carries some odds and ends in his new store on NE Couch at 10th.
Posted on July 7, 2019