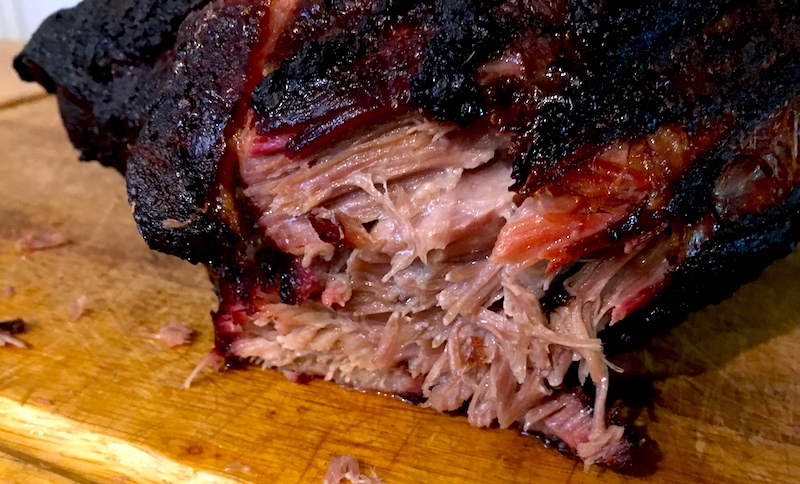 When I invited two of my favorite Italian restaurant owners over for dinner, the last thing they were going to hear from me was, "Wait until you try my risotto. I think you'll love it!"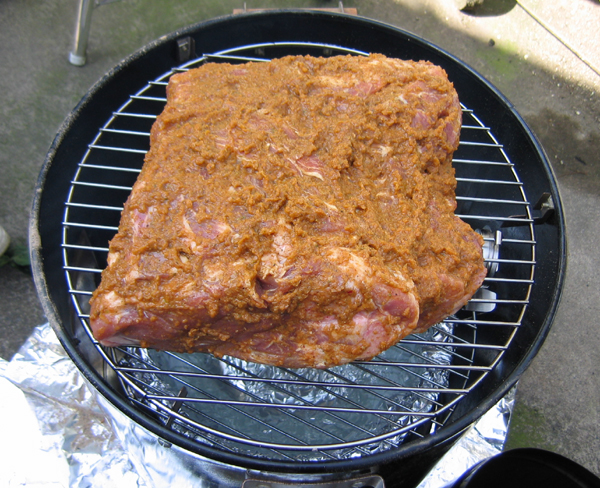 So I went in a completely different direction, to the small island east of Cuba that was hammered so mercilessly by Hurricane Maria a little less than two years ago, an island filled with our fellow American citizens who are still all but ignored in the sturm und drang of our current national crises du jour.
It's hard to find this island's cuisine represented on our local dining scene, and while the flavors of cumin, garlic and chile are found in many Latin cultures, I thought it might be fun to make a dinner based on a Puerto Rican theme. Plus we love their take on pork shoulder, a dish called pernil that, though delicious when roasted in an oven or even on a grill, takes on a whole different character when left for several hours in the smoker.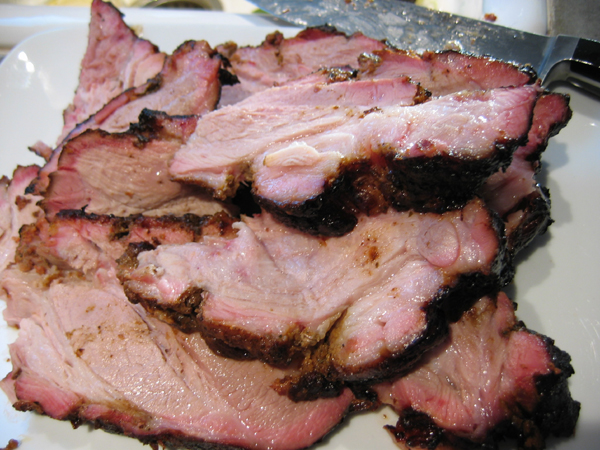 With Dave primed to spend his day, beer in hand, tending the fire, I needed to come up with a side that would fit in. It just so happened that I had some black turtle beans from Anthony and Carol Boutard of Ayers Creek Farm in the pantry, so I put them on to soak while I did a little research.
Similar to the black beans I make for taco nights at home, traditional preparations start with a sofrito of onions, garlic, cumin and chile powder, then add in chopped peppers, splashes of wine and vinegar, and chopped olives. These are best simmered for several hours, allowing the beans to get buttery-tender and for flavors to meld into a rich, stewy whole, so I put them on first thing in the morning. Cooking them overnight in a 250° oven would work, too, the only problem being you'd wake up wanting to make huevos rancheros after breathing in the heady aroma of the cooking beans all night.
Dave, of course, did his usual magic with the pernil, allowing the pork to roast low and slow, swathed in the smoke from the mix of charcoal and fresh oak. And the beans got their share of raves, along with sincere thanks from our friends, who, like most chefs I've cooked for, are just grateful to have someone cook for them for once!
Pernil
Adapted from Mark Bittman
1 pork shoulder, 4-10 lbs.
4 or more cloves garlic, peeled
1 large onion, quartered
2 Tbsp. fresh oregano leaves or 1 Tbsp. dried
1 Tbsp. ground cumin
1 tsp. ancho or other mild chili powder
1 Tbsp. salt
2 tsp. freshly ground black pepper
Olive oil as needed
1 Tbsp. wine or cider vinegar
Lime wedges for serving.
Heat oven to 300 degrees or prepare a fire in the smoker, allowing it to reach a stable temperature of 250-275°.
Score meat with a sharp knife, making a cross-hatch pattern. Pulse garlic, onion, oregano, cumin, chili, salt and pepper together in a food processor, adding oil in a drizzle and scraping down sides as necessary, until mixture is pasty. Blend in the vinegar.
Rub this mixture into pork, getting it into every nook and cranny. Put pork in a roasting pan and film bottom with water or, if smoking in the smoker, place it on a rack above a pan of water. Roast pork for several hours until an instant-read thermometer reads 180°. [Our 10-lb. shoulder took 6 hrs. - KB]. Add more water to the pan as necessary, until meat is very tender.
Let meat rest for 10 to 15 minutes before cutting it up; meat should be so tender that cutting it into uniform slices is almost impossible; rather, whack it up into chunks. Serve with lime.
---
Puerto Rican-Style Black Beans
1 lb. dried black beans, rinsed thoroughly
3 Tbsp. extra virgin olive oil
1 large yellow onion, chopped
2 poblano peppers, chopped in 1/2" pieces
4 to 5 garlic cloves, crushed
2 tsp. ground cumin
2 tsp. oregano
4 c. water
3 bay leaves
1 Tbsp. salt, plus more to taste
2 Tbsp. red wine vinegar
1/2 c. dry white wine
1/2 c. green olives stuffed with pimentos, thinly sliced
The day before cooking, soak beans overnight in large pot with water covering them by at least 3". The next day drain them and rinse. Set aside.
Heat oil over medium-high heat in large Dutch oven. Sauté onions until translucent, stirring frequently. Add chopped peppers and garlic and sauté until tender. Add cumin and oregano and sauté 30 seconds. Pour in water and add drained beans, olives, bay leaves, vinegar, and white wine. Bring to a boil, reduce heat to simmer and cook, covered, for at least 2 hours. Check occasionally to make sure the beans aren't dry. If they are, add more water.
When beans are tender, if beans are too soupy remove lid and keep simmering until liquid is reduced. Remove bay leaves, turn heat down to warm until ready to serve.
Posted on June 14, 2019