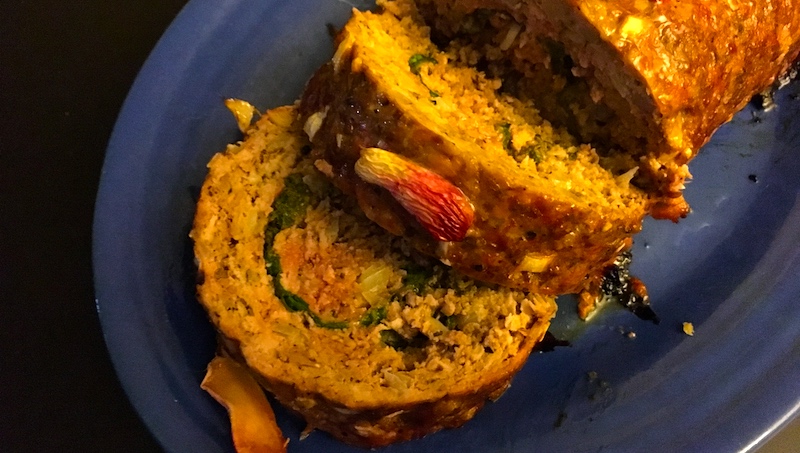 Do you ever get an idea in your head and it just sits there, occasionally tweaking your brain with that "now what was that" niggling feeling? That was the case when I was thawing out some pasture-raised hamburger from Carman Ranch the other night, wondering whether to make burgers—we had leftover homemade buns in the freezer—or a marinara with pasta, or tacos or…meatloaf?
That's when it hit me. That idea I'd toyed with at some point in the misty past to make a meatloaf with the usual sofrito of onions and garlic, binding it with eggs and oats, but then flattening it out, filling it with with greens and rolling it up like a jelly roll.
How would I roll it up? Would it stay together or crumble into a mashy mess? There was only one way to find out.
Fortunately, my neighbor Bill had gifted me some radishes from his garden with their gorgeous greens still attached, and we had some leftover grated Parmesan from a risotto I'd made the night before. The rest, as they say, was history.
Rolled Meatloaf with Greens and Cheese
3 Tbsp. olive oil
1 onion, chopped fine
3 cloves garlic, minced
1 1/2 lbs. hamburger
1 1/2 lbs. ground pork
2 eggs
1/2 c. rolled oats
1 Tbsp. dried herbs (I used a combination of basil, oregano and thyme)
2-3 c. greens, sliced into chiffonade (I used radish greens, but kale, spinach, chard or any other greens would do.)
1 c. finely grated Parmesan
Preheat oven to 375°.
Heat olive oil in medium-sized skillet over medium-high heat. When it shimmers, add chopped onion and sauté until tender. Add garlic and sauté briefly until aromatic. Take off heat and allow to cool.
Combine hamburger, pork*, eggs, oats and onion mixture in a large bowl. (I mix it using just my fingers so the meat stays crumbly and doesn't get clumped together.) Form the meat into a loose ball in the bowl.
Lay out a sheet of parchment paper or plastic wrap about 15" long on a cutting board. Put the meat in the center of the sheet and start pressing it out until it's about 3/8" thick. Sprinkle it with the cheese and the greens in an even layer. Take the long edge of the sheet and start rolling it, repairing any cracks with your fingers, peeling away the sheet as you roll. Close up each end by patting the meat over the exposed edges.
When it's rolled up completely, transfer seam-side down to a sheet pan that's lined with parchment. Bake in a 375° oven for 40-50 minutes until instant-read thermometer inserted in thickest part reads between 140-150° (cookbooks all say 160°, but I find that results in drier meatloaf, so you decide for yourself). Remove from oven, tent with foil and allow to rest for 15 min. Slice and serve.
* I like a combination of beef and pork, since it seems to me to make a moister loaf, but all-beef is perfectly fine, too.
Posted on June 18, 2019