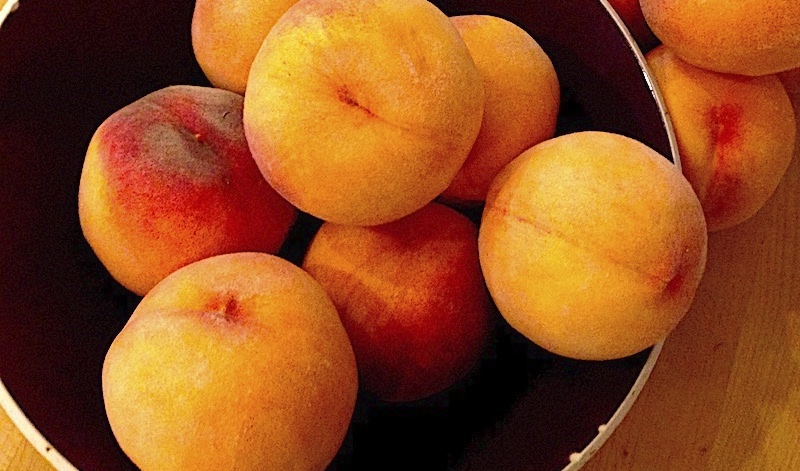 In this week's Beaverton Farmers Market newsletter, Market Master Ginger Rapport sent some very timely advice on choosing and preparing the peaches that are tumbling in from our area orchards. Since I have six of these beauties sitting on my counter slowly ripening, and a promise from Dave that they'll be made into some juicy, sweet delicious pastry item, it seemed appropriate to share her recommendations.
The peach originated in China, and the Chinese believe the peach tree to be the tree of life. The peaches are a symbol of immortality and unity. In America, we like them simply because they are juicy and delicious. They are the third most popular fruit grown in the States. Here at the Beaverton Farmers Market, they are synonymous with summer, and are at their peak right now!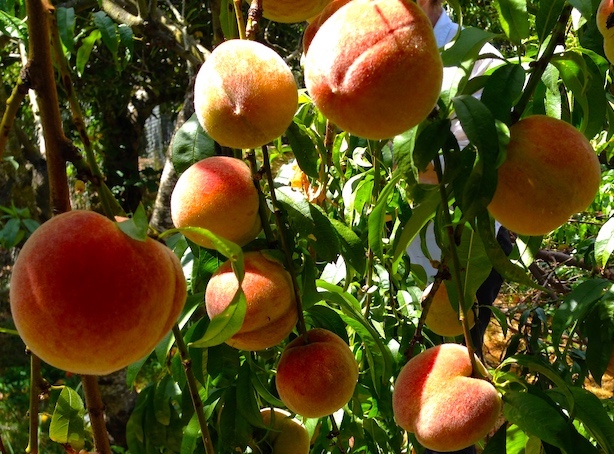 Among its many attributes, a medium peach is a mere 37 calories and is high in vitamins A, B, and C. Because a fully ripe peach is delicate and easily bruised, you will often find them sold just "under-ripe." To fully ripen your fruit, place them on the counter in a brown paper sack, folded closed, for two or three days. (Do not try this in a plastic bag. As the fruit respires, it gives off moisture which will collect on the plastic bag and cause the fruit to rot.) The ripe fruit will be soft and fragrant. Refrigerate them at this point.
Peaches come in two categories—cling or freestone. The flesh will either cling to the pit or easily pull away. Depending on what you will do with it, make sure you know which kind you are buying. A cling variety will thwart your efforts if you plan on cutting them in half to place on the grill.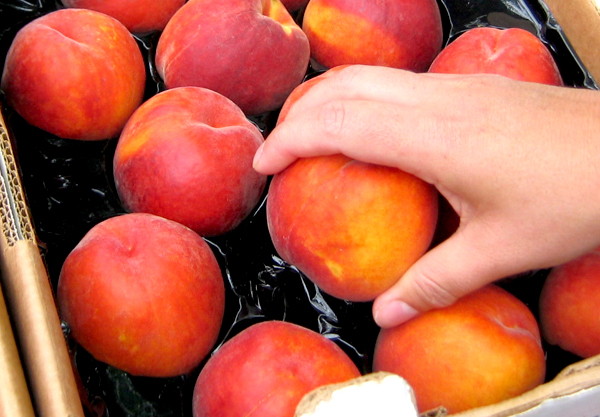 Like the plum and the apricot, peaches are members of the rose family (Rosaceae), distinguished by their velvety skin. If the peach fuzz bothers you, try rubbing the fruit with a terry handtowel after washing, it will diminish the feel of the fuzz on your mouth. Of course, you could also choose to purchase nectarines instead if the fuzzy skin bothers you.
Nectarines and peaches are nearly the same genetically, but a gene variant between the two causes peaches to have fuzzy skin and nectarines to have smooth skin. As a result, peaches and nectarines have a similar flavor profile and can be used interchangeably in recipes.
Should you wish to peel a peach, nectarine, or tomato for that matter, either for eating or cooking, we recommend the following method:
Make a small X in the bottom of the peach with a paring knife. Immerse in a pot of boiling water for 20 – 30 seconds or until the skin splits. Be careful not to over-boil, or you will start cooking the flesh. If the skin never releases, your fruit isn't ripe enough. Remove from water with a slotted spoon and place in a bowl of ice water to stop further cooking. Next, remove the skins, which should easily slip away.

Once the flesh of the peach is exposed, it will begin to brown. Keep submerged in the ice water until you are ready to use it. Toss cut peaches with lemon juice to delay the browning process.
To find a plethora of peachy recipes—jams, tarts, sorbets, salads and even cocktails—just click here and here.
Posted on August 11, 2022