Fall is a contradictory season in the Pacific Northwest. We mourn the loss of long evenings on the patio with friends, but welcome the cooling temperatures at night—what my family calls "good sleeping weather." The breezy clothes and sandals get stashed back in the closet, but that means it's time to dig out our favorite sweaters and jeans from the storage bins under the bed.
We'll miss grilling steaks and big pans of paella over the fire, but the braising pot is singing its siren song of long-simmered pot roasts and spare ribs. Pea shoots and summer squash give way to corn and seafood chowders and hearty bean stews. And I can't forget the panoply of chicories that local farms are growing, from dark red radicchio and treviso to castelfranco with its paler-than-pale yellow leaves slashed with splashes of pink.
Josh Alsberg of Rubinette Produce put it bluntly. "Anything summer is over," he said without a trace of wistfulness. That's because it's high season for fruit from his favorite Northwest growers, from grapes to figs to pears, adding "we're headlong into apples."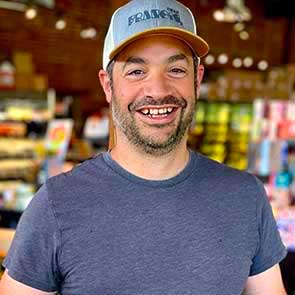 Word of his produce passion is apparently getting around, since he has been recognized by the International Fresh Produce Association for his work with local schools, choosing six out-of-the-ordinary varieties for a blind taste test with students. He demonstrated how to score the apples based on attributes like taste, crunch, density, and other factors. Then teachers turned the activity into math and health teaching opportunities.
As far as what you'll be finding at our local farmers' markets in addition to the apples, pears and figs mentioned above, Alsberg said it's time for winter squash to start rolling in. If you're looking for inspiration that'll take you beyond butternut's stranglehold, check for some terrific recipes from the Culinary Breeding Network's Eat Winter Vegetables team. When buying winter squash, Alsberg cautions to be on the lookout for soft spots and try to buy squash with the stem intact, since the absence of a stem is an invitation for mold to set in around the ring.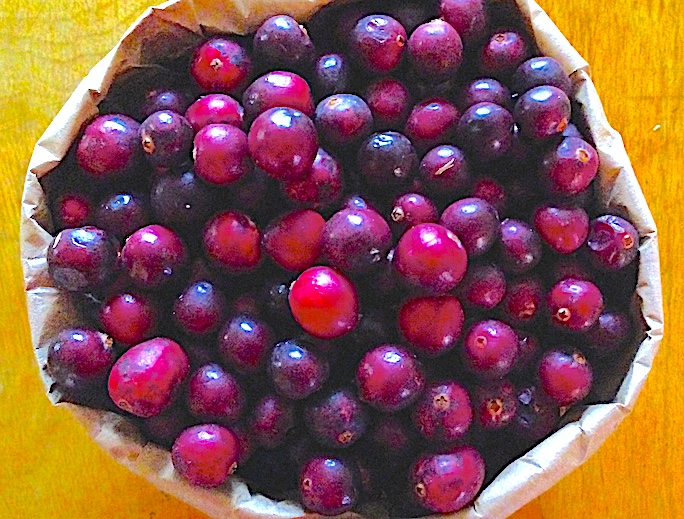 It may seem early but if you find local cranberries, buy them now rather than waiting. They freeze well and will be a their best for your holiday feasting. Why is it such a challenging year? Consolidation in the industry—hello Ocean Spray and giant Wisconsin producers—has driven prices down to the point where Oregon's once-thriving cranberry farms can't compete, and many are giving up their bogs entirely and getting out of the business.
The smell of peppers roasting will be wafting through the aisles at farmers' markets, with peppers ripening a bit later than usual this year due to our cool early summer temperatures. Alsberg is particularly excited about the new "Habanada" variety, described as the first truly heatless habanero, hence the haba-nada, get it? He added that it's a good year for the beloved Jimmy Nardello peppers, which seem to be sweeter this year.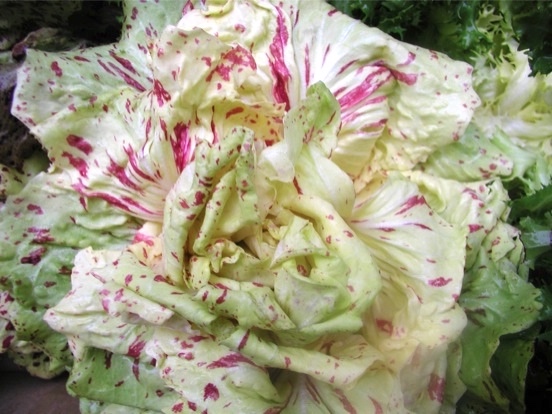 You'll find an early onset of chicories, which local farmers are adapting to debut in the fall rather than their usual appearance later in winter. Lettuces will still be available at least until the first frost, with watercress, spigarello and puntarelle on the way.
The roots are coming on strong as well, with hakurei salad turnips, radishes, rutabaga, sunchokes, carrots and zingy local celery that Alsberg refers to as "the adult version of celery." It's expected to be banner year for foraged mushrooms, with prices on the intoxicating golden chanterelles already getting into affordable territory, along with local porcini, matsutake and even truffles if we get an early freeze. Another caution: Alsberg advises buying foraged mushrooms from a reputable dealer since some porcinis have been found to be wormy—ask the vendor to cut into them if you have doubts.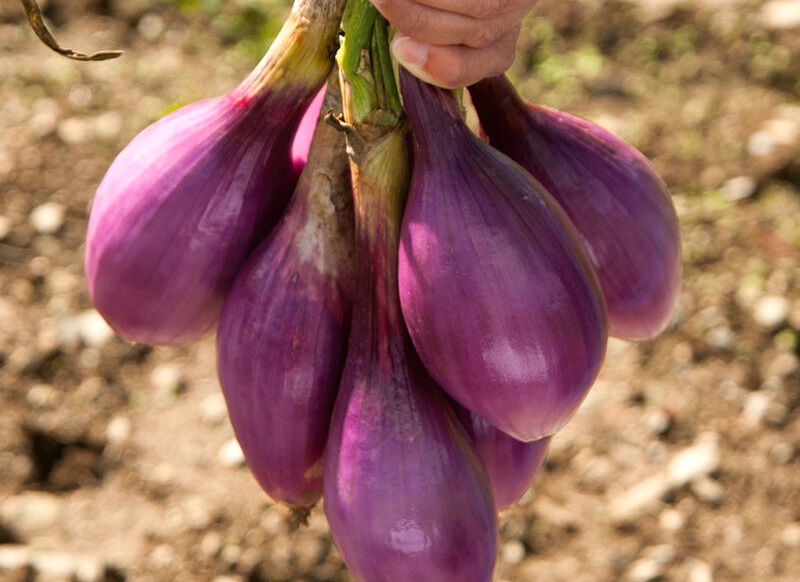 It is, of course, brassica season, time for brussels sprouts, romanesco, cauliflower in a rainbow of colors, its cousin fioretto, a sprouting cauliflower, and sprouting broccoli. Alsberg says local garlic in many new varieties is being grown and is worth taste testing to find your favorite, and you can now find locally grown ginger appearing on vendors' tables, a treasure for lovers of ethnic cooking.
Alliums abound for onion-lovers, with the mild, elongated tropea onion the fresh face in town that's turning heads on restaurant menus and foodie tables alike. Potatoes and different varieties of fingerlings are de rigeur this time of the year, as are leeks, fennel and "anything bulby" according to Alsberg, who's fond of a new-ish variety of beet called Badger Flame, a gorgeous flame-red, cylindrical beauty with concentric rings (similar to Chioggia beets) whose colors deepen as the season progresses.
All in all, a good season to get thee to your local farmers' market!
Photo of tropea onions from Johnny's Seeds.
Posted on October 12, 2023