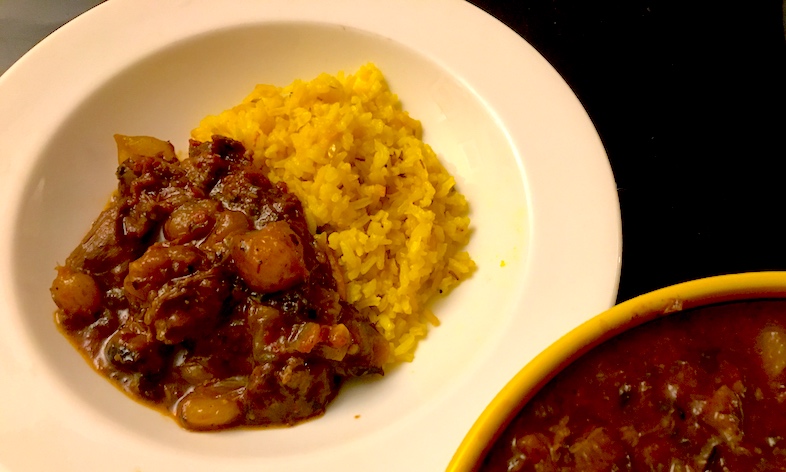 Call them stews or braises or, as New York Times food editor Sam Sifton termed this class of long-simmered, pot-cooked bellywarmers, "balms against winter's bite," there's nothing in a cook's repertoire more satisfying on a cold night. Whether cooked on a stovetop or in the oven, the house starts to feel warmer almost immediately, and as the meat is browned and the vegetables are sautéed, the aromas begin to make stomachs growl in anticipation.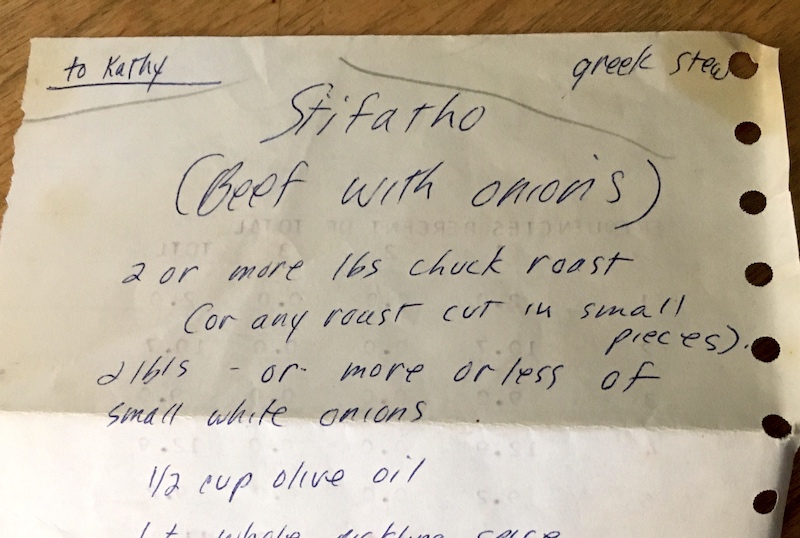 My first introduction to this particular stew was waaaaaaay back in high school when I became friends with a young woman who lived in our suburban neighborhood with its cookie-cutter ranch houses and striving white-collar families. Exotic in my stolidly middle-class experience, their house was littered with Balinese art and South Asian throws. Shelves of books rather than American colonial furniture were the focus of their decor, and when I was lucky enough to be invited for dinner they made curries and ethnic stews rather than noodle casseroles.
In other words, I was enthralled.
This all came back to me when friends—who've traveled extensively in Greece and are exotic in their own way—served us a Greek stew called stifatho that uses vinegar instead of wine or tomatoes to braise the meat, and calls for an equivalent weight of onions and beef. When I got home I dug through my trusty tin recipe box and found the original recipe from that family's home in high school—yes, I collected them even back then—and tinkered with it until it tasted just as I remembered.
Stifatho
(Greek Beef Stew)
3 Tbsp. olive oil
3 lbs. beef chuck, cut in 1 1/2" cubes
1/2-1 c. flour
3 lbs. pearl onions (approx. 3 14-oz. packages frozen) or 3 large yellow onions, cut in 1/2" dice
2 c. canned or roasted tomatoes
1/2 c. red wine vinegar
5 cloves garlic, minced
1 Tbsp. oregano
3 bay leaves
1 Tbsp. fish sauce
1 stick cinnamon (optional)
2 Tbsp. brown sugar or to taste
Salt and pepper
Preheat oven to 350°.
Heat oil in large Dutch oven over medium-high heat.
Put flour in a 1 gallon zip-lock bag with a generous amount of salt and pepper and shake to combine. Add 8-10 cubes meat to the bag and shake to cover them with flour, working in batches to do all of the meat. You only want a dusting on each piece, so shake them off to make sure they're not clumped with flour.
Heat oil in a large Dutch oven. When oil is hot, add floured cubes to the pan, making sure not to crowd them. Brown them well on at least two sides. This will require several batches, so as they brown remove them to a plate or bowl. When all the cubes are browned, put them back in the Dutch oven and add onions, tomatoes, vinegar, garlic, oregano and bay leaves. Place in oven for 90 minutes.
Remove from oven. At this point you can either serve it later or finish seasoning the stew. If you're making it ahead you can cool it and either keep it in the refrigerator or transfer it to containers and freeze it. When you're ready to heat it for serving, thaw it or pull it out of the refrigerator and remove the fat that has solidified and proceed as below.
To finish the stew, stir in the fish sauce and cinnamon stick and heat on the stovetop. Taste, adding salt as needed, and when you can just detect the cinnamon flavor, remove the stick or it will dominate the stew. If it's overly vinegary for you, start adding brown sugar a tablespoon at a time, stirring it in and letting the stew sit for a few minutes before tasting again, since the vinegar flavor will get milder as it rests. The thing you want to avoid is a baked-bean sweetness, so add a splash of additional vinegar if that happens.
Serve with rice—I made my turmeric rice with tangerine peels and it was fantastic—polenta or roasted potatoes.
Posted on February 23, 2022