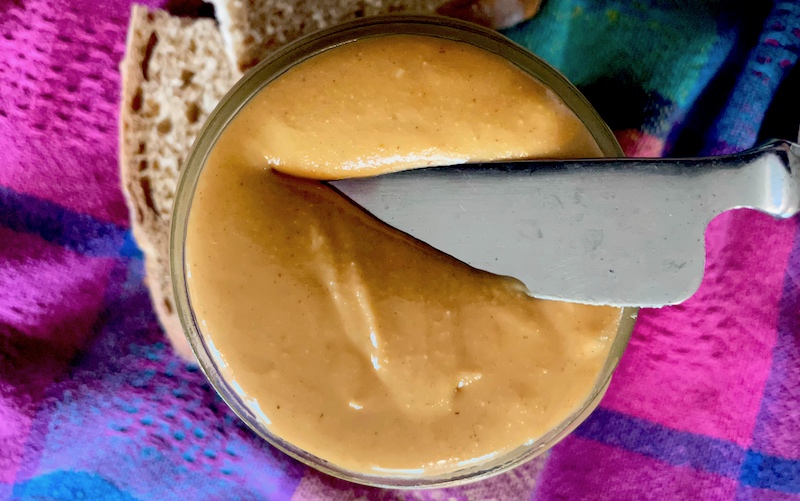 A random discussion with friends brought up the topic of peanut butter and how easy it is to make yourself, and I remembered this post from 2016.
It wasn't exactly like those dreams I used to have about not being able to find my school classroom on exam day. It was more like the moment I realized that the corn cobs I'd been throwing away for years after a big barbecue—even the half-gnawed ones—could be put in a pot, covered with water, brought to a boil and simmered for 20 minutes to make a lovely corn stock. (Ditto for crab shells, fish carcasses…you get the picture.)
But when I found out that making homemade peanut butter took…literally…five minutes start to finish, it was a big head-slapping moment for me. D'oh!
You could also roast your own raw peanuts, of course—in a shallow pan in a 350° oven for 15-20 minutes—but when I can buy organic roasted, unsalted peanuts in the bulk aisle at the store, bring them home and five minutes later have beautiful, tasty, no-added-ingredients, salted-to-my-preference peanut butter? It's a game-changer, at least around here.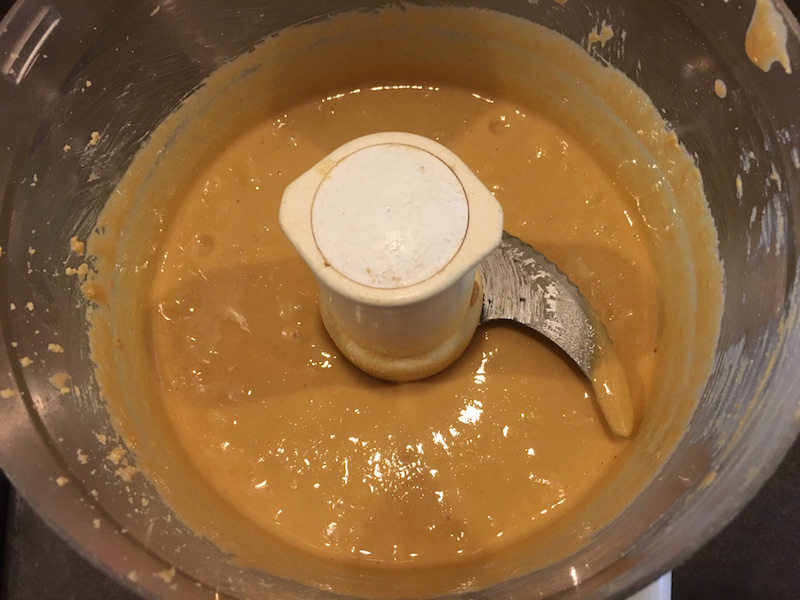 It's not even worth writing up an official recipe. Seriously.
Just put the roasted peanuts in a food processor and turn it on, stopping occasionally to scrape down the sides, add a half teaspoon of salt at some point—you might want more or less depending on your taste, of course—and maybe a drizzle of vegetable oil toward the end to thin it if necessary, and in five minutes it's done.
A head-slapper, indeed. Here's a quick and easy peanut sauce to use with the snap peas and pea pods that'll be appearing at your farmers' market any minute!
Pasta with Peanut Sauce, Snap Peas and Shrimp
Sauce adapted from All Around the World Cookbook by Sheila Lukins
For the peanut sauce:
1/4 c. soy sauce
1/4 c. rice vinegar
1/2 c. light coconut milk
1/2 tsp. salt
2 tsp. peeled fresh ginger
2 cloves garlic
6 Tbsp. peanut butter
3 Tbsp. peanut oil or vegetable oil
3 Tbsp. toasted sesame oil
1/2 tsp. chili oil or 1/2 tsp. red chile flakes
1/2-1 tsp. Thai fish sauce (nam pla)
For the pasta:
1 lb. pasta or 8 oz. buckwheat soba
1 Tbsp. vegetable oil
2 c. sliced snap peas (or other crunchy green things)
1/2 lb. frozen shrimp
Cilantro leaves for garnish
Bring large pot of water to boil. While it heats, put all sauce ingredients into bowl of food processor and process until it makes a smooth sauce. When pot of water boils, add pasta and cook till al dente or, for the soba, follow the package directions. While pasta cooks, heat vegetable oil in skillet and sauté peas briefly, then add shrimp. When shrimp turn pink, remove from heat. Drain pasta and put in serving bowl. Add peas and shrimp and half of sauce (the remainder is terrific as a dipping sauce with salad rolls or raw veggies). Toss and garnish with cilantro leaves.
Posted on April 30, 2023