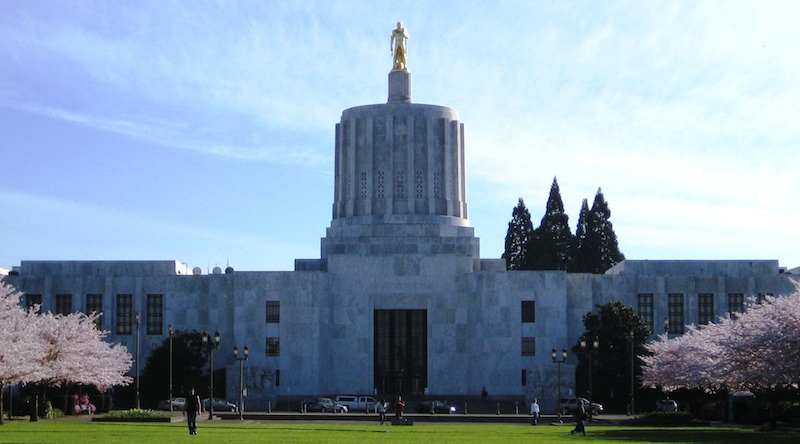 On the first day of the 2019 Oregon legislative session in January, more than 1,500 bills were introduced, and there are likely to be at least twice that many by the time the session ends. Here is the latest report on issues affecting the food we put on our tables. Thanks to the Center for Food Safety and Friends of Family Farmers for their assistance with this report.
Moratorium on Mega-Dairies: Introduced by the Senate Environment and Natural Resources Committee to address the impacts of factory farm dairies in Oregon. Take action here. Read more about mega-dairies in Oregon.
SB 103: Establishes a moratorium on new "industrial" dairies—defined as those over 2,500 cows or large dairies that don't provide seasonal access to pasture—while making sure environmental impacts to water and air, as well as impacts to smaller farms, are considered when permitting these operations.
SB 104: Allows stronger local rules over siting of these industrial facilities.
Management of Future Mega-Dairies: Two bills emerged from a work group organized by the Senate Environment and Natural Resources Committee.
SB 876: Creates a two-step permitting process for large confined animal feeding operations (CAFOs) to ensure greater scrutiny before they go into operation.
SB 886: Sets limits (not yet specified) on the use of groundwater for watering livestock at large confined animal feeding operations.
HB 3083: Establishes a "Task Force on Large-Scale Dairy Farms" which would submit a report to the Legislature by September, 2020.
"Clean Energy Jobs" or Cap-and-Trade (HB 2020): Establishes a cap on greenhouse gas emissions from the state's largest emitters—except for agriculture and forestry, two large sources of emissions and industries heavily represented by lobbyists in the Capitol—while creating an 'allowance' program intended to generate funding for climate adaptation and other programs. Public interest and small farm organizations are working to include agriculture and forestry in this bill.
Ban Aerial Spraying of Pesticides (HB 2493): Prohibits aerial spraying of pesticides of land within the McKenzie River and Santiam River watersheds, which make up much a significant portion of the Willamette Valley.
Ability to Sue for GMO Contamination (HB 2882): Allows farmers who have been harmed by contamination from genetically engineered crops to sue the patent holders of those crops.
Bans Sale or Use of Neonicotinoid Pesticides (HB 2619): Statewide ban on the sale or use of products containing neonicotinoid pesticides, a class of powerful neurotoxic pesticides that is lethal to pollinators.
Beginning Farmer & Family Farmer Land Access: Three bills that would support new and existing small farmers have been sent to the House Committee on Agriculture and Natural Resources with a hearing set for 3 pm on Thursday, March 14. E-mail a letter of support for all three before that date (link for address and suggested verbiage).
HB 3085: Creates a new Family Farmer Loan Program managed by the state's economic development agency, Business Oregon, to offer direct loans to family-scale farmers and beginning family farmers for land or equipment.
HB 3090: Establishes a new beginning farmer and rancher incentive program at the Oregon Department of Agriculture focused on issues of student loan and tuition assistance.
HB 3091: Reduces fees and costs to borrowers using the state's existing "Aggie Bonds" beginning farmer loan program, which incentivizes private lower interest lending to beginning farmers and ranchers for land and equipment.
Beginning Farmer Tax Credit (HB 3092): Incentivizes landowners to lease land to beginning farmers and ranchers. Sent to the House Revenue Committee.
Oregon Agricultural Heritage Program (HB 2729): Provides $10 million in grants for farm succession planning and funding for both long term conservation planning and protection for working farmland at risk of development or conversion to non-farm uses.
Limits on GMO Canola in the Willamette Valley (HB 3026; SB 885; HB 3219): A 500-acre restriction on growing this crop is expiring in July, 2019. These bills seek to extend that limitation going forward because canola easily cross-pollinates with food crops in the brassica family, endangering organic growers and specialty seed growers. Contact your legislators here. More info on canola in Oregon.
Find your legislators here and let them know you expect action on the issues that concern you.
Posted on March 12, 2019