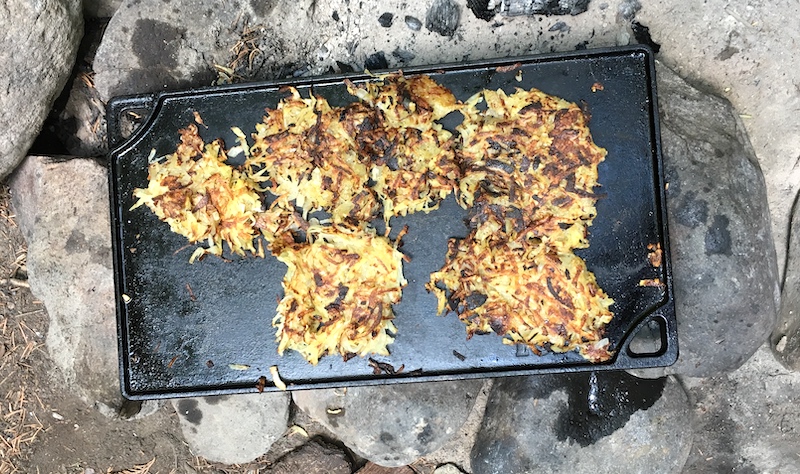 Getting ready to go camping means making lists. Lots of them. Gear, cooking utensils, food, first aid supplies, dog food and, at least for us, cocktail fixings.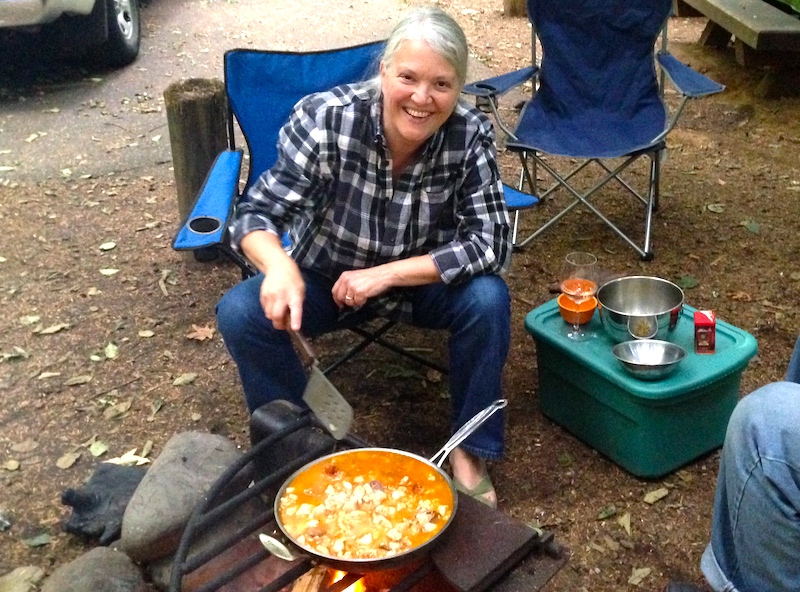 As I've mentioned before in this series, we're what is known as "car campers" so we eschew freeze-dried packets for fresh ingredients that'll be prepped and cooked at the campsite, whether over the fire or on our trusty Coleman campstove. So paring down to the lightest, most essential gear isn't always the point, especially now that Dave has become a devotée of all things cast iron. Then there's glassware, and cocktail fixin's and…well…you catch my drift.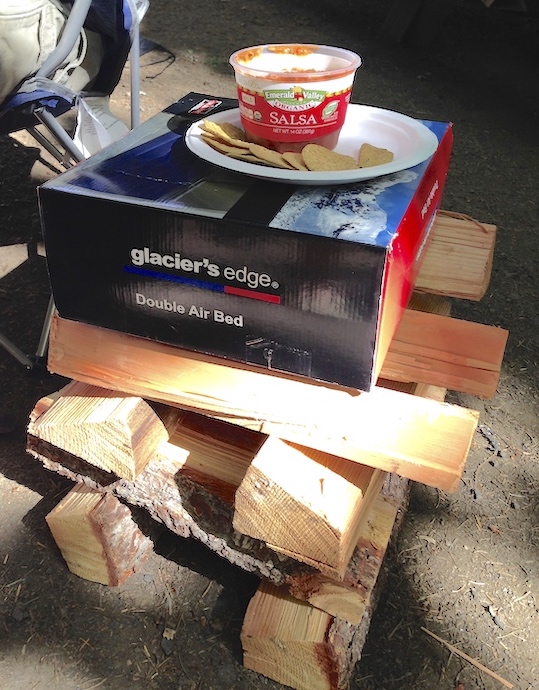 Recently it occurred to me that it might be valuable to share our decades-in-development list of staples for those of you just beginning your camping journey, or if you've reached that point when you're ready to trade in your backpacking tents and sleeping pads for a double bed-sized blowup mattress. (Welcome to the club!) The suggestions below are, of course, in addition to tents, sleeping bags, camp chairs, stove, headlamps, etc., etc. And I'd love it if you'd add your own must-have camping necessities in the comments below.
Gear
Camp table, lidded storage bins: An indispensible part of our kitchen gear is a simple folding table where we can get our supplies off the ground and easily accessible without squatting while you're rummaging to find which bin the silverware is in. Lidded bins are also easily stackable, water and critter-proof and the lids make handy cutting boards and serving trays.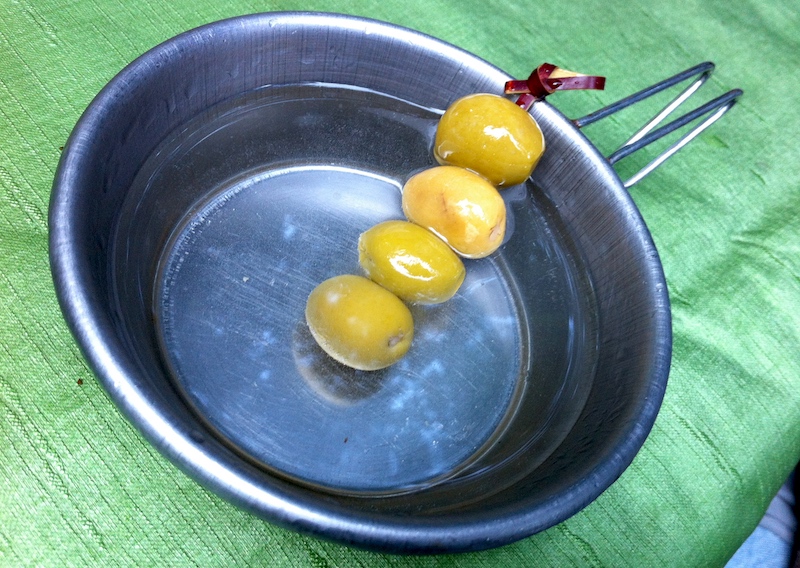 Waterproof tablecloth: I still have my parents' green vinyl camp tablecloth (left) that has covered every campsite picnic table during decades of family outings. (There's even a minor slash from when I was in high school and sliced vegetables without a cutting board. Sorry, Mom.) It cleans easily, and makes those sometimes funky campsite picnic tables more presentable.
Sierra cup: This old-school backpacking cup (above left) was purchased on one of our very first camping trips and is now a requisite piece of gear. Handy for drinking, dipping water out of hot pots, and even as a spare cocktail glass, it hangs at the ready over the back of our decades-old campstove.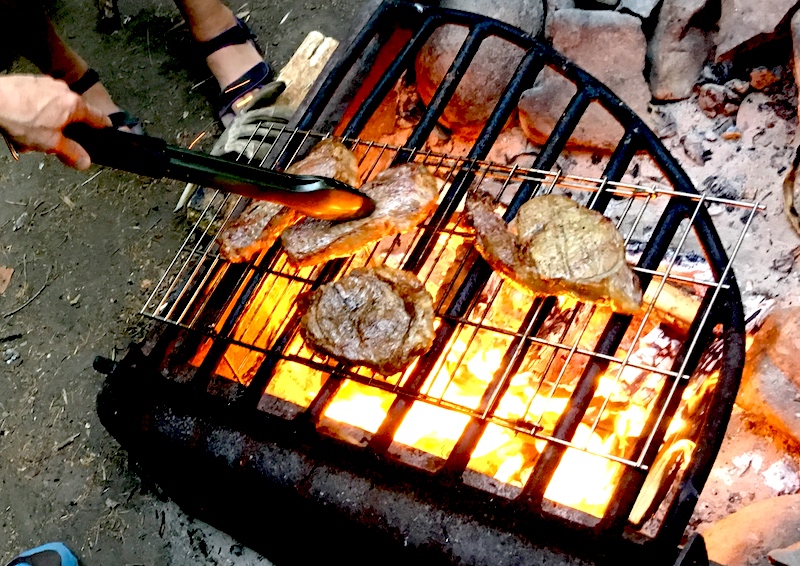 Folding campfire grill: It may look flimsy, but this over-the-campfire grill can be used over the fire, or can fold flat to use for cooking over the sometimes gross firepit grates. It also helps position items over the fire with more finesse, can stop hot dogs from falling through the widely spaced camp grates, or when you need to extend grill space (e.g. for steaks and corn for 10…we've done it!).
Cast iron frying pan: A well-seasoned frying pan is a thing of beauty, and Dave keeps ours in prime condition. Goes from campstove to fire easily.
Cast iron griddle: Again, seasoning is the key (top photo). Great for batches of fried eggs, hash browns, pancakes, etc.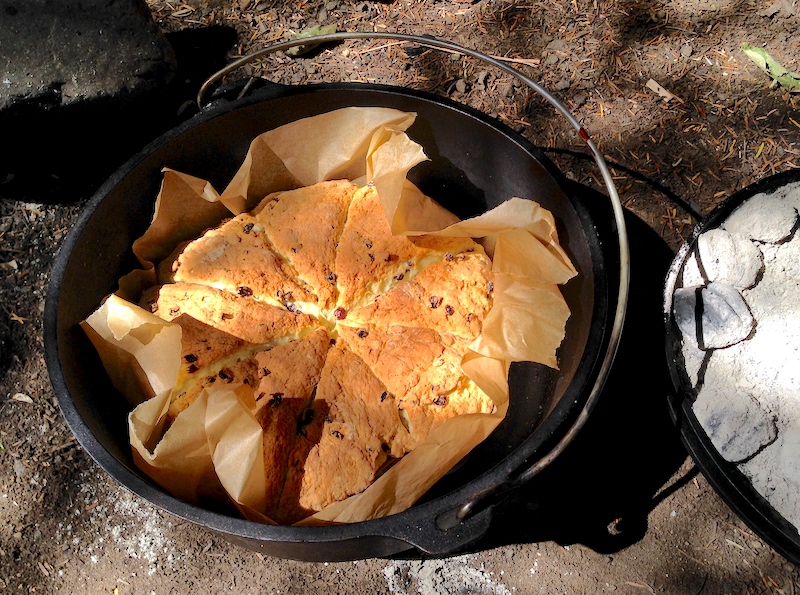 Cast iron Dutch oven: Large and heavy, but if you love to bake out in the woods, it's indispensible. (Mostly for advanced users or inveterate bakers.) Also great for heating up dinners for a crowd over the fire.
Hatchet: Because camping requires fires. (Duh.)
Long-handled metal spatula and tongs: You're probably going to be cooking over the fire (steaks!), so these are a necessity.
Leather fireplace gloves: Handling hot pans, placing logs on the fire. Thank me later.
Cocktail bag: Once again, a brilliant idea from our friend Keith, the MacGyver of the campsite. He stocks an open-topped canvas gear bag with fifths of booze, using smaller lidded bottles for vermouth, etc., with tiny dropper bottles for bitters and other flavoring agents. Utensils and other accoutrements go in the outside pockets.
Three-candle lantern: Keith has become inordinately fond of this three-candle lantern over the Coleman propane-powered version, though I think Dave might argue over that choice.
Hacks
Zip line: Keeping dogs contained within a campsite is tough, but Keith turned us on to an easy zip line made from a rope strung between two trees with small carabiners clipped onto it and that you can then clip to the loops of the dog's leash. Can also double as a clothesline, as long as you don't have a super active dog.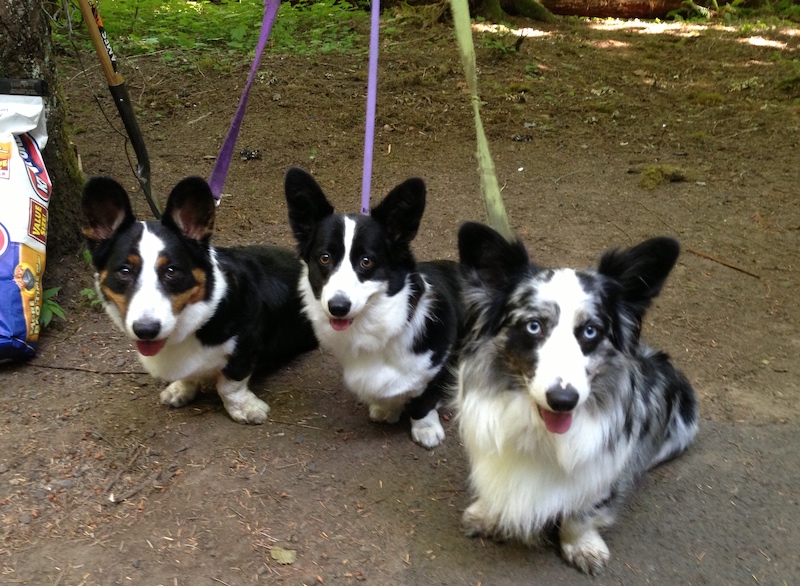 Hot water dispenser: Made from a 2.5-gallon water container with a spigot, this was a brilliant hack Dave came up with last year and has made washing dishes and hands a dream. You'll need to empty the container first, which usually happens the first day in our case, what with filling pots for hot water, cooking and drinking. The ones we get are made of lighter plastic (like the stuff used for milk jugs), so it's easy to slice around the front three sides near the top, leaving the back attached as a hinge. Put it on the table with the spigot over a dishpan on the bench, pour in some hot (but not boiling!) water and, voilà, hot running water!
Dish scrubber: Cooking over fire often causes food to stick stubbornly to pans, and in the absence of a scrubber pad, Keith uses a short piece of thin, flat wood with the end squared off to scrape off any burned-on gunk. Brillz.
Read more Camp Stories, including recommended campgrounds, sites and easy recipes that'll please everyone.
Posted on July 31, 2019