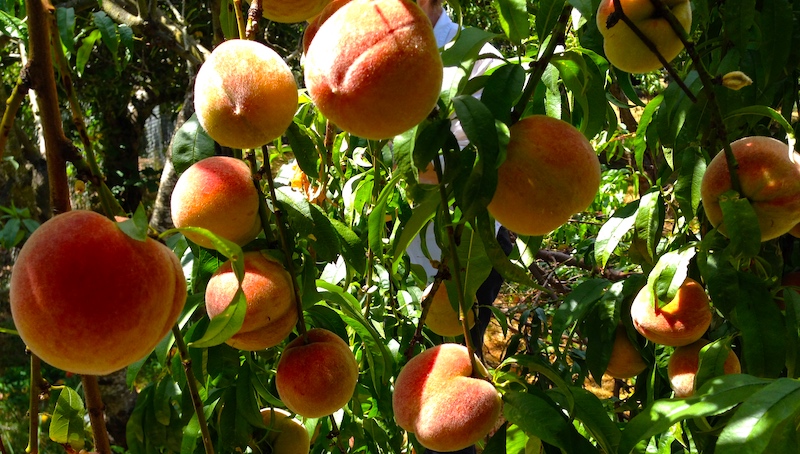 Ginger Rapport's newsletters for the Beaverton Farmers Market are worth getting for the information and recipes she shares (click here to subscribe). Her deep knowledge of produce shines through, helped by her passion for cooking and education. Here she talks about the luscious Northwest peaches and nectarines tumbling into midsummer markets.
What is the difference between a peach and a nectarine? They are genetically almost the same with the exception of one gene, the one that determines if it will have a fuzzy or smoothskin. A nectarine is basically a bald peach. They may be used interchangeably in recipes but as far as fresh eating goes, people can have strong opinions about which is best. Many people prefer nectarines because they don't like the fuzz on a peach. It is more of a textural thing than it is about taste. However, nectarines tend to be firmer, sweeter and more aromatic than their fuzzy cousins.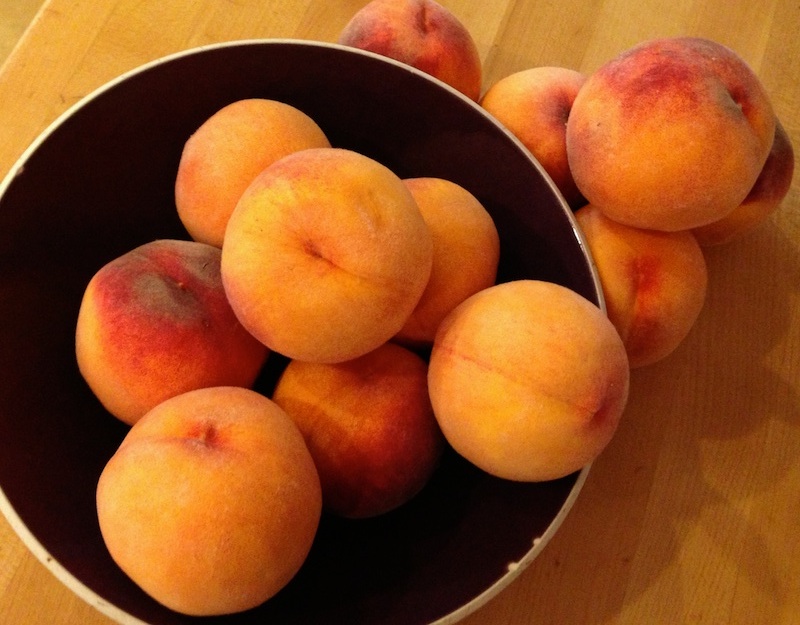 Both peaches and nectarines come in "freestone" varieties, which means that the fruit separates easily from the pit and "clingstone" varieties where the flesh clings tightly to the pit. Freestones are better for freezing while clingstones are better for canning.
If you are making a recipe that calls for removing the skin of a peach or nectarine, we recommend the following method:
With a paring knife, make a small "X" in the skin on the bottom of the fruit. Then drop it into a large pot of boiling water for 10-20 seconds. You may do multiple fruits at a time as long as you are able to get them all out of the boiling water within a few seconds of one another. You want to loosen the skin, not cook the fruit.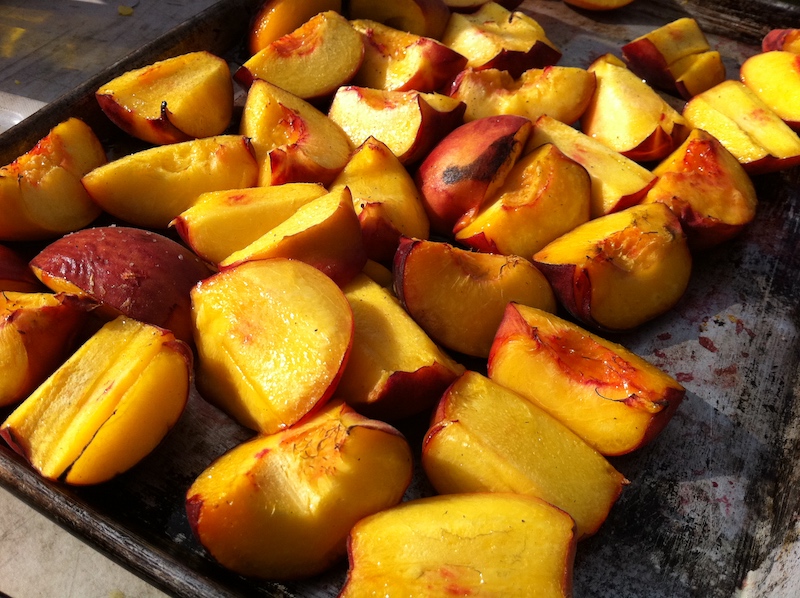 Immediately place fruit in a bowl of ice water to stop the cooking. Starting at the X on the bottom, lift the skin away from the fruit. It should peel easily if your fruit is ripe. If your fruit is under-ripe, peeling will be more difficult and may require a paring knife. (This is also how you peel tomatoes.)
Peach and nectarine season has a very small window where it overlaps with cherry season. One of our favorite—and totally easy—recipes that features both is this nectarine and cherry salad with roasted hazelnuts featuring Baird Family Orchards nectarines, Kiyokawa Family Orchards Bing cherries, and Ken and June's dry roasted hazelnuts.
Nectarine and Cherry Salad with Roasted Hazelnuts
1 1/2 lbs. nectarines (yellow or white) sliced
1 1/2 c. Bing cherries, pitted and halved
1/2 c. roasted hazelnuts, roughly chopped
Combine all ingredients (reserving some chopped nuts) in a bowl and toss. Garnish with remaining hazelnuts.
Get more fabulous peach (or nectarine) recipes for desserts, jams, salads and even cocktails! The Beaverton Farmers Market is an advertiser and supporter of Good Stuff NW.
Posted on August 8, 2019