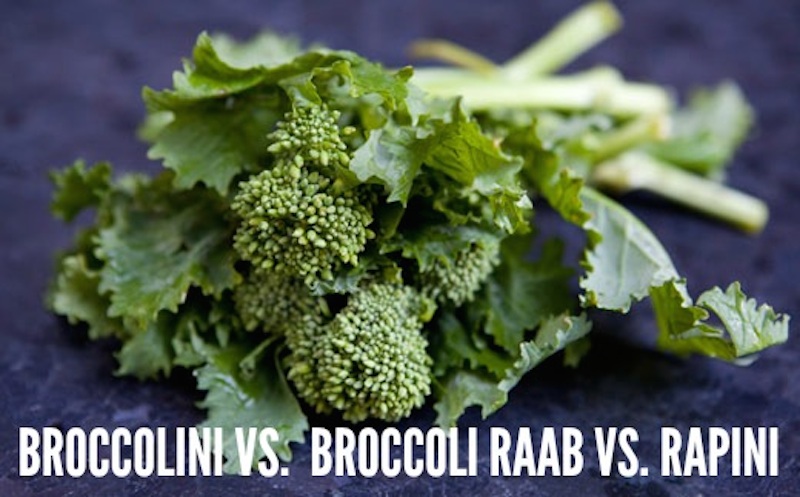 Since I'm jonesing for some lively greens and saw kale starting to flower in my neighbor Bill's garden, I thought this post from market master Ginger Rapport of the Beaverton Farmers Market would be great to keep on hand for market shoppers who might be asking, "What are those bundles of greens and why are they all called something different?"
Do you get confused when you hear the words "rabe,""raab," "rapini" or "broccolini" used in recipes? Let us help you sort this out because you will find tons of these green vegetables in the market very soon.
First, a little taxonomy: Cruciferous vegetables are vegetables of the family Brassicacae, known as Brassicas or Crucifers. They include: cauliflower, broccoli, mustard greens, arugula, bok choy, kales and cabbages to name a few. Now, a little clarification:
Broccolini is not baby broccoli. It is a cross between regular broccoli and Chinese broccoli with long stems, larger florets, and less leaves. It is less bitter than some of its relatives which is why it is often thought of as baby broccoli.
Rapini and broccoli rabe are close cousins and are often used interchangeably. They are in the same subspecies as the turnip, hence they have the characteristically slightly bitter taste of this group. They do not form the large heads that we see in broccoli.
The flower buds of brassicas from the turnip family are often referred to as rabe, or raab, derived from raps, which means turnip in Italian. This time of the year, you will find the rabes of many types of brassicas in the market—kale, mustard greens, Brussels sprouts, turnips, bok choy and Chinese cabbage.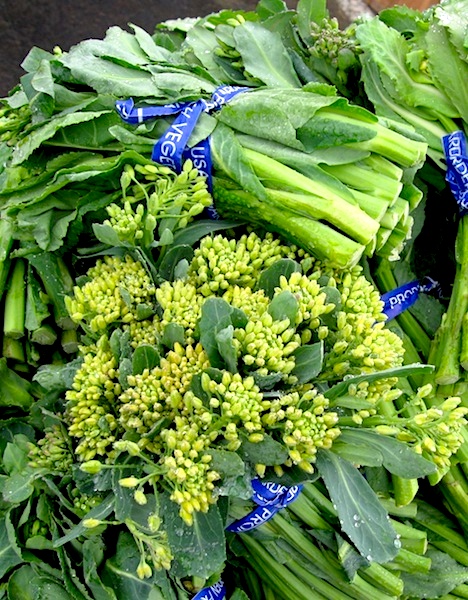 While each of these are from a common family there are slight differences in taste between them. With each, you are meant to eat the stems, buds and leaves, making them very easy to prep for cooking. Don't be alarmed if the buds have begun to show their yellow flowers. Some feel that the flowers are a sweeter version of the parent plant.
All of the aforementioned brassicas are excellent roasted, sautéed or lightly steamed. We don't recommend boiling because it is easy to overcook the leaves in boiling water. The usual additions of garlic and a pinch of red pepper flakes makes for an easy and delicious preparation. Finish your dish with salt and pepper to taste and a squeeze of fresh lemon juice.
We also suggest that you try tossing your raabs with a balsamic vinegar reduction. The reduction's sweet finish balances the bitter quality of the greens. We like to keep a balsamic reduction in the refrigerator to have on hand as needed. It is delicious drizzled on salads, fresh vegetables, fish and meats.
Basic Balsamic Vinegar Reduction
2 c. balsamic vinegar*
Boil in a small saucepan until reduced by half (one cup). You can continue to boil for a thicker glaze type consistency. You may add a clove of garlic, minced, or fresh herbs such as thyme. Be sure to strain those out before storing.
* Note: Bottles of balsamic vinegar on store shelves labeled "Balsamic Vinegar of Modena" are a commercial grade product made of wine vinegar with the addition of coloring, caramel and sometimes thickeners like guar gum or cornflour. Authentic balsamic vinegar, labeled "Aceto Balsamico Tradizionale di Modena," is produced from the juice of just-harvested white grapes (typically, Trebbiano grapes) boiled down to approximately 30% of the original volume to create a concentrate or must, which is then fermented in a slow aging process which concentrates the flavors.
Posted on February 2, 2021