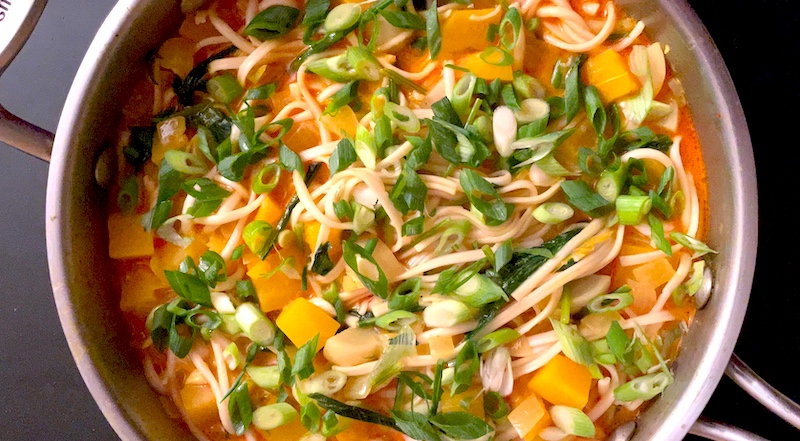 Belonging to two CSAs, as you might imagine, has us benefitting from the fall bounty—or is it buried under a bounteous pile?—of vegetables from two local farms. While it's a short-lived situation, with the end of our summer share from one farm overlapping with the beginning of the fall subscription from another farm, it means I'm scrambling to use all the peppers, squash, cauliflower, greens and more in my veg bin before they melt into compost.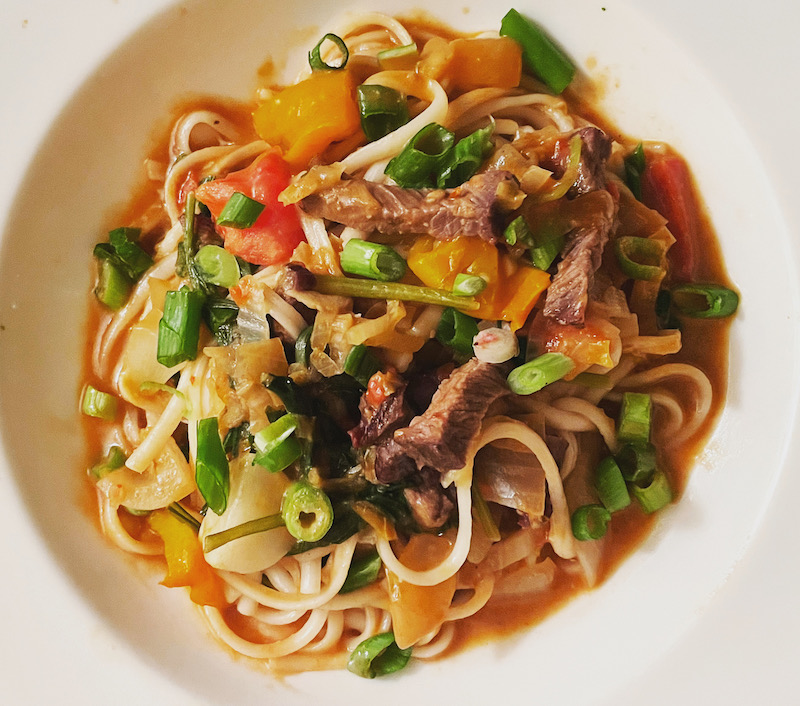 The dinner pictured above (with the meaty version on the left) is a simple one-pot curry that's been a boon on so many fronts: it's quick to prepare, it's delicious as either a vegetable or meat-friendly dish, I can throw in chicken or steak or roasted vegetables left over from other meals, and it takes up a ton of the items from those two CSAs mentioned above.
As flexible as fried rice when it comes to a healthy, hearty meal, as long as you have noodles, coconut milk and a curry paste (or powder) on hand you can have it on the table in about half an hour. I call that a darn near perfect dinner.
Coconut Curry Noodles with Seasonal Vegetables
8 oz. udon noodles (spaghetti or linguine work, too)
2 Tbsp. vegetable oil
1 yellow onion, chopped in 1/2" dice
3 cloves garlic, minced
1 tsp. fresh ginger, finely grated (optional)
3 Tbsp. red or green curry paste (I like Thai and True made here in Oregon or 2 Tbsp. curry powder or 1 1/2 Tbsp. turmeric plus 1 tsp. ground cumin)
4 c. chopped vegetables (peppers, squash, cauliflower, broccoli, kale, carrots, turnips or whatever you have in the veg bin)
1 15-oz. can coconut milk
1 c. or so chicken or vegetable stock
1 Tbsp. fish sauce
Salt to taste
1/2 c. green onions, chopped (optional)
1 c. cilantro, chopped (optional)
Bring a pot of water to boil and drop in the udon noodles. Return to a boil and cook for 4 minutes. You want the noodles very al dente, since they'll finish cooking in the curry sauce. (Regular pasta will take longer to cook, but you still want it al dente.) Drain and rinse with cold water.
Heat a deep, wide frying pan over medium-high heat and add oil. When it shimmers, add the onion and sauté until translucent. Make a space in the center of the onions and add the ginger (if using) and garlic. Sauté briefly and add the curry paste (or powder) and sauté briefly. Start adding the sturdier chopped vegetables first, then adding the more tender ones as the first ones cook down a bit.
When the vegetables are all tender, add the coconut milk, stock, and fish sauce, plus any meat you may be using (cubed tofu works here, too). When it comes to a boil reduce the heat and simmer for 5 minutes, then add the drained noodles. Bring the whole pot to a simmer for another 5 minutes or so until it's all thoroughly heated. Adjust salt to taste. Serve garnished with green onions and cilantro, if desired.
Posted on October 28, 2022