Now that our fall rains have started, it's time to get out in the yard and do some cleanup and planting. While the late local garden maven Dulcy Mahar didn't recommend spreading compost until after Thanksgiving, I thought it might be good to rerun this post from 2009 (!) for planning purposes.
It was one of those invitations you just don't get very often. Like meeting the queen of England (or, more to my liking, her Corgis).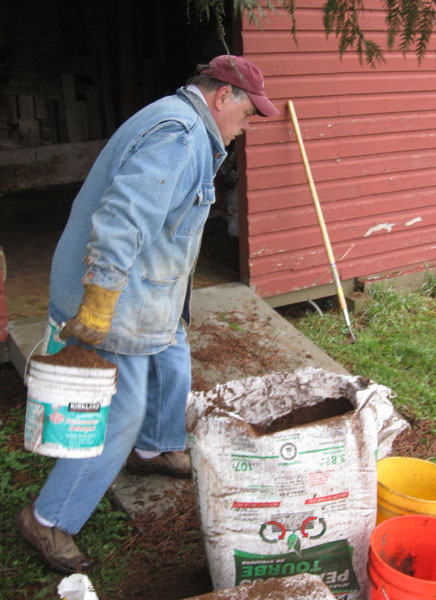 So when David Kobos (left)*, whom I was interviewing about the history of coffee roasting in Portland for an upcoming MIX magazine article on local micro-roasters, mentioned that he has an annual gathering to make dirt and would I be interested, I jumped at the chance. I mean, how often do you get to find out that kind of thing? Plus the invitation included not only a tour of his organic farm but a big breakfast and some ass-kicking coffee to wash it all down with.
Last Sunday found me tooling out to the wilds of Clackamas County in, appropriately enough, Dave's old Toyota truck. I pulled up to the Kobos homestead, a gorgeous 1915 farmhouse that he and his wife, Susan, have spent the last few decades restoring. Out beyond it were his geese, a sheep and about 80 chickens, plus a huge organic garden with the most beautiful soil I've seen in a long time.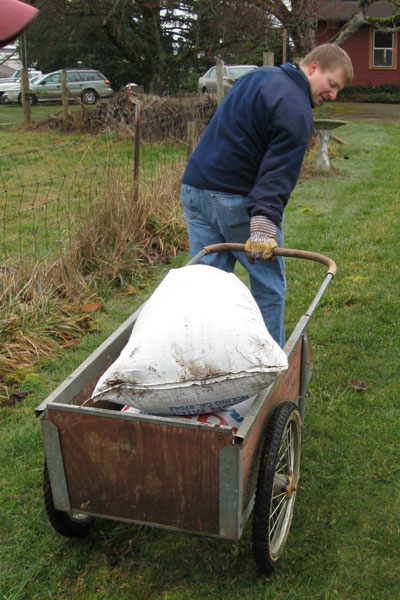 After a couple of mugs of strong coffee (a Kenyan estate roast, Kobos pointed out) to fortify us for the dirt-making, Kobos, his son, Adam, and I headed out to the little barn, which was the original home on the property. David had set out all the supplies, so we spent the next hour or so filling buckets, sieving the peat moss and compost to remove debris (top photo) and mixing it in his ancient wheelbarrow (right). By the end we had eight or so 50-lb. bags of gorgeous seed-starting mix, which Kobos said was also good for potting plants.
And that breakfast? I barely stopped eating long enough to notice what I was putting in my mouth, but I remember a lovely egg strata, light, sweet scones made by his daughter-in-law, Betty, and some authentic (and unbelievably delicious) Polish kielbasa that her parents had brought in their luggage from Queens. And of course, more of that wonderful coffee.
If you'd like to make your own dirt, Mr. Kobos has supplied the recipe.
Seed Starting Mix
From David Kobos of Kobos Coffee Company
Use a 2-gallon bucket for measuring:
3 buckets peat moss
3 buckets steer manure
1/2 c. dolomite lime
1 bucket perlite
1 bucket vermiculite
2 c. organic fertilizer
If not using sifted peat moss and steer manure, dump buckets onto 1/2" framed screen (photo, top) and sift by hand to remove debris. Add remaining ingredients and mix thoroughly using a shovel or garden hoe. Using bucket, dump into 50 lb. seed bags. Makes 2 1/2 cubic feet.
NOTE: If you can't find Vermiculite, use double Perlite. The recipe above makes 2 1/2 cubic feet.
---
Organic Fertilizer Mixes
From David Kobos
These mixes are by volume, not weight.
Mix #1:
4 parts seed meal (cottonseed, soybean, linseed, etc.)
1 part dolomite lime
1 part ground phosphate rock (or 1/2 part bone meal)
1 part kelp meal
Mix #2:
1 part ground phosphate rock
1 part blood meal
1 part greensand
* David Kobos passed away in 2019. Read his obituary.
Posted on September 27, 2023