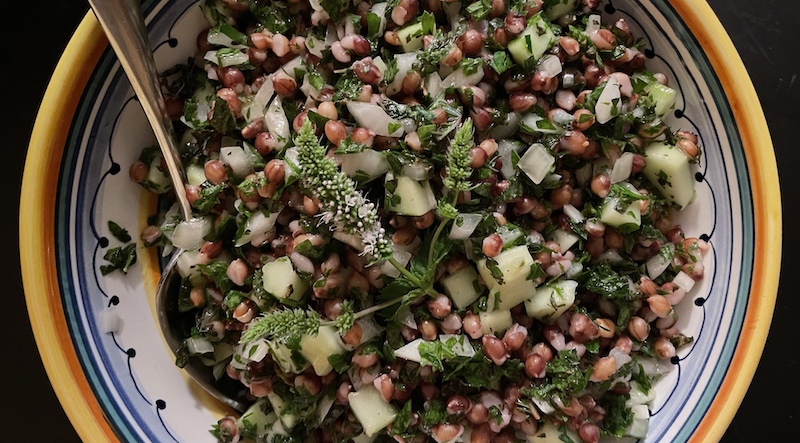 Grain salads are my go-to in summer when the garden lettuce has bolted in the heat but cucumbers, beans and summer squash are still going strong. They pair perfectly with grilled foods and a platter of sliced tomatoes for rave-worthy backyard entertaining, and also make a quick solution for a weeknight dinner.
In the past I've experimented with salad made with farro and frikeh (or parched green wheat), but this summer I decided to try a whole grain, organic unhulled barley from Camas Country Mill—I buy mine through the PDX Whole Grain Bakers Guild—rather than pearled or hulled barley. While it has to be soaked overnight before cooking, it definitely adds texture and a slightly nuttier taste to the finished salad.
Barley Tabbouleh with Lemony Mustard Vinaigrette
For the vinaigrette:
1/2 c. olive oil
6 Tbsp. lemon juice
1 Tbsp. Dijon mustard
1 clove garlic, crushed
1/2 tsp. dried oregano
Salt and pepper to taste
For the salad:
2-3 c. cooked barley, either hulled or whole grain
1 c. coarsely chopped fresh mint leaves
1 c. coarsely chopped fresh Italian parsley
1/2 c. finely sliced spring onions, red onion, or sweet onion
1 medium cucumber, diced (or 2 Persian cukes)
Salt to taste
If using unhulled barley, soak overnight prior to cooking.
Put 8 oz. uncooked barley in the bottom of a large saucepan and cover with 2-3" of water. Bring to a boil, reduce heat to simmer and cook, adding water if it gets too dry, until the barley is cooked through but still has a nice resistance when you bite into it…don't let it get mushy. (Unhulled barley will take longer than hulled barley.) Drain and rinse in cold water to cool. Transfer 2 to 3 cups, depending on how much grain you like in your tabbouleh—I like less grain, more herbs—to large mixing bowl, add remaining ingredients and enough dressing to moisten. Combine and, if time allows, let it sit for an hour or so for flavors to meld. Serve at room temperature.
While the barley cooks, make the vinaigrette. Take any tightly lidded container—I often use a leftover (clean_ salsa container or glass jar—put all the ingredients into it, put on the lid and shake like the dickens over the sink in case, as once happened, the lid didn't seal as tight as I thought and I ended up dressing the kitchen instead of the salad. It can be made ahead and stores well for several days in the fridge.
---
Check out these eight salad recipes that will keep you inspired all summer long!
Posted on July 23, 2023