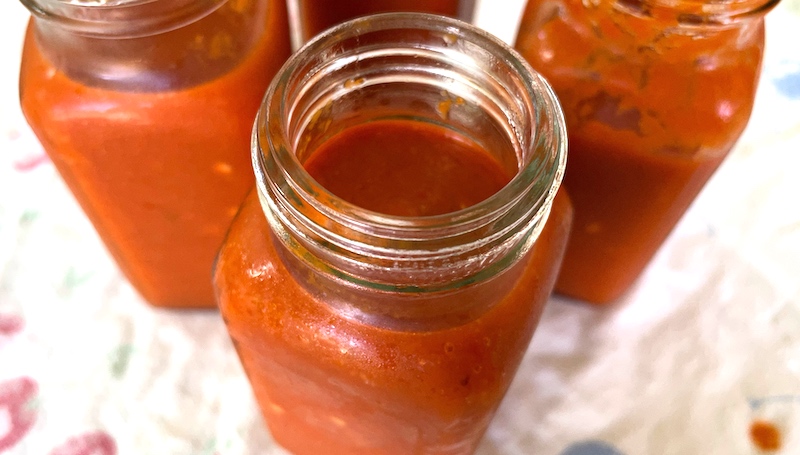 Hot sauce is a staple in this house, whether it's sriracha—the global shortage of which has been greatly exaggerated, at least looking at the shelves of my local Asian market—or that vaunted product from New Orleans, Crystal Hot Sauce, containing just cayenne chiles, vinegar and salt. More than simply a condiment for shaking on eggs, tacos or stir fries, I use hot sauce to add depth to the cheese sauce for my macaroni and cheese, or to add zip to dips and deviled eggs.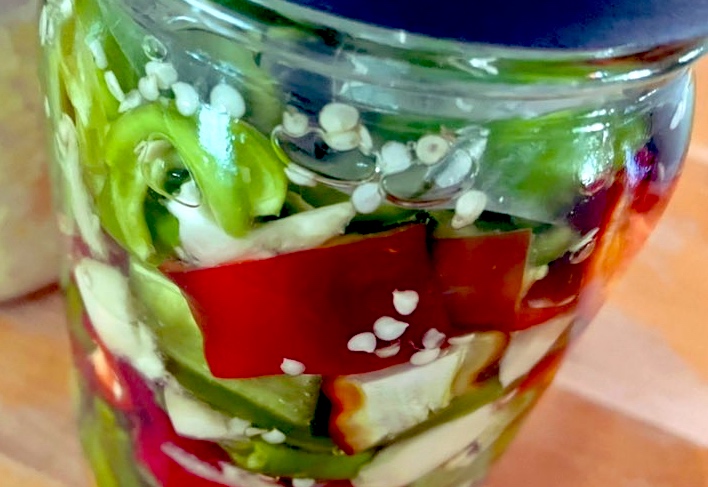 So you can imagine my horror the other day when I discovered we were completely out of our usual hot sauces. Fortunately I was able to grind up some of the Ayers Creek Farm dried cayennes I had saved, so the dish wasn't completely bland, but boy howdy, it was a close one!
I'd collected a bag of assorted peppers—a few stray padrons, a couple of Jimmy Nardellos, anaheims and anchos from farmers' market trips and our CSA share that hadn't found their way into other concoctions—and a couple of hotter-than-all-get-out yellow-orange Bulgarian carrot peppers from my neighbor Bill, so I decided to chop those up and throw them in a quart jar with garlic and a salt brine.
I left them in the basement for a few days, and when they smelled oh-so-pickle-y, I brought them upstairs, drained them—reserving the liquid for thinning it to sauce-like perfection—and whizzed them in the blender. One sniff told me it was probably too hot for everyday use, so I threw in a couple of roasted red peppers I'd found in the fridge and tasted a tiny drop.
Hoo-eee!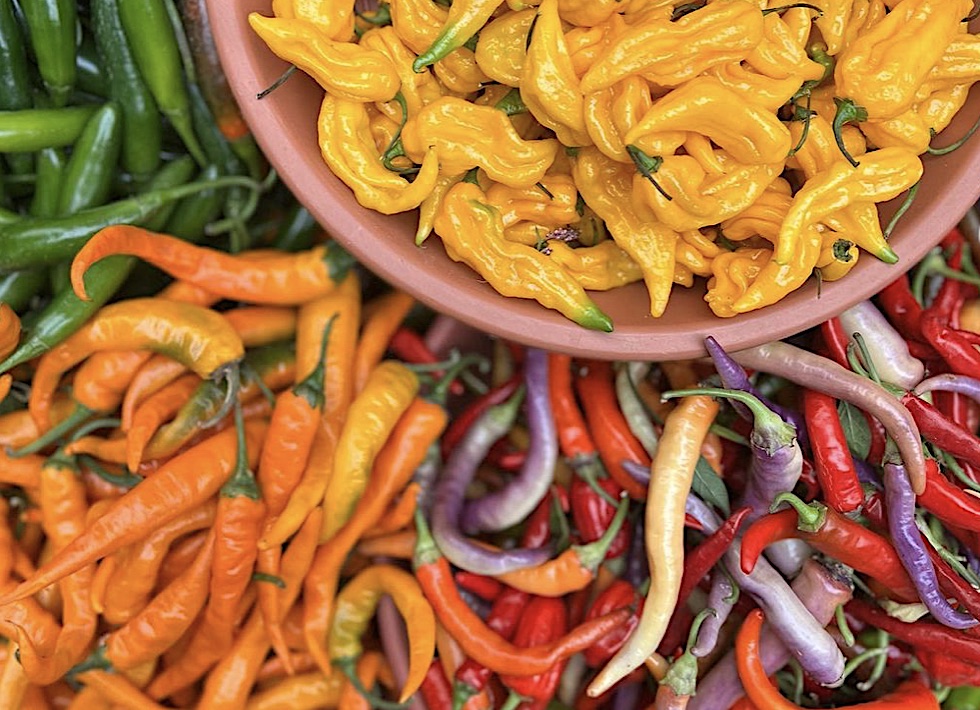 It was better, but still a little too much heat, so I blended in a couple more roasted peppers and a pinch of salt, thinned it with the brine to pourable consistency and bottled it in old spice bottles I'd collected, which were the ideal size for table use.
Now, having seen farmers' market tables loaded with peppers, I'm hot (no pun intended) to make more. My friends Michael and Linda at Terra Farma in Corbett loaned me Fiery Ferments, a collection of recipes by noted fermentarians Kirsten and Christopher Shockey. With recipes and techniques for everything from hot sauces and chutneys to kimchi and other condiments, I can already tell it's going to be my bible.
But to get you started, here's the basic recipe for the hot sauce described above.
Assorted Peppers Hot Sauce
For the brine:
5 Tbsp. Kosher or sea salt
2 qts. water
For the peppers:
1 lb. assorted peppers
8 cloves garlic, peeled and smashed
Make a basic salt brine by combining the salt and water in a large bowl or gallon container. Stir until dissolved.
Remove stems from the peppers and roughly chop them (including seeds and pith). Pack tightly into clean quart jars along with any spices—I just used the smashed cloves of garlic—then pour brine over them to within 1" of the rim of the jar. Keep peppers submerged in brine with glass weight or small zip-lock bag with brine in it. Loosely cap, set in a dish in case it bubbles over, and let it sit in a cool, dark place like a basement for 4-7 days. Strain, reserving brine, and blend. Thin to desired consistency, taste for salt. If it's too spicy, add roasted sweet peppers, or if it needs more heat add roasted hot peppers.
Photo of peppers from Eloisa Organic Farm. Find them at the Hollywood Farmers Market and the Corvallis-Albany Farmers Market!
Posted on September 16, 2022