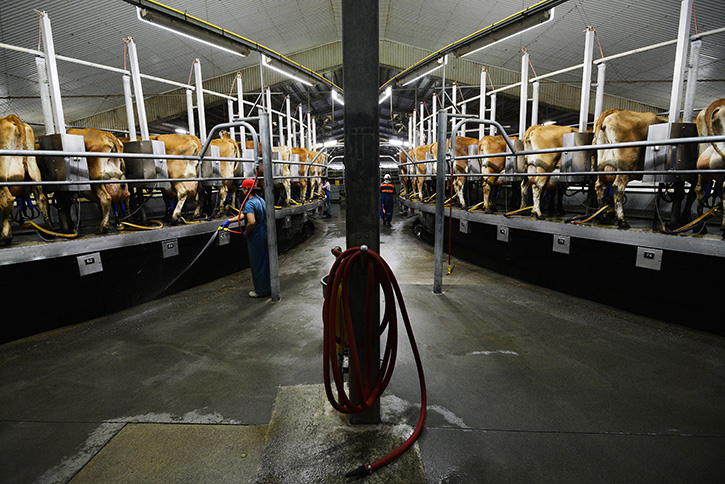 Giant factory farms are moving to Oregon, bringing with them concerns about our rural communities, the environment, and how we want to grow our economy, as well as challenging long-held traditions of our state's agriculture as one based on small, family-scale farms. This is an excerpt from an article I wrote for Edible Portland magazine that was picked up by Civil Eats (full article here).
It's important to respect "the cow-ness of the cow," says Oregon dairyman Jon Bansen, a member of the farmer-owned cooperative Organic Valley. He's quoting sustainable farm guru Joel Salatin in explaining what differentiates his pasture-raised cows from those living their lives in closed buildings on a factory farm.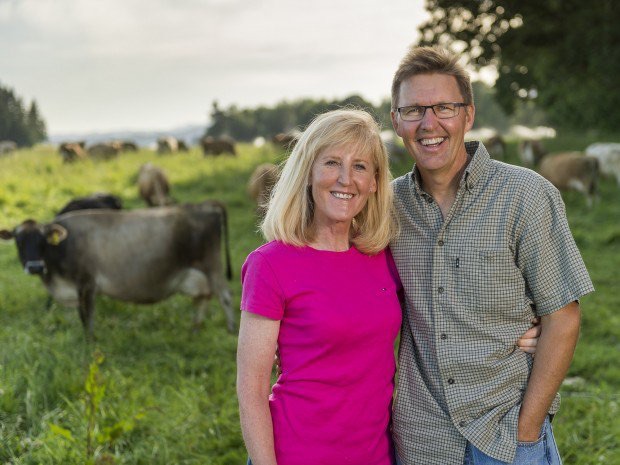 "It turns out that some things get more efficient with size, but biology doesn't," he says of the large mega-dairies that have taken up residence near the small Columbia River town of Boardman at the east end of the Columbia River Gorge. "To be standing on concrete, fed high levels of grain, treated like a widget instead of a biological being—it shortens their lifespan."
Animal welfare isn't the only reason to worry about mega-dairies. Another cost of these giant factory farms is to Oregon's small dairies. In 2001, mega-dairy Threemile Canyon Farms, a 70,000-cow facility near Boardman, began supplying milk to the Tillamook County Creamery Association's manufacturing plant nearby. One of the results of this move was that an average of nine family-owned Oregon dairy farms went out of business each month between 2002 and 2007.
Why did this happen?
"Mega-dairies flood the market with milk, driving down milk prices and making it increasingly difficult for family farmers to stay afloat," Bansen wrote in an editorial in the Salem Statesman Journal.
Mega-dairies also degrade the lives of local communities. Bansen wrote that "the ways in which family dairy farmers and mega-dairies contribute to a community are drastically different. When something breaks, family farmers typically buy parts from the local store. When their animals need veterinary attention, they call the local vet. They support their feed stores, tractor-supply stores, and more. After a hard day on the farm, family farmers often engage in their community, schools, civic groups, and churches."
Bansen emphasized that employees at mega-dairies have neither the time nor the money to spend in their communities because of low wages and the long hours demanded of them. And any equipment needed at the dairy is bought from the cheapest (mostly non-local) sources, and profits are sent off to corporate, often out-of-state, offices.
Waste and Groundwater
To give an idea of how large these mega-dairies are, all you have to do is refer to their corporate websites. Threemile Canyon's cows—consisting of 25,000 milk cows, 30,000 replacement heifers, 7,000 steers, and an 8,000-calf nursery—produce 165,000 gallons of milk per day. If you look at a satellite view of the property, you see that the buildings the cows live in are so vast that employees have to drive to get from one end to the other.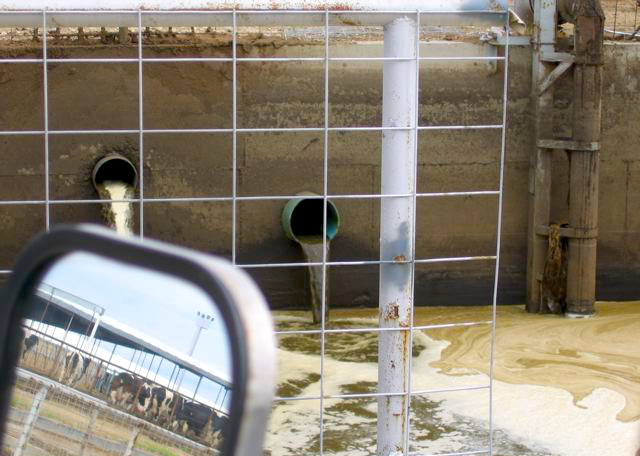 The amount of waste that these 70,000 cows produce is also mind-boggling—estimates are around 436 million gallons of liquid manure every year. One of the several open-air, double-lined waste pits, called lagoons, covers more than 20 acres. While these large facilities have permits for discharging waste under the Clean Water Act, a state statute (ORS 468B-025) prohibits any of it from entering "waters of the state."
"It says in very broad terms that no person in Oregon shall place or cause to be placed waste where it may enter waters of the state by any means," says Wym Matthews, fertilizer program manager of the Confined Animal Feeding Operation (CAFO) for the Oregon Department of Agriculture (ODA). "There's the broad thought in Oregon that folks should be responsible and not allow material they are managing—waste or not—to get into the waters and cause a problem."
In other states, leaks from lagoons have endangered the drinking water of cities that rely on rivers as a water source, and manure from the spills has been responsible for the deaths of thousands of fish in waterways. Recently, a major liquid manure spill from a dairy operation in the Tillamook area caused the closure of Tillamook Bay due to contamination from fecal coliform, which had a significant economic impact on commercial oyster growers in the area.
The thing that worries Ivan Maluski, policy director for Friends of Family Farmers (FoFF), an organization that supports socially and environmentally responsible family-scale agriculture in Oregon, is that much of the reporting and monitoring is left up to the operations themselves.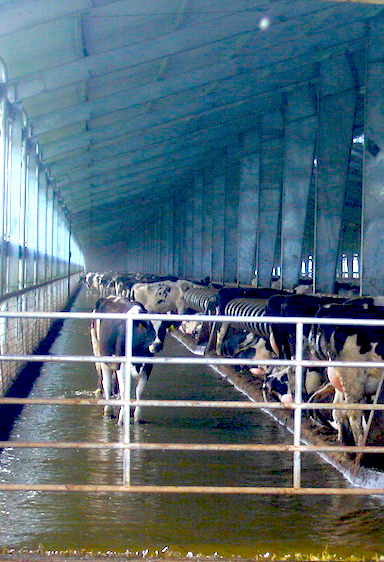 "The reality is that it's not possible for there to be no discharge at all, so it's a bit of an aspirational permit, if you will," Maluski says. "They often rely on the CAFOs themselves to report a problem because [ODA inspectors] visit them typically once a year. Or, if someone says, 'Hey they're spreading manure out there, and it looks like it's going in the creek' on a Saturday, if ODA can't get out there until Monday, they might not see anything."
And now that another mega-dairy—30,000-cow Lost Valley Farm, just 30 miles from the Threemile Canyon operation—has received a permit from the ODA, farm organizations like FoFF and the Socially Responsible Agriculture Project (SRAP), as well as consumer protection groups like the Center for Food Safety (CFS), are on high alert.
The land occupied by these two factory farms is one of three sites in Oregon designated as a Groundwater Management Area (GWMA), so named because nitrate concentrations in many area groundwater samples exceed the federal safe drinking water standard. "What's so concerning about putting another mega-dairy in an existing groundwater management area is that the Lower Umatilla Basin was designated in the '90s as a place where there were already too many nitrates in the water—water people use for drinking," says Amy van Saun, an attorney for CFS. "This is only going to make it worse."
Wym Matthews doesn't disagree. "I would describe the groundwater-monitoring well data from the Lower Umatilla GWMA as mixed," he says. "There are some wells that are staying stagnant and not getting better or worse, some that are getting better, and some that are getting worse."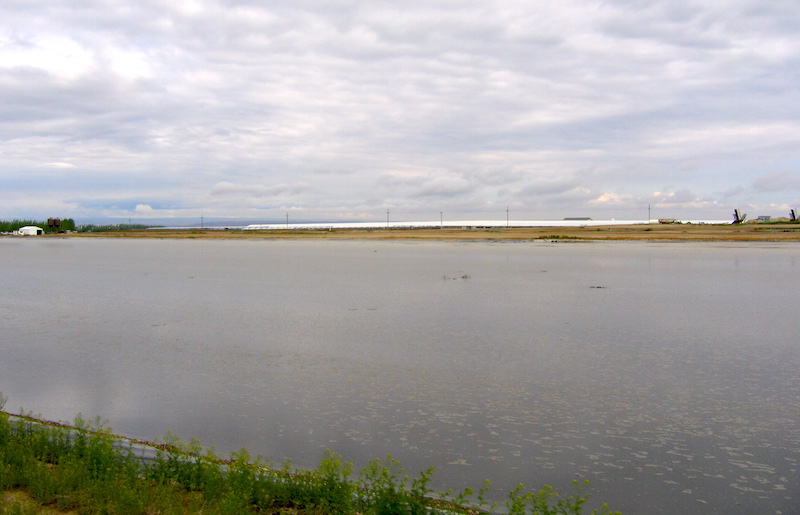 Asked how the ODA could issue a permit in such a sensitive area, Matthews says that the only way a permit could be issued is if the agencies believe that the permit is restrictive enough so that if there was discharge, it would violate the discharge standard. For Lost Valley, the department has set the discharge standard at zero.
"How can the state say yes to [Lost Valley Farm], which is clearly going to add a risk of nitrates leaching into the groundwater, when you've already got an area that's impaired and not getting any better?" Maluski asks. "When they were digging their manure lagoons for that facility, they actually hit groundwater at 10 feet, so they had to get a special water right to pump groundwater away from their lagoons. It's just absurd. Obviously, they're going to have a couple of liners, but if those liners fail, you've got a very serious direct contamination of the groundwater."
Emissions and Air Pollution
As many restrictions as there are related to the potential release of waste from these industrial farms into groundwater and nearby waters, there are no such restrictions on the very real emissions that are released into the air. Nearly a decade ago, the Oregon legislature passed a bill to address air emissions from these mega-dairies. Called the Oregon Dairy Air Quality Task Force, it was comprised of stakeholders from across the political spectrum, including representatives from government, academic institutions, the dairy industry, and public interest groups.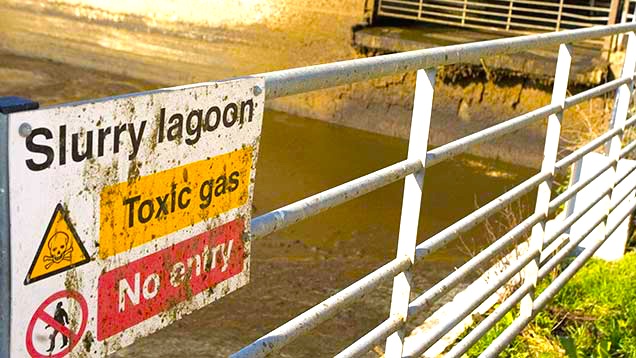 The task force studied the current scientific literature relating to air pollutants, such as ammonia, hydrogen sulfide, methane, volatile organic compounds, nitrogen oxides, and particulate matter emitted by these operations.
"Ten years ago, that task force came up with some really strong recommendations for how the state could move forward with some rules around air quality in order to get ahead of the problem of these operations coming in and having a lack of regulations to mitigate emissions," says Kendra Kimbirauskas, a member of the task force and the current CEO of SRAP. "And 10 years later, none of those recommendations went anywhere despite the fact that it was a consensus list of recommendations."
Kimbirauskas says that at SRAP, which works across the country with communities that are directly impacted by factory farms, she's seen what these operations do to rural communities. "It's just like every other extractive industry," she says, comparing factory farms to extraction industries like mining and industrial timber that threaten forests and wild lands.
"This is the same model with a different face," Kimbirauskas continues. "It's the idea that these out-of-state companies or corporations can come in, and they can call themselves family farms. But you can put lipstick on a cow, and it's still a factory farm cow. They come in, and they're extracting local resources. They're extracting the water, they're extracting the local wealth, and they're sending it off to faraway places. They're externalizing all of their costs of production, first and foremost, on the local community, on the local environment, and on the state.
"If we're not careful, and we're not paying attention to these issues now," she warns, "by the time it does become in our face, it's going to be too late, and what we love about Oregon agriculture and the local farm economy will be threatened."
When asked about Threemile Canyon Farms and Lost Valley Farm claims to have "closed loop" systems, FoFF's Maluski says he has to laugh.
"Threemile likes to talk about a closed-loop system where they're capturing their manure, they're fertilizing with it, and then they're feeding the animals everything from the corn and alfalfa they grow to potato scraps and onion scraps," he says. "But they're ignoring a number of major elements, such as their methane output." They're not a closed loop on methane, he emphasizes, arguing that their much-touted digester only captures about a sixth of their total methane emissions.
Maluski notes that a 2005 Toxic Release Inventory from the Environmental Protection Agency (EPA) said that Threemile Canyon Farms, which at the time had only 50,000 animals on-site, was one of the nation's biggest sources of ammonia emissions, estimated at 12,000 to 16,000 tons per year. "So if you conveniently ignore a major part of their operation then, OK, maybe you can get to closed loop," he says. "But you've got to do that by ignoring a bunch of big loopholes in the loop."
Van Saun at the CFS agrees. "It's not so closed when you're putting out enough ammonia that you're in the top of all industry emissions, the highest single emitter of ammonia in the state," she says. "That's an externalized cost that they're not paying for."
Local Control
Part of the reason that large operations are flocking to the state—in 1997, the U.S. Department of Agriculture census found that Oregon had eight mega-dairies with more than 1,000 cows, and as of 2012, it had 25 such facilities—is that Oregon's land use system, while it was important in preserving agricultural land when it was created in the early 1970s, did not anticipate the emergence of large factory farms.
So, for instance, when Lost Valley Farm applied for a permit to site its 30,000-cow facility on land zoned for exclusive farm use, Morrow County commissioners had no choice but to say yes. An Oregonian article reported that the county had no legal way to stop what would be the state's second-largest dairy, and that its three commissioners were deeply worried that it would sap already-limited groundwater from local farmers and exacerbate water and air-quality problems.
"When it comes to agriculture, communities don't have any local control over what kind of agriculture is acceptable in the community and what kind of agriculture they want to limit or regulate," Kimbirauskas says. "That's because local control has been pre-empted in this state, meaning that policy on agriculture can only really be set at the state level."
But for Monmouth dairyman Jon Bansen, it boils down to putting efforts where they will do the most good for the animals, the communities, and the environment.
"There's different ways of making food, and I think some of them are more beneficial to human health," he says of the reason he chose to operate a small, pasture-based organic dairy. "If you're going to eat dairy, you should eat dairy that comes from cows that get to do what ruminants do: Go out, graze pastures, and live their lives on the soft earth, not on hard cement. To do what a cow is supposed to do. And if the animal's really healthy, then the product it's producing is going to be healthier for the consumer. That's why we do what we do."
Top photo from the East Oregonian. Photo of Bansens from Organic Valley Co-operative. Photos of Threemile Canyon Farms from Friends of Family Farmers.
Posted on November 2, 2017