Seattle: The Space Needle. Pike Place Market. The Monorail. SAM, MoPOP and the Experience Music Project. But on a recent trip we found those iconic spots are only one side of the city's story—literally.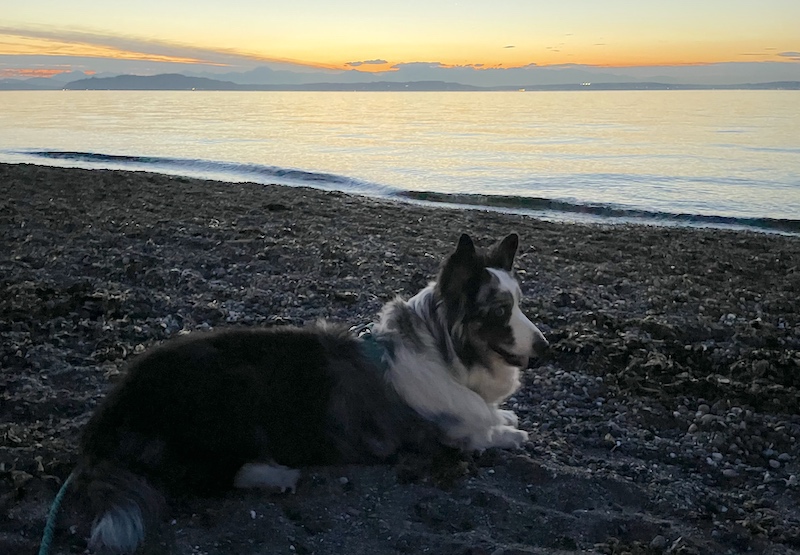 It had been years since we'd ventured up north, but I'd been wanting to visit my friend and cookbook author Cynthia Nims, having been titillated by the beautiful shots she'd posted on Instagram from her walks through her West Seattle neighborhood. We set a date for a road trip north, and she suggested The Grove West Seattle Inn as a centrally located (and pet-friendly) spot to stay. It's a classic mid-century, two-story motel built for the flood of tourists that came to town to attend the 1962 Seattle World's Fair. Even better, its rates were easily half of what we'd find downtown.
A peninsula separated from the downtown area by the Duwamish Waterway on its eastern flank and the Puget Sound on the north and west, hilly West Seattle is primarily residential, populated by almost one-fifth of the city's residents. Much like the east side of Portland, it's connected to downtown by a bridge and has thriving, active neighborhoods with busy shopping and dining areas. It's chock-full of locally owned businesses, and includes many parks with sweeping views of the water.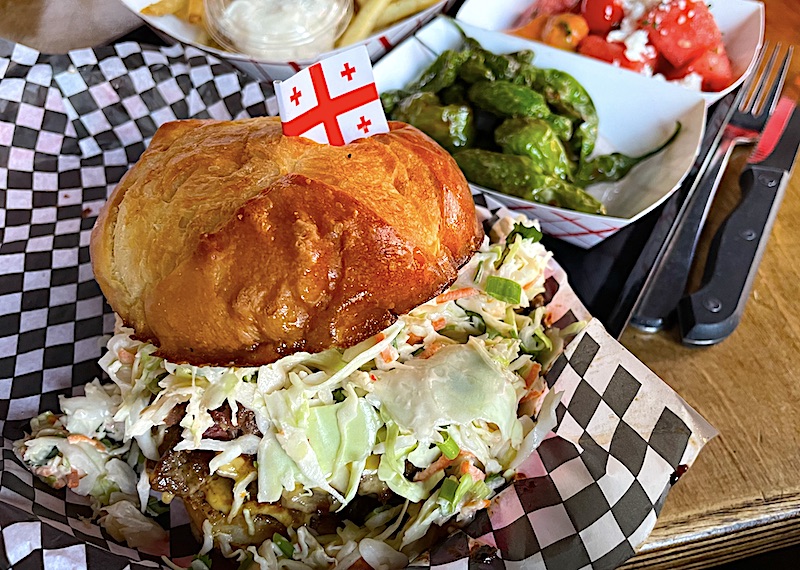 From Cynthia's photos, though, I was particularly drawn to the beaches that wrap around its rolling hills (top video). The paved, beach-side pathways allow bike-able, pedestrian-friendly access with spectacular water views, and the broad avenues sweep along them are lined on the other side with restaurants, bars and shops.
With Cynthia's list of suggested restaurants, most of which were a ten-minute-or-less drive from our digs, we chose the well-reviewed and promising-sounding Lady Jaye Smokehouse & Restaurant for dinner our first night. Promising a butcher shop, whiskey bar and barbecue, with an intriguing cocktail menu and reasonable prices, it was an easy pick. (The owners have also just opened a bakery-and-sandwiches spot called Little Jaye in South Park's Cloverdale Business Park.)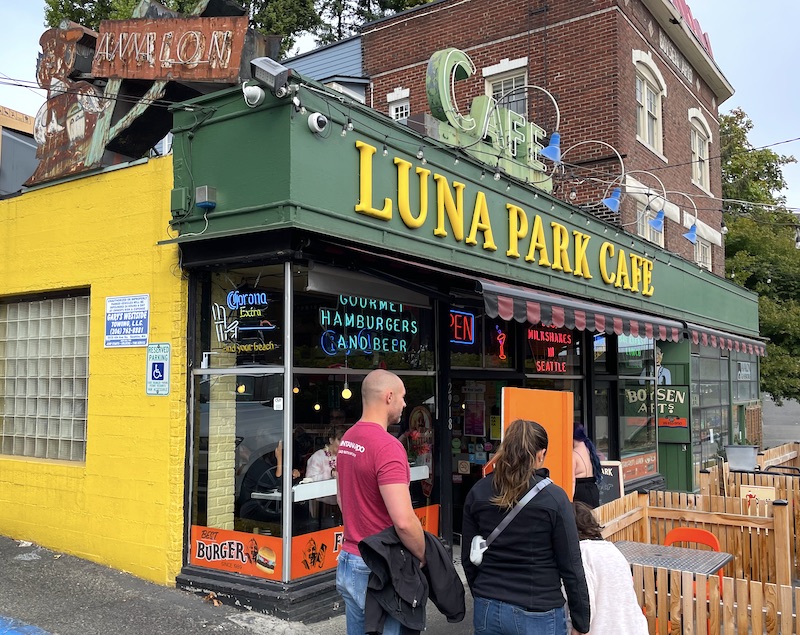 We got a table in the front window overlooking the busy sidewalk—the people-watching was excellent—while we perused the menu and I tried not to chug my mango shrub after the day's drive. Most of the mains came with a choice of three sides, so when their justifiably notorious Prime Bugogi Short Rib (above right) arrived on a platter with a huge pile of fries, watermelon salad and another pile of blistered shisito peppers, I was suitably bowled over. Dave's choice of the Smoked Pork New York was equally impressive, with three thick slices of meat, meltingly tender and luscious along with the requisite sides.
The evening was cool and clear, and I was determined to head to Alki Beach on the peninsula's northwestern side to catch the last rays of the sunset as it dropped into the Sound. Plus it gave us the opportunity to walk the dogs before collapsing into our beds (video, top).
Somehow by the next morning we were hungry again and decided to drop by the West Seattle landmark, the Luna Park Café with its eclectic 1950s-inspired decor that looked like your grandparents' attic (plus maybe their storage unit) had exploded inside. The retro diner menu is classic, with items divided into "piles, hobos, scrambles and omelettes"—basically homefries topped with eggs, homefries mixed into eggs (basically the same as a scramble) and homefries inside an egg wrap, respectively. Clever, and also well worth a visit.
Dinner was taken care of by an exclusive invite to dine chez Cynthia with her husband Bob in their mid-century home with, as Cynthia described it, "a million-dollar view…from the driveway." So the by-now-drizzly afternoon beforehand was spent napping and reading until it was time to head to their place.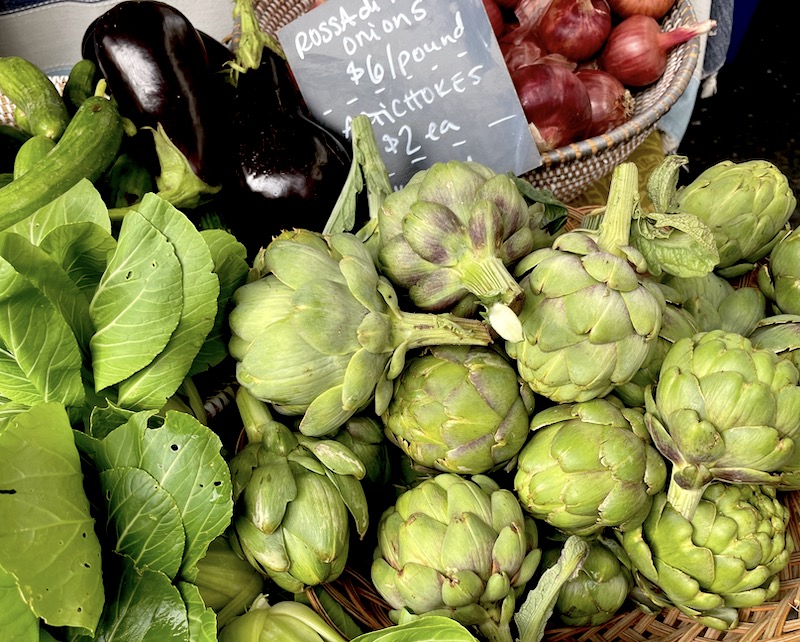 The next morning we emerged from our room with the dogs for their morning walk and right across the street from our motel we saw a sign saying "FRESH BEIGNETS" in front of a nondescript warehouse. This deserved investigating, so I approached the plastic-flapped entrance to Jet City Beignet and rang the bell. A sign taped to a stand read "two for $6," which sounded like a deal. I ordered from the nice young woman who popped out, and a few minutes later the pups and I—Dave's lactose intolerance prevented him indulging—were munching on a box of the hot, fresh, crunchy pastries. (Never fear, Dave got his pastry at a coffee spot nearby.)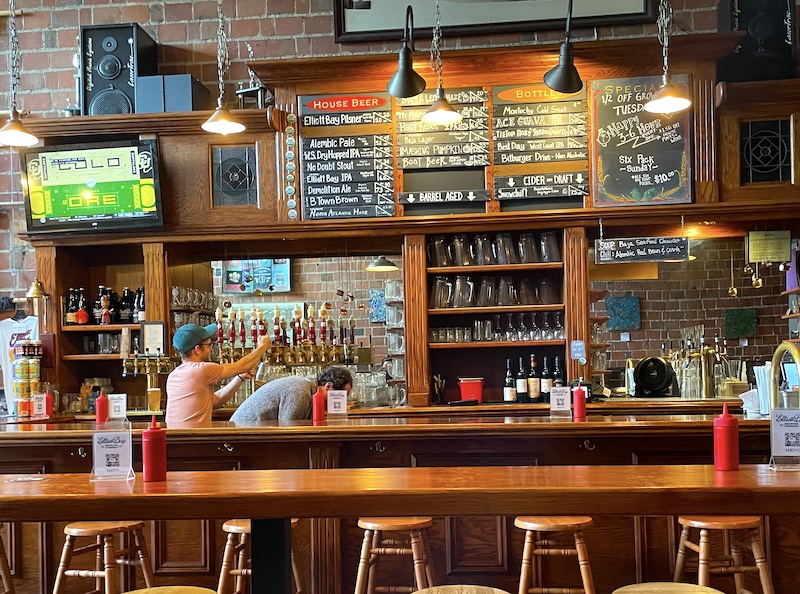 The 2.5-mile trek from home to the West Seattle Farmers Market is Cynthia's regular workout on Sundays, and we'd arranged to meet and tour the market, then head to the nearby Elliott Bay Brewing Company for lunch with our husbands. A bustling market equivalent in size to our own Hillsdale market, it's always a delight to see a community come together over local food.
The guys were already well into their pints by the time we tore ourselves away from the market, and Elliott Bay proved its bonafides, to me, at least, with an extensive selection of its own organic beers—now sadly lacking in PDX brewpubs—and some of the best pub fare I've had in recent memory.
More rain was forecast for most of our last day, but we were intent on making a pilgrimage to Lincoln Park' for a hike and a visit with Bruun Idun, its resident troll, part of the Northwest Trolls: Way of the Bird King project, a series of giant hand-built troll sculptures by Danish environmental artist Thomas Dambo:
"At night there was a storm, there at the beach where she was born
And Idun felt a feeling wrong, and so she walked there in the dawn
And on her flute, the magic horn, a tune so passionate and strong
She played for them an orca song
To ask them where they all have gone."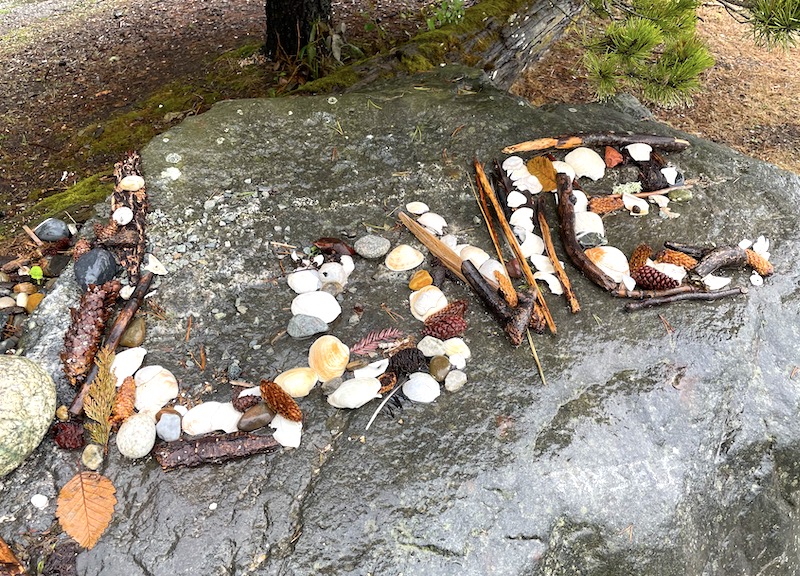 The other must-see before we left was to the renowned LOVE rock that Cynthia has immortalized on her blog. She describes it as "the letters L-O-V-E spelled out in some manner of mostly-beach-collected materials," once including a green apple Jolly Rancher.
Myriad trails run through the park, some well-marked and some not, but there is always the water on the west and the street on the east, so it's difficult for even my directionally challenged self to go astray. A long waterside beach with idiosynchratic driftwood "sculptures" scattered along its length with a paved walkway running next to it, this is a spectacular park and even has its own public outdoor saltwater pool open in the summer months.
Discovering this other, much more low-key—and less expensive—side of Seattle was a delightful, eye-opening experience, and with downtown only a few minutes' drive across the bridge, we'll definitely be returning. Thanks, Cynthia—you truly are the "unofficial Walking West Seattle ambassador"!
Posted on October 29, 2023