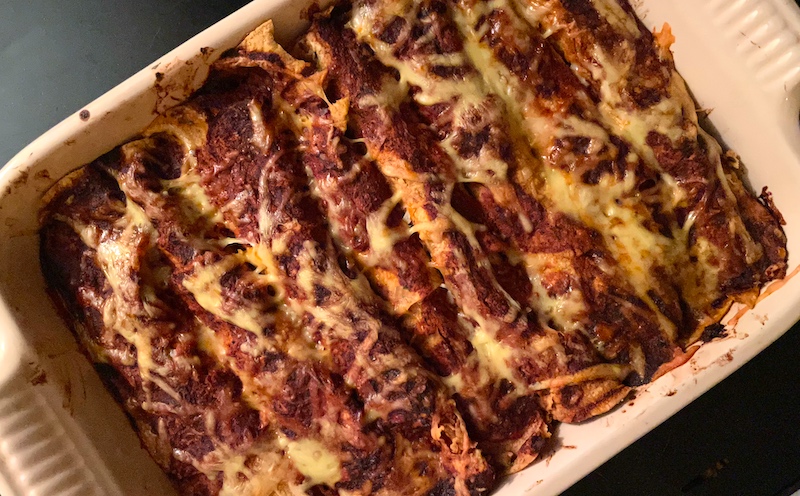 The ongoing crisis between Russia and NATO over the invasion of Ukraine, the struggle between protesters in Iran and the government over its extrajudicial killings, or the GOP's imminent implosion? Those have nothing on the potential fireworks involved in negotiating holiday meals with the family. The delicacy and maneuvering required as must-have side dishes are put forward for consideration, old family recipes are tossed in (and out) and dietary restrictions are figured into the mix would have even Anthony Blinken—who has released two songs on Spotify under the name "ABlinken"—scrambling for his easy listening list.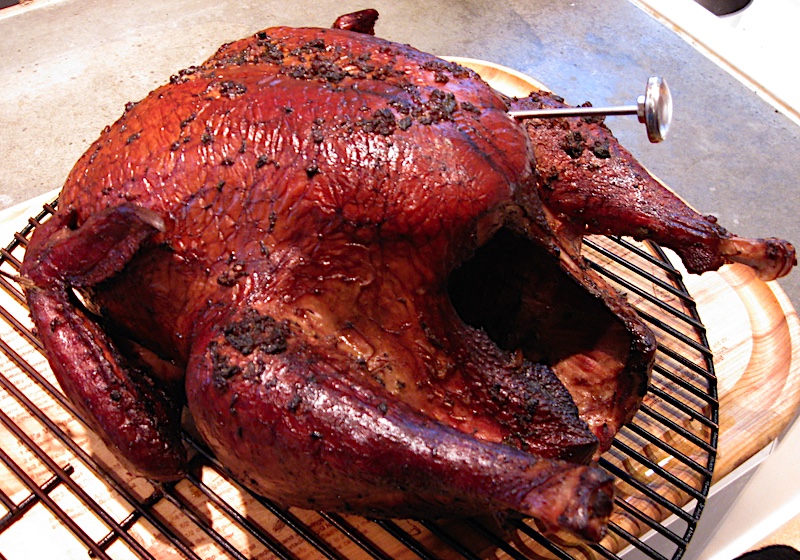 Like one year when Dave learned we were going to my brother's for Thanksgiving dinner. Normally an invitation from my brother isn't even a question due to the quality of his cooking and the depth of his liquor cabinet. But for this occasion Dave's reaction was a look of disbelief and a cry of, "But I was planning to smoke the turkey in the smoker!"
After assuring him that I'd ordered a turkey so he could smoke it the next day, leaving plenty of leftovers for turkey sandwiches and his beloved turkey enchiladas, he immediately switched into research mode, looking up which wood charcoal to use as well as the complex calculations involved in getting the temperature and timing just right.
Suffice it to say that not only was it a wonderful holiday meal that included incredible cocktails and wines, a whole grilled turkey and some great side dishes, but the next day's smoking produced a bronzed beauty and some rocking turkey enchiladas.
Now to start planning for Christmas. Eek!
Dave's Favorite Turkey Enchiladas
For the sauce:
6 dried ancho chiles, seeded and torn into pieces
2 dried hot red chiles like cayenne, seeded and torn into pieces
3 1/2 c. boiling water
1 Tbsp. cumin seeds
2 Tbsp. (6-8) garlic cloves
4 tsp. oregano
3 Tbsp. paprika (I use 1 Tbsp. smoked Spanish pimenton and 2 Tbsp. regular paprika)
1 Tbsp. sugar
1 Tbsp. salt
2-4 c. roasted tomatoes (optional depending on how strong you like your enchilada sauce)
For the enchiladas:
4-6 c. cooked turkey, chopped
2 c. grated Monterey Jack or sharp cheddar cheese, grated
3 green onions, chopped
1 c. sour cream
1/2 c. sauce (recipe above
Salt to taste
8 10-inch flour tortillas
Place the torn chiles in a heat-proof bowl and pour the boiling water over them. Soak for 30 min. until they are soft and pliable. Drain them, reserving the soaking water, and place them in the bowl of a food processor or blender. Add remaining ingredients and 1/2 c. soaking liquid and process till smooth, gradually adding the rest of the soaking water. Pour into saucepan and heat to simmer, then remove from heat.
Mix turkey, cheese, onions, sour cream and sauce in large mixing bowl. Stir to combine. Pour 1/2 c. of sauce in bottom of 9" by 12" baking dish and spread evenly over bottom of dish. Put 1/8 of enchilada mixture down center of one tortilla and roll, placing it seam-side down in baking dish. Repeat with remaining mixture and tortillas. Pour sauce over top to cover thinly (there should be sauce left over). Bake 40 min. in 350° oven. Serve leftover sauce on side or save for use in huevos rancheros, tacos, etc.
Note: This is my basic chile sauce and will make approx. 4-5 cups, which gives plenty for other uses like those mentioned above or is fantastic for a pork posole. It will keep basically forever in the freezer, making it easy to pull out as needed!
Posted on December 7, 2022