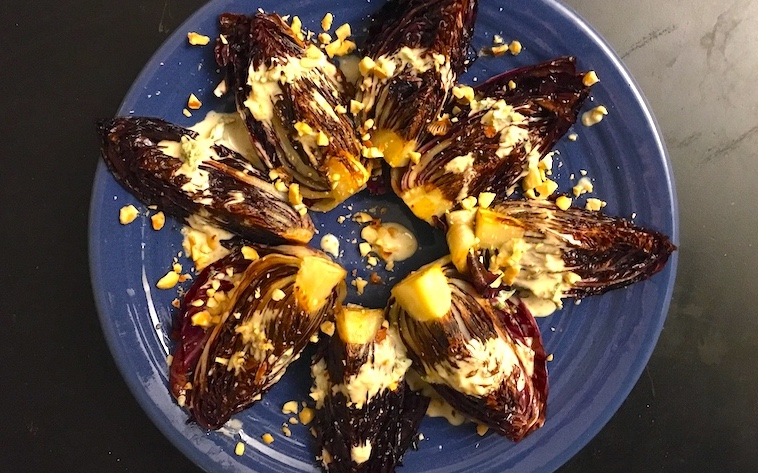 Verona. Castelfranco. Treviso. Chioggia. Lusia. Rosa del Veneto. A wide range of colors from deep burgundy to pastel pink to soft yellow, and solid to streaked to brightly speckled.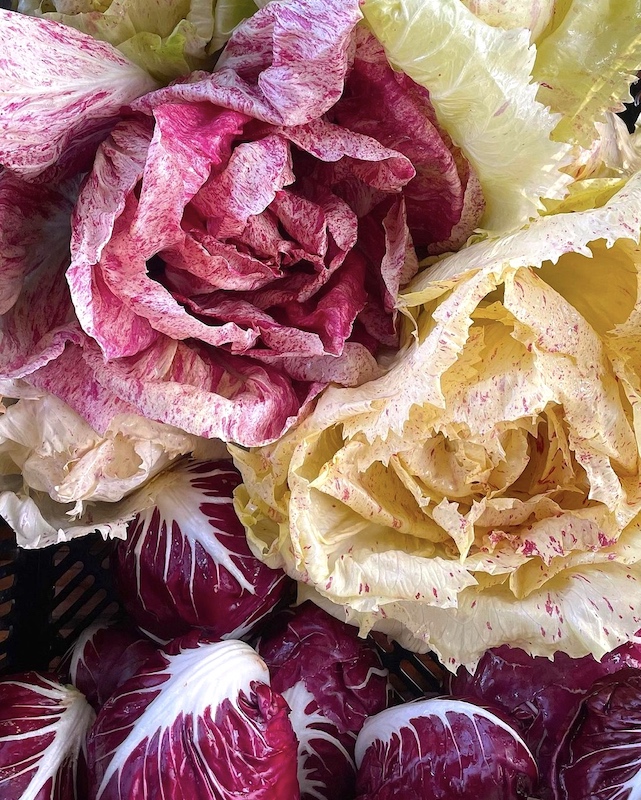 Radicchio season has been glorious this year, as evidenced by the gorgeous abundance of varieties at farm stands, farmers' markets and greengrocers. Not only has the weather been spectacular for this late fall crop, but more local farmers than ever are growing these slightly bitter members of the brassica family.
One reason it grows so well here is that, as Anthony Boutard has pointed out numerous times, we're at virtually the same latitude as Italy's Venezia and Piedmont regions, which means crops that grow well there will more likely than not will adapt well to our maritime climate. Luckily for us, Brian Campbell and Chrystine Goldberg, owners of Uprising Seeds in Bellingham, Washington, have caught the "bitter is better" bug and are working with several Northwest growers to develop and adapt these chicories to our climate. (To find out more, check out the Gusto Italiano Project, a collaboration between the Culinary Breeding Network, Uprising Seeds and the northern Italian vegetable breeders at Smarties.bio.)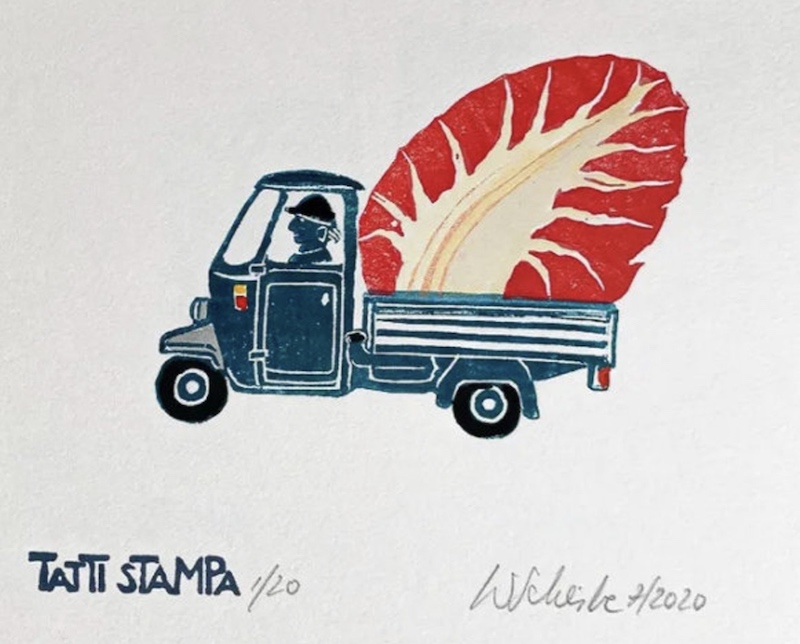 So in late fall, my heart leaps when I see the first heads of Treviso and Castelfranco at the markets, and I can't seem to get enough of them in salads, chopped in wide ribbons and tossed with other greens and fall vegetables like black radish and fennel. I've also discovered an affinity between radicchio and our own hazelnuts—I've been crushing roasted hazelnuts and scattering them with abandon, where they bring a sweet counterpoint to the bitter notes of the chicory.
This year I've also discovered how delicious these fall beauties—particularly the tighter heads of Treviso, Chioggia and Verona—are when seared in a pan over a fire or on the stovetop. It takes just a few minutes to quarter them, sear them in a bit of hot olive oil and drizzle them with my creamy Miso Vinaigrette (below). And don't forget the roasted hazelnuts!
Seared Radicchio with Creamy Miso Vinaigrette
For the vinaigrette:
3 Tbsp. mayonnaise
1 Tbsp. Dijon mustard
2 Tbsp. rice vinegar
1 clove garlic, pressed in a garlic press
1 Tbsp. white miso
Herbs, finely chopped (I like tarragon or thyme as well as chopped chives)
1 tsp. honey (optional)
For the radicchio:
2 Tbsp. olive oil
2 smaller heads of Chioggia, Verona or Treviso radicchio
1/2 c. roasted hazelnuts, crushed
To make the vinaigrette, combine the ingredients in a small mixing bowl and whisk together.
Slice the heads of radicchio in quarters, leaving the core intact so the leaves will stay together. (The cores will soften while searing and be quite lovely.) Heat the olive oil in a large frying pan and place the quartered wedges cut-side down and sear until very dark brown (don't worry if they look blackish…that's good). Turn and sear the other cut side, then turn onto the back and sear. Remove to a serving plate and drizzle with vinaigrette and sprinkle with crushed, roasted hazelnuts. Serve warm.
Photo of heads of radicchio from Slow Hand Farm. Radicchio print from Culinary Breeding Network Etsy shop where you can buy lots of radicchio merch!
Posted on December 8, 2021