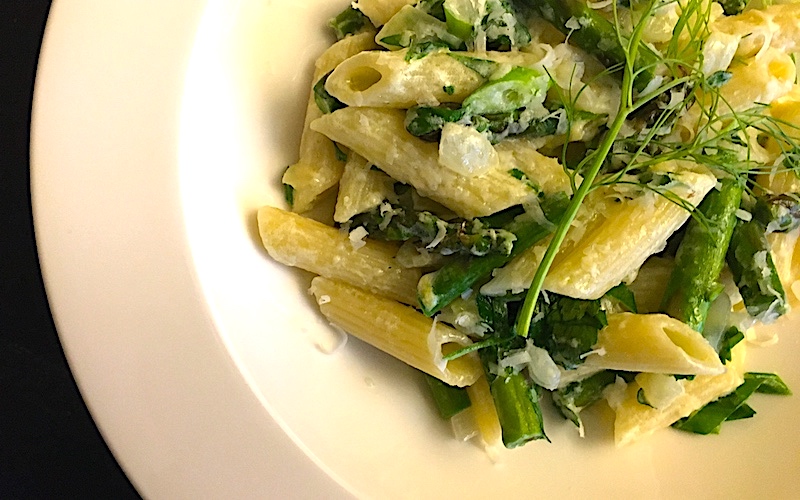 Cooking is saving my sanity these days. Yes, making three meals a day for a family can also be drudgery, but I can't help getting excited when I scan what's on offer at our farmers' markets or my local greengrocer. In this transition between spring and summer, we've still got spring delights like local asparagus, spring onions, fennel and favas until summer squashes, luscious berries, tomatoes, peaches and the rest of summer's bounty step on stage.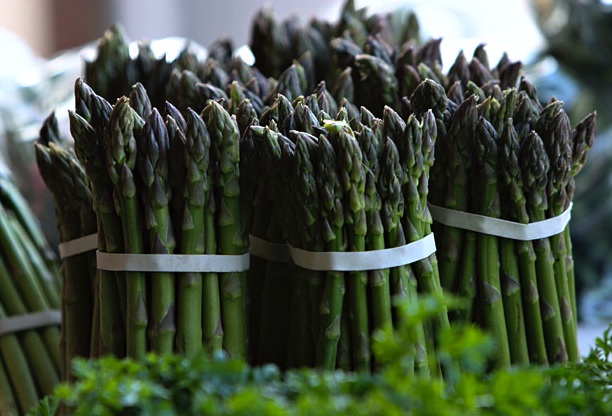 I've been loving our mild spring weather that has allowed for roasting chicken in the oven and making soups on the stovetop, but hasn't precluded grilling outside or (distanced) happy hours in the back yard with friends. (Expect a separate post on outdoor happy hours in a pandemic, including appetizers and drinks!)
In this crossover season between spring and summer I find that I'm still craving comfort foods, so I started casting about in my mental recipe box while rummaging through the refrigerator. With asparagus and fennel in the veg bin, a creamy spring pasta seemed like it might hit the "warm and cozy" button but still promise some springy pizazz in every bite.
Quick to make and startlingly delicious, with a minimum of fuss (or chopping), it was super satisfying and gave me options for making it again with seasonal vegetables to come. A glass of crisp rosé alongside, and my sanity was intact, at least for one more day.
Creamy Spring Asparagus and Fennel Pasta
For the sauce:
1 Tbsp. olive oil
1 Tbsp. flour
1 c. milk
1/4 c. stock (chicken or vegetable)
2 oz. cream cheese
1/2 c. parmesan, grated, plus more for serving
Zest of one lemon
For the pasta:
1 lb. dried pasta
2 Tbsp. olive oil
1/2 yellow onion, chopped fine
1 lb. asparagus, sliced in 1-inch pieces
1 c. slivered fennel
4 cloves garlic, minced
2 green onions, sliced crosswise into 1/8" slices
1/2 c. parsley
Bring a large pot of well-salted water to boil.
For the sauce, heat the olive oil in a medium-sized saucepan over medium heat. Remove from heat, whisk in flour until smooth, return to heat and cook for one minute. Whisk in milk and stock until slightly thickened. Add cream cheese and parmesan and stir until smooth. Stir in lemon zest and reduce heat to warm.
Add the pasta to the boiling water and boil until al dente.
In a large skillet heat the oil for the pasta until it shimmers, then add onion and sauté until translucent. Add asparagus pieces, fennel and garlic and sauté until tender. Stir in green onions. Reduce heat to warm until pasta is done.
When pasta is done, drain and put back in its pot. Add vegetables, cream sauce and parsley and stir to combine. Empty pasta into serving dish and sprinkle with some of the extra grated parmesan. Serve.
This would also be terrific with fava beans and peas, or in a month or so you could make it with zucchini or yellow squash and peas. The possibilities seem endless!
Posted on June 22, 2020