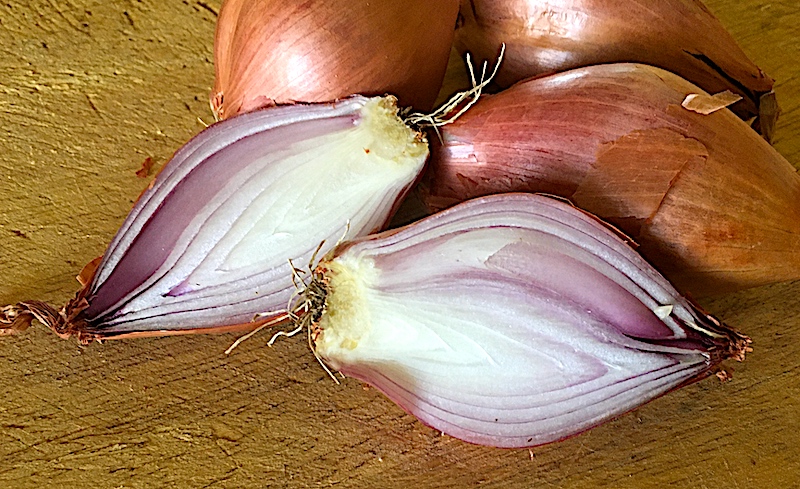 It's allium season in the Pacific Northwest, with wild varieties of onions and garlic appearing in spring meadows and their domestic cousins like leeks, spring onions, scallions, Spanish calçots, garlic and shallots cascading in from local farms. (By the way, if you see ramps? They don't grow here and are imported from other areas of the country.) Ginger Rapport, Market Master of the Beaverton Farmers Market, shares her love of these ubiquitous bulbs.
Shallots are an underappreciated member of the allium or onion family. While they are an essential ingredient in many cuisines like those of Southeast Asia and Vietnam, most Americans fail to appreciate all they have to offer.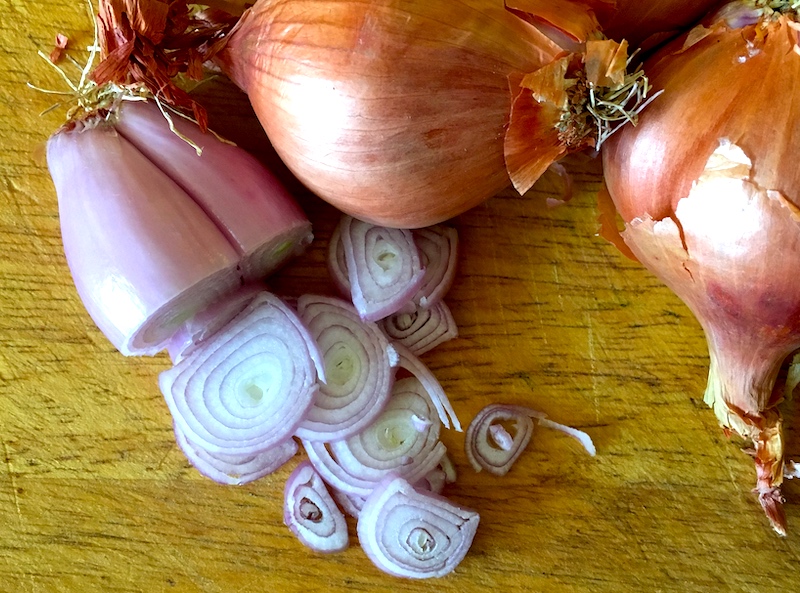 Shallots have a delicate, sweet flavor without the intense heat of an onion. They are preferable over onions in raw applications such as salad dressings and vinaigrettes. Finely diced, they provide a subtle bite to pan sauces and are delicious roasted whole, or pickled as a garnish. Shallots are ubiquitous in Vietnamese cooking, especially pho, where they are combined with ginger to give pho its unique taste and fragrance.
In the past shallots were mainly imported from Europe which made them somewhat expensive when compared to onions. This is probably one reason why they are not as widely used here in the States as they should be. Domestically grown shallots are becoming more common, which is also making them more affordable. Fortunately for us here at the Beaverton Farmers Market, Farmer Yo Tee Telio grows huge, gorgeous shallots and you can find them in his Salmon Creek Farm booth at the market.
Fried Shallots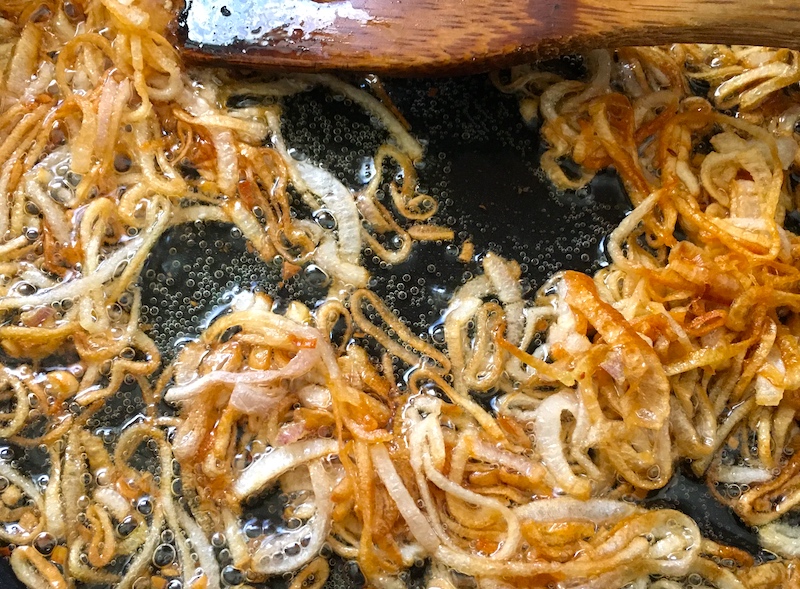 Frying shallots turns them into crispy, flavor-packed clusters that are good on almost anything. (This is not an exaggeration.) Beaverton Farmers Market Master Ginger Rapport keeps a container of them in her refrigerator at all times. Their caramelized flavor and crunchy texture adds sparkle to salads, potatoes, roasted or steamed vegetables, grain bowls, omelets, steaks, deviled eggs and avocado toast. Chopped, they can be added to dips or combined with mayonnaise as a sandwich spread. Bring cottage cheese to life with a sprinkling of fried shallots on top. They are also delicious eaten by the handful, and making them is super easy.
When we said that they are good on everything? We meant it.
8 small shallots
1 c. peanut oil (or vegetable oil like canola)
Salt
Peel shallots of their papery coverings, slicing off the root and papery tip. Slice shallots crosswise into very thin (1/16" or so) rings.
Heat oil in a frying pan until it shimmers. Check the temperature by taking one of the rings and tossing it into the pan. If it sizzles, the oil is ready. Put sliced shallots into the pan and move them around with a spatula to keep them from sticking. Moderate heat to keep them sizzling but not burning. When they are golden brown remove them to racks set over paper towels to cool and crisp up.
Use immediately or store in refrigerator in an airtight container for up to two months.
Posted on April 11, 2021