"We are lucky to live in a state with relatively low numbers of
COVID-19 cases, however, the recent increase in cases has shown us how easily
that could change if we do not remain vigilant." Ginger Rapport
Oregon's farmers' markets are open and, as always at this time of year, over-flowing with strawberries, blueberries, cherries, summer squash, beans and all the incredible produce typical of early summer in the Pacific Northwest. What's not typical are the behind-the-scenes gymnastics that have been required to keep the markets open as Oregon officials and farmers' market representatives wrestled with establishing guidelines to keep both vendors and shoppers safe.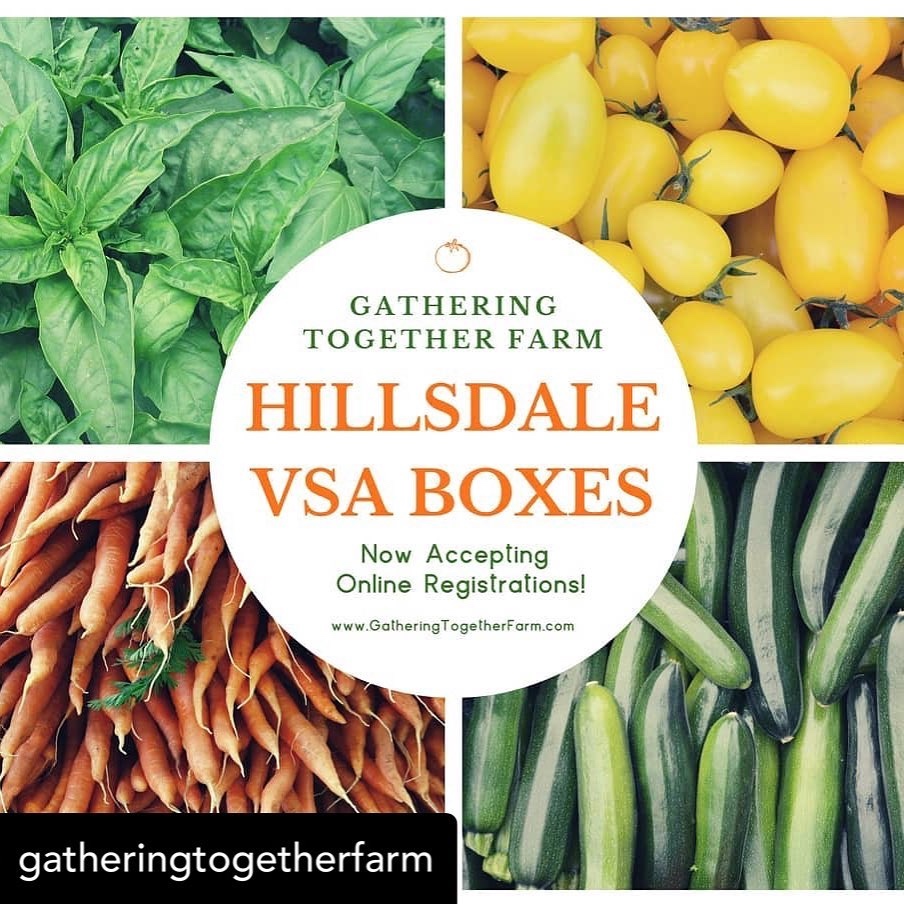 Local farms and ranches were hit hard by the closure of restaurants that bought in large volume and prominently featured locally produced meats, seasonal produce and grains on their menus. Many quickly pivoted to offering CSA subscriptions, online sales and home delivery to make up for some of the lost revenue. But the closure of the state's more than 120 farmers' markets would have been the death knell for many farms and ranches, not to mention a potentially crippling loss of revenue for communities, since farmers' markets return more than three times as much of their revenue to the local economy than do chain (grocery) competitors.
State guidelines for farmers' markets require vendors and staff to wear masks and practice safe distancing, as well as limiting the number of customers onsite and designating "social distancing officers" to enforce social distancing policies. The guidelines also require making aisles wider and spacing market booths six to 10 feet apart.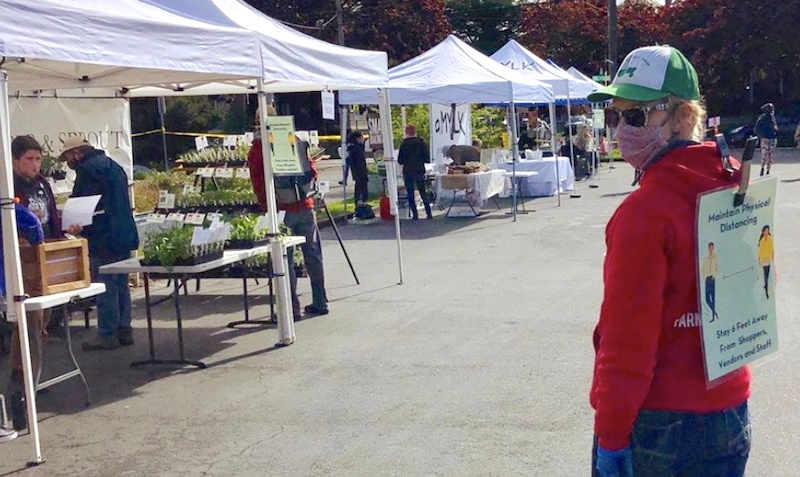 Hillsdale Farmers Market manager Eamon Molloy said that vendor placement has been his biggest challenge.
"I need to place vendors, particularly large farms, in a spot where I can give them enough space for a line that is safely spaced for customers," Molloy said, adding that, for the most part, vendors have been helpful and cooperative.
"Social distancing remains our biggest challenge," said Ginger Rapport, market master of the Beaverton Farmers Market. "Managing the lines that form with customers standing six feet apart, and managing the flow of traffic is something that requires our constant attention."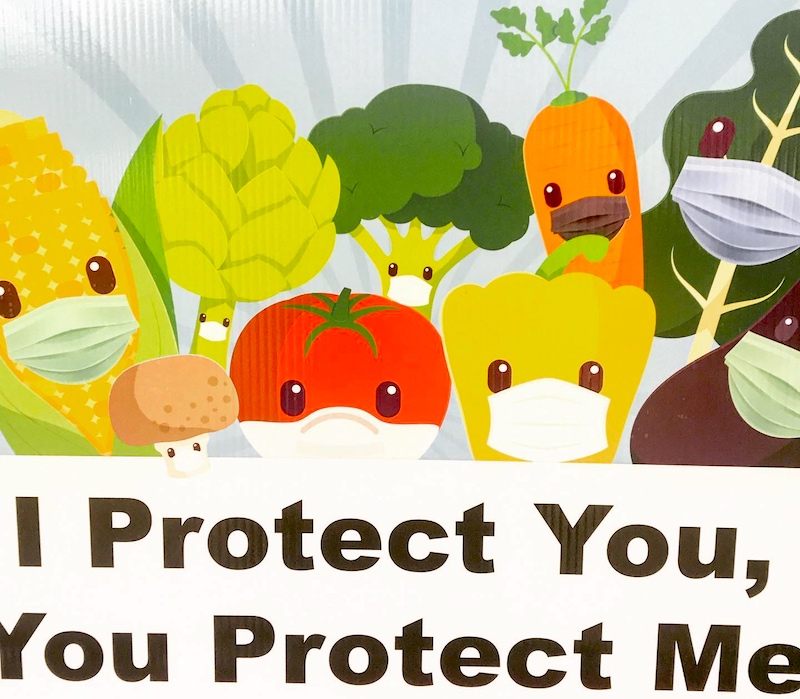 The need to maintain distance between booths and allow customers room to social distance while shopping has decreased the number of spaces available at markets, most of which operate within a limited footprint. This means that many markets have seen a decrease in stall fees—being forced to pare down to "essential" vendors, or having some at-risk vendors choosing to skip this season—which has created challenges for markets in terms of generating income for paying staff and overhead, according to the Oregon Farmers Market Association's Melissa Matthewson.
As one of the largest markets in the metro area, Rapport said that her market has had to reduce the number of usable spaces for vendors by about a third, a significant number in a market of that size.
"This means a loss in income to the market which, as a 501(c)(4) [nonprofit that promotes social welfare], doesn't operate on large margins," Rappot explained. "It's a balancing act to reduce expenses while trying to be understanding of vendors needs at such a difficult time."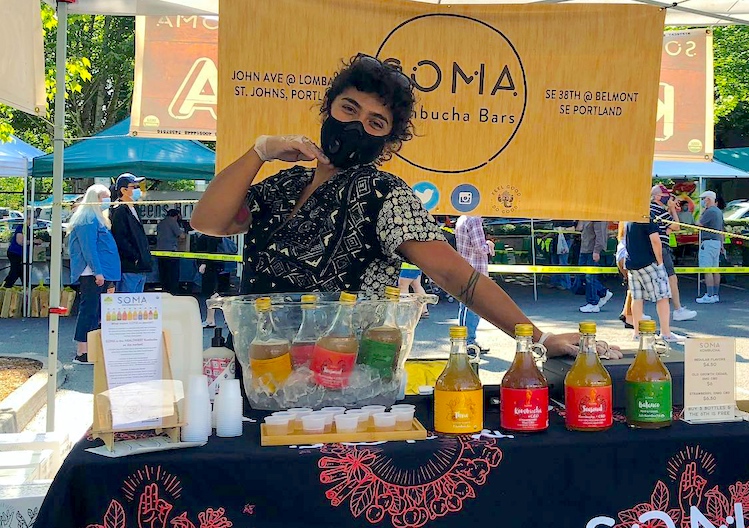 "The market is one of the few outlets for income for many of our small businesses and farms whose wholesale outlets (i.e. restaurants) have dried up, or whose fairs and festivals have been cancelled," she said. "For many we are the only game in town. There's a lot of pressure to keep the market functioning while trying not to completely drain our reserves."
In the pandemic's early days back in March, it wasn't at all certain that markets would be allowed to stay open at all. Strong advocacy on the part of the OFMA and the state's farmers, along with a willingness to collaborate with state regulators and remain flexible as policies shifted, turned the tide in favor of keeping markets open.
As for the rest of this season, Hillsdale's Molloy is cautiously optimistic.
"We are playing it week to week. We know how to run a pre-order market and are ready to turn it on if we have to do that," he said. "As long as customers comply with our mask rule and we work at keeping safe physical distancing, we will be running the way we are now."
The OFMA's Matthewson said the public will play a big part in helping markets survive. "The best way that customers can support these markets is to continue to shop there if they are able, and also to consider donating to the market as an investment in their long term viability," she said.
Posted on July 11, 2020