Though I love to travel to faraway locations as much as anyone, I don't have to go far from home to make some (potentially life-changing) discoveries. We're only a little over a month into the summer—in the Pacific Northwest the good weather can extend well into September or October—and it's been a banner season so far for eye-opening experiences.
Along with making my own infused vinegar and oil from the spiky pink pompoms in my chive patch, I've had three other new-to-me revelations.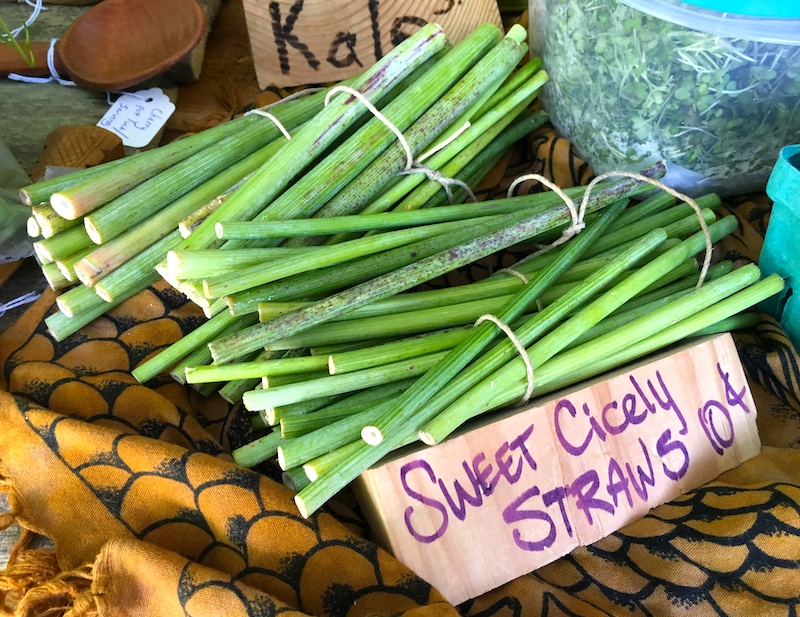 While I was planning a week-long sojourn in a cabin on Mt. Hood, I heard that the Hoodland Farmers Market in Welches had launched its first season and would be open during our stay. Being the farmers' market obsessive that I am, it was immediately put on our schedule. The day after we arrived, I had picked up a few greens to tide us over for the week when a small pile of green stick-like bundles caught my eye.
A hand-lettered sign said "Sweet Cicely Straws 10¢," so I asked the tall bearded fellow standing behind the table what they were like. He said they had a mild, slightly sweet flavor and that they'd be good with light sodas, but when he mentioned he preferred them with gin and tonics, I was sold. A little research revealed that cicely is related to anise, fennel and caraway—it's sometimes used to flavor akvavit—and that the leaves, seeds and roots are all edible.
In the interest of science, on our return to the cabin we immediately tested them with gin and tonics, served al fresco by the river, and while the flavor was subtle, indeed, they were a perfect (and perfectly local), functional garnish.
---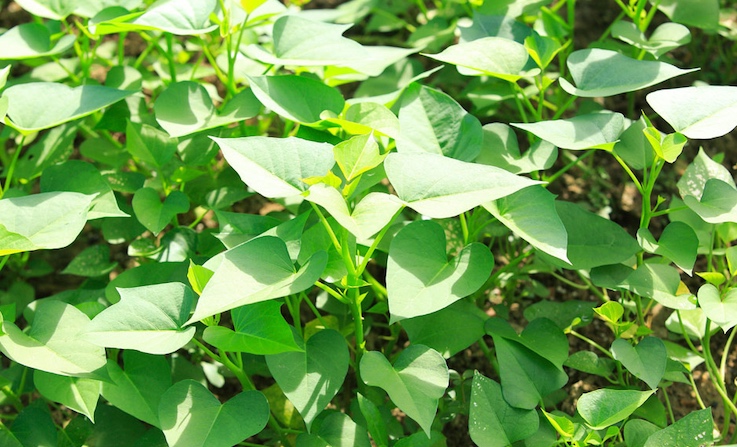 Confession time: My name is Kathleen and I have a greens problem.
There. I said it. I can't pass by a pile of leafy vegetation at a market without stopping and admiring the fluorescent light green, dark green or medium green hue, caressing a leaf to find out whether it's thick and substantial or soft and ephemeral. I imagine what it would be like to cook with (or not), whether to steam, chop, chiffonade or leave it whole, what preparation would bring out its best flavor.
Like I said, a problem.
So, of course, when Josh Alsberg of Rubinette Produce mentioned in passing that he'd just received some sweet potato greens from Groundwork Organics north of Eugene, it was all I could do not to grab him by the lapels—Josh with lapels is an odd image, but an apt metaphor for my mania—and insist he give me some right away.
But I held myself in check, picked up a bunch (well, two) and brought them home. Fairly substantial, the deep forest green leaves seemed like they would hold up to a quick stir-fry, so I threw them into a hot pan already heaped with sautéed spring onions and green garlic, spritzed them with tiny bit of chive vinegar and served them alongside rotisserie chicken.=
So, you might ask, am I going to try to free myself of this greens obsession? Um…no…not anytime soon, as a matter of fact.
---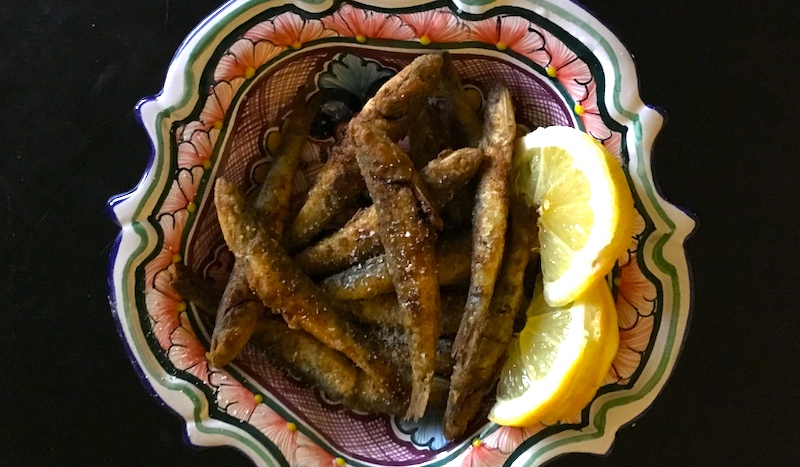 It started with a dinner on the garden-like patio at Burrasca with owners Elizabeth Petrosian and Chef Paolo Calamai. Elizabeth had posted photos of their Tuscan artichoke dishes made with organic purple Italian artichokes, grown by Tom and Patreece DeNoble of DeNoble Farms, which included a salad of raw shaved baby artichokes, tiny and tender fried baby artichokes and a creamy, delicate artichoke sformato.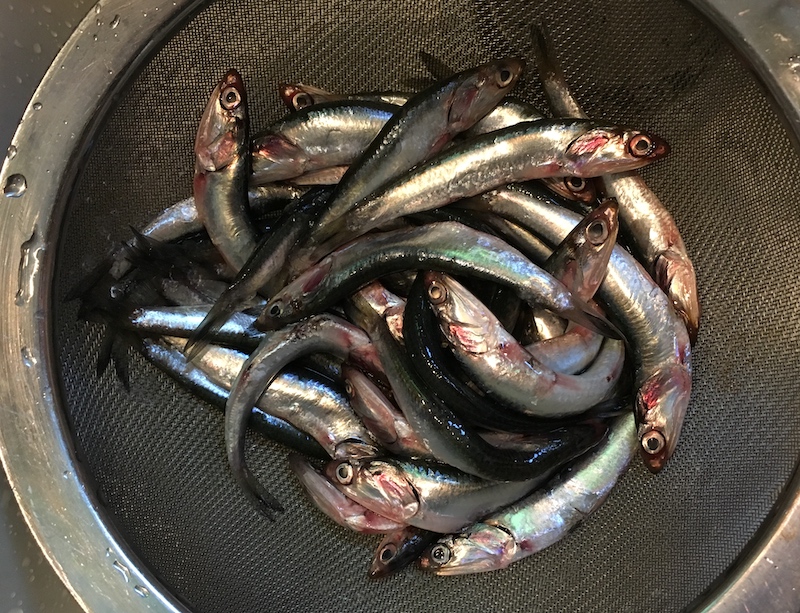 Another dish on the menu was frittura con gli occhi, amusingly translated as "fries with eyes," which was, to me, an irresistible must-have, not only because of the name but it also being fresh West Coast anchovies simply breaded and fried whole. (Yes, whole, as in heads on.) Tiny, crispy and tasting of the sea, I was entranced.
So it was fortuitous when, the very next day, I stopped by Flying Fish, Lyf Gildersleeve's outpost for sustainably sourced fish, and what should be in the fresh case but some of those very same fresh anchovies. I bought a pound and brought them home, breading half of them in a flour, salt, pepper and pimenton mixture and the other half in a panko, salt and pepper mix.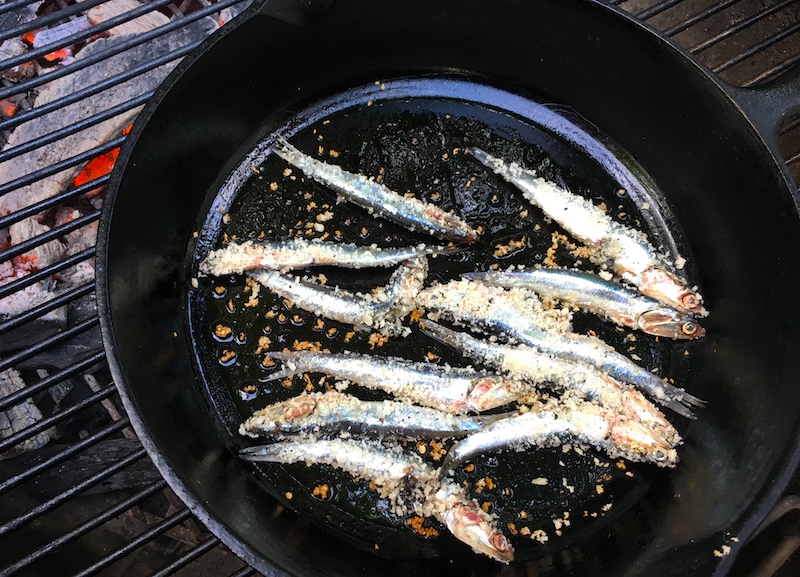 Frying them in olive oil on a cast iron skillet on the grill, the flour breading coated them more completely and gave the little fish some extra crunch, while the panko was a bit scanty and not as crispy. But oh so fun and so delicious! (Plus I got to say "frittura con gli occhi" several times that evening.)
Posted on July 18, 2019