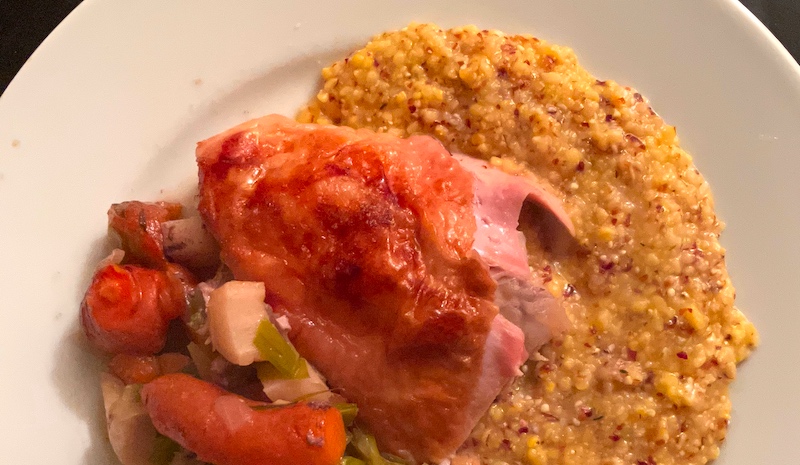 When Anthony and Carol Boutard of Ayers Creek Farm sold their 140-acre farm to retire to upstate New York, Oregon lost not only two of the loveliest people I've had the pleasure to call friends, but also a crown jewel of Oregon's food system. Not just the outstanding fruit and vegetables that they'd shepherded through numerous seasons, adapting them to their nuanced tastes and our Northwest climate, but also meticulous plant breeders who introduced new varieties to market buyers, chefs and restaurant menues, setting a standard of quality that's as yet unmatched.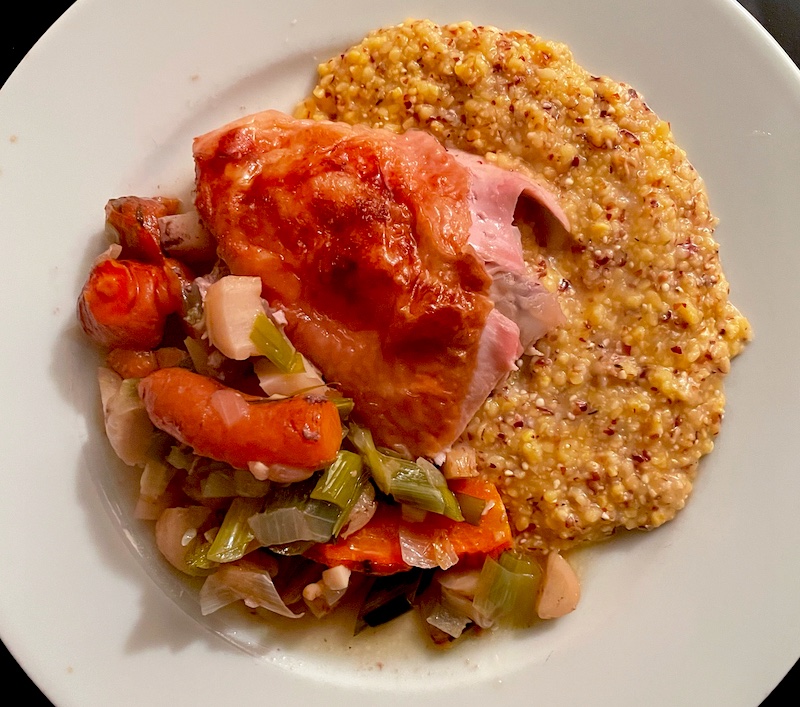 Along with their beans, berries and tomatoes, a particular focus of Anthony's was the corn that they produced—about which he wrote an entire book called Beautiful Corn—including white, flint and purple varieties they named Amish Butter, Roy's Calais Flint and Peace No War, respectively. The milled Roy's Calais Flint was a particular favorite of my family, made into cornbread, polenta and more. That meant that when the Boutards left, our source for local polenta was literally taken off the table.
In the months after my horded supply of Roy's had been plundered down to the last kernel, I searched local sources for new flint corn types. I even tried several varieties of Italian polenta available at stores, but nothing was satisfying my craving for that deeply corn-flavored, toothsome texture and flecked beauty.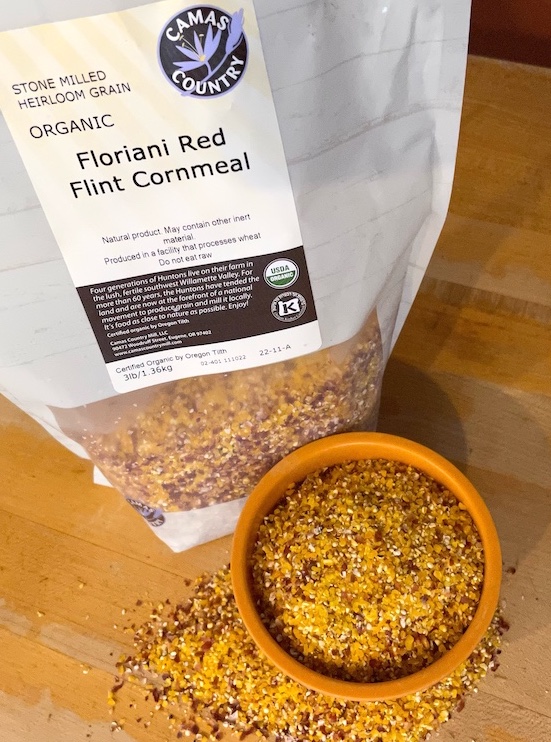 Then I discovered that Camas Country Mill, a local miller in Junction City, Oregon, that farmer Tom Hunton and his family opened in 2011—the first mill of its kind to operate in the Willamette Valley in nearly 80 years—carried a variety of organic ground flint corn called Floriani Red Flint, a dead ringer for the Roy's from Ayers Creek.
Grown by Fritz Durst, a farmer at Tule Farms in the Capay Valley of California, it's milled a bit coarser than the Roy's, so requires more liquid and a slightly longer cooking time (see recipe, below). You can purchase the Floriani Red Flint Cornmeal in three-pound bags direct from Camas Country Mill, or in the Portland metro area contact Adrian Hale of the PDX Whole Grain Bakers Guild. (Adrian's also a great source for small-batch grains and flours from regional mills. Highly recommended by Dave for home-millers!) Both sources also sell a Floriani corn flour, which is a finer grind and more suited to baking.
Floriani Red Flint Corn Polenta
3 c. water (or stock)
1 c. Floriani cornmeal
2 Tbsp. butter or olive oil (optional)
1/2 c. parmesan, freshly grated (optional)
1/4 tsp. dried thyme (optional)
Salt to taste
In a medium-sized pot, bring water to boil. Whisk in cornmeal. Keep whisking until the mixture comes to a boil, then reduce heat to low and cover. Simmer for at least 20 minutes, stirring occasionally. When the polenta thickens and is tender to the bite but not mushy, add butter, cheese and thyme, if desired, plus salt to taste. If it seems too thick, stir in additional water a little at a time.
This polenta can also be made ahead and poured into a pie plate or baking dish and refrigerated until it sets, then cut into sections and fried or grilled.
Sign up for Adrian's PDX Whole Grain Bakers Guild newsletter to buy grains, flours and beans. Read Anthony Boutard's series of Farm Bulletins to learn about his methods and practices.
Posted on January 10, 2023