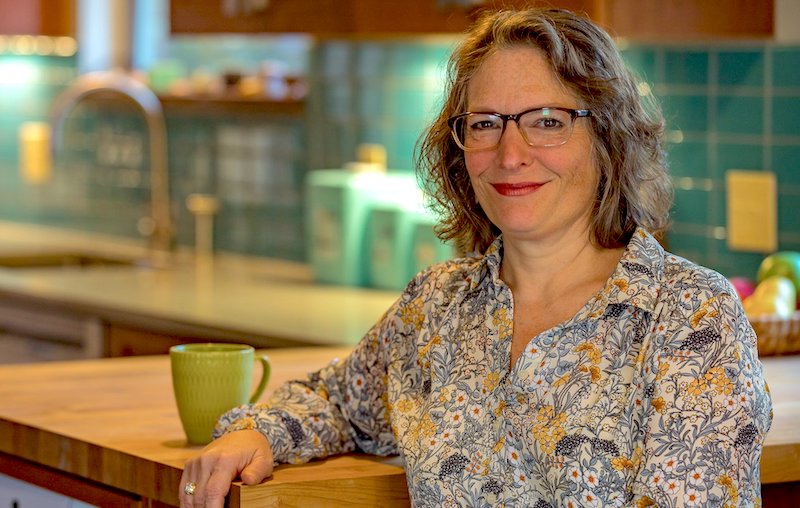 Cynthia Nims is a prolific author. The list of books she's written would take up most of the space in the cupboard I've dedicated to my whole cookbook collection—don't ask where I keep the stacks of other cookbooks that have yet to be shelved. In total, her work is a comprehensive overview of the bounty we Northwesterners enjoy, a celebration of the seasonal riches harvested from our rivers, our forests and our oceans.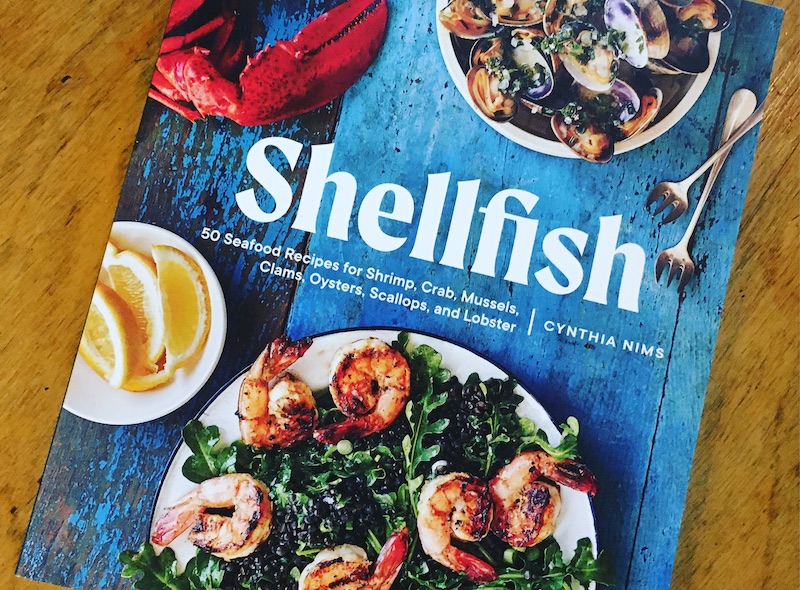 There are Nims' recent single-subject seafood books, including Crab, Oysters and her latest, Shellfish. Then there are the Northwest Cookbooks e-book series (Crab, Salmon, Wild Mushrooms, Appetizers, Breakfast, Main Courses, Soups, and Salads & Sandwiches); plus the dear-to-her-heart Salty Snacks and Gourmet Game Night. Personal note: I've been angling to visit Nims in Seattle to get a tour (and maybe a taste) at her period-perfect Lava Lounge where she spins recordings—only vinyl, my dear, please—serves cocktails and runs a board game emporium for friends.
Like many of us in the food writing world, it wasn't her automatic career choice:
"Cooking has been under my skin for as long as I can remember, inspired by the sheer pleasure of cooking with my mom and big sister. I mastered the canned-pear-half-with-cottage-cheese-tail bunny salad, subscribed to Seventeen magazine for the recipes, and had my high school third-year French class over for dinner, which included a soupe à l'oignon that began with beef stock made a couple days prior."
A math degree with an eye toward becoming an engineer was scuttled after Nims attended the stagiaire program at La Varenne, which culminated in receiving the school's Grand Diplôme d'Etudes Culinaires. She's cooked for Julia Child and the Flying Karamzov Brothers, beginning her immersion in the subject of seafood, appropriately, at Simply Seafood magazine. Nims has taught classes and co-authored, edited and contributed to dozens of publications, including the highly lauded series Modernist Cuisine.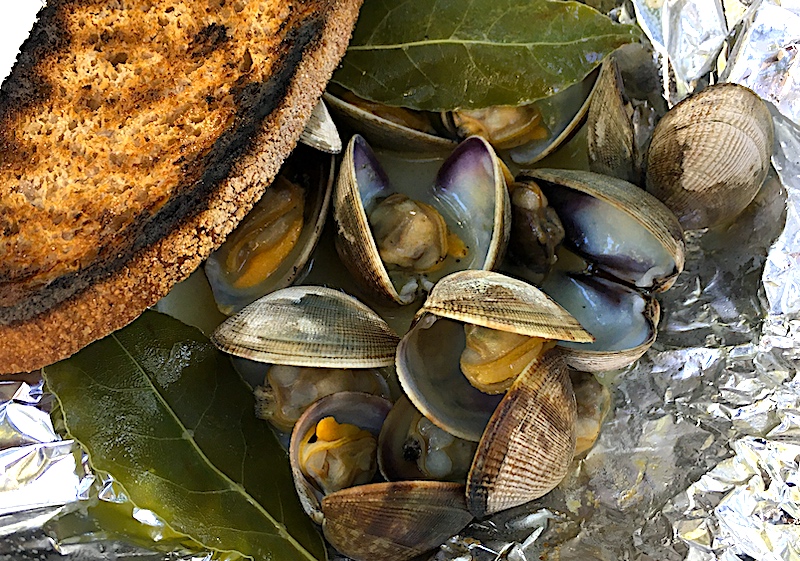 You can meet this culinary wonder woman this weekend at two events in Portland where she's bringing her new book, Shellfish: 50 Seafood Recipes for Shrimp, Crab, Mussels, Clams, Oysters, Scallops, and Lobster, to Flying Fish on Saturday, July 23rd, from 1 to 3 p.m. Nims will be in the Chef Shack alongside Chef Trever Gilbert, who's featuring the book's Harissa Roasted Shrimp, Carrots and Radishes. Then she'll be demo-ing a couple of recipes at Vivienne Kitchen and Pantry—in their Secret Bar, no less—on Sunday, July 24th, from 3 to 5 p.m.
If you want to get a taste of just how fabulous this book is, try her simple (and seriously divine) Grilled Clam Pouches with Bay Leaf and Butter (photo above right). I made them just last night and after his first bite, Dave said, "This is going on the list for camping."
Grilled Clam Pouches with Bay Leaf and Butter
Fresh bay leaves really stand out in the preparation; dried leaves won't offer as much fragrant flavor. A rosemary or thyme sprig in each packet, or a couple of fresh sage leaves, can be used in place of fresh bay. And you can't go wrong with just buttter and clams on the grill, either. I use 12-inch wide aluminum foil; you can use larger and/or heavy duty foil if you like.
The packets make a good serving vessel perched on a plate for casual dining. You can instead transfer the clams and buttery cooking juices to shallow bowls. These lighter portions are ideal as an appetizer, followed perhaps by other items destined for the grill while it's hot.
Makes 4 servings.
2 lbs. small to medium live hard-shell clams, well-rinsed
4 Tbsp. unsalted butter, divided
8 fresh bay leaves, divided
Sliced baguette or other bread, for serving
Preheat an outdoor grill for medium-high direct heat.
Cut 8 pieces aluminum foil about 12 inches long and arrange them on the counter stacked in pairs for making 4 packets.
Put 1 tablespoon of butter in the center of each foil packet. Fold or tear each bay leaf in half which helps release its aromattic character, and put 2 leaves on or alongside the butter for each packet. Divide the clams evenly among the pouches, mounding them on top of the butter and bay and leaving a few inches of foil all around.
Draw the four corners of the foil up over the clams to meet in the center and crimp together along the edges, where the sides of the foil meet, so the packet is well-sealed. The goal is to create pouches that will hold in the steam for cooking and preserve the flavorful cooking juices that result.
Set the foil packets on the grill, cover, and cook for about 10 to 12 minutes for small clams, 12 to 15 minutes for medium. Partly open a packet to see if all the clams have opened, being careful to avoid the escaping steam; if not, reseal and cook for another 2 to 3 minutes.
Set each pouch on an individual plate and fold down the foil edges, creating a rustic bowl of sorts to hold the flavorful cooking liquids. Or carefully transfer the contents to shallow bowls. Serve right away, with bread alongside, discarding any clams that did not open.
NOTE: This recipe works well in the oven, too. Preheat the oven to 475 degrees F. Use a broad, shallow vessel, such as a large cast-iron skillet or a 12-inch gratin dish or similar baking dish. Add the butter pieces and bay leaves to the dish and put in the oven until the butter has melted. Take the dish from the oven, add the clams in a relatively even layer, and return the dish to the oven. Roast until all, or mostly all, of the clams have opened, 12 to 15 minutes. Spoon the clams into individual shallow bowls, discarding any that did not open, then carefully pour the buttery cooking liquids over the top.
Posted on July 20, 2022