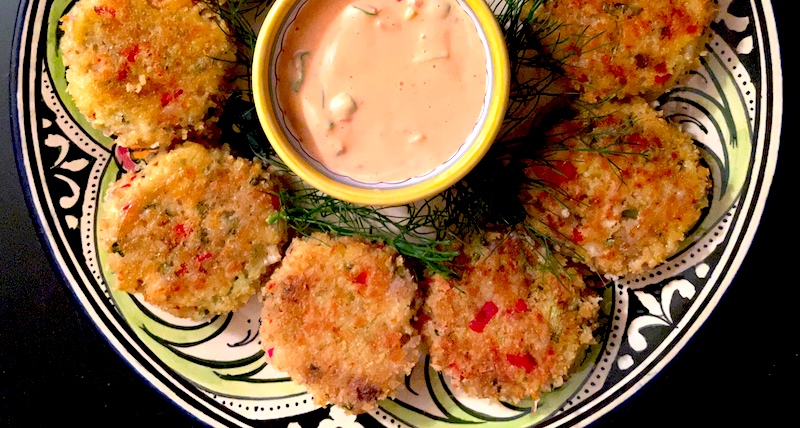 I'm telling you, if you're like me, that is, a budget-conscious cook who loves to squeeze the most out of your food dollar at the same time as making some of the most delicious food you've ever had, look no further than the neck. Whether it's beef, pork or fish, necks—or collars in the case of fish—make for some of the best eating around.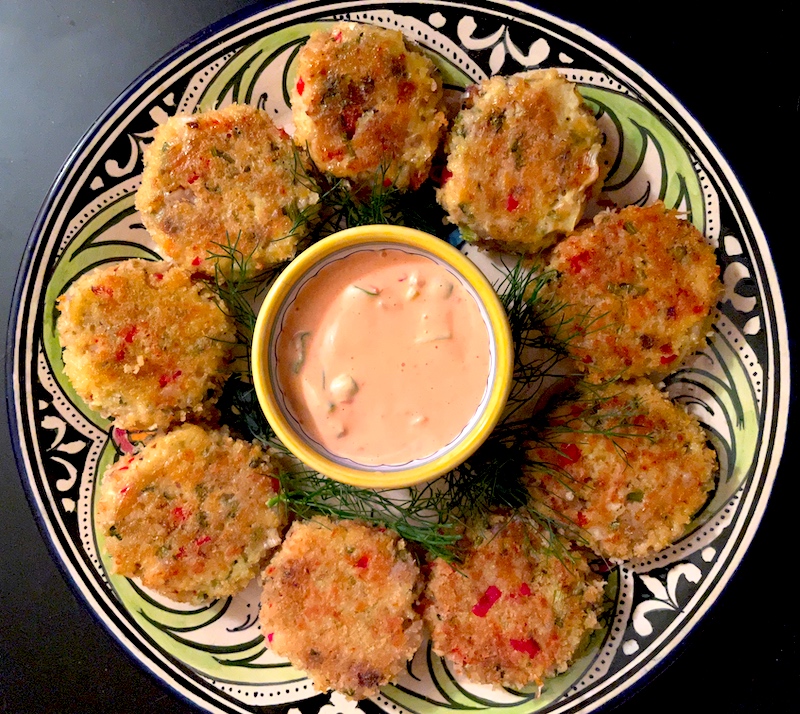 Lately I've found some mighty meaty collars, almost like a fish steak with wings, at Two X Sea (Two by Sea), the sustainable fishmonger inside Providore Fine Foods on NE Sandy. Manager Lauren Vanatter never looks askance when I oooh and aaah and point at the ones I want, so when I saw three hefty sablefish collars staring back at me (along with a couple of big ol' fish heads) I had her wrap them up pronto.
With no plans for dinner and some peppers from our CSA sitting in the veg bin, fish cakes seemed like a quick solution. I slapped the collars on a sheet pan and roasted them for 20 minutes at 375 degrees, let them cool for a few minutes, then pulled the meat off the bones, putting the pile of skin and bones in a pot and covering them with water for stock. (Two birds! One stone!)
A little chopping, a little mixing, a little forming, and they were ready to pop in the oven. Drop dead delicious, and so easy!
Thai-ish Fish Cakes
Yield: A dozen small crab cakes
For the cakes:
1 to 1 1/2 lbs. cooked fish meat
1/2 red bell pepper, minced
1/4 c. minced red or green onion
1 serrano pepper, finely minced
2-4 Tbsp. cilantro, minced
1/4 c. bread crumbs
1/4 c. grated parmesan
Zest of 1 lime
1 tsp. fish sauce
Juice of 1 lime (approx. 2 Tbsp.)
1 egg
For the crumb coating:
1 c. bread crumbs, preferably Panko style
1/4 c. grated parmesan
For the sriracha sauce:
1 c. mayonnaise
3-4 Tbsp. sriracha sauce (or to taste)
2 Tbsp. finely sliced green onions
Preheat oven to 350°.
Combine crumbs and parmesan and spread out on a plate.
In a medium-sized mixing bowl combine fish meat, peppers, onions, cilantro, bread crumbs, parmesan, lime juice and fish sauce. In a small mixing bowl whisk together the lime juice and egg. Add to the fish mixture and stir.
Line a baking sheet with parchment paper.
Scoop up about 1/4 cup of fish mixture and form into a plump cake about 2-inches in diameter (approx. 1" high). Compress so cake holds together. Gently sit cake in crumb mixture to coat bottom and sprinkle crumbs over top to coat—don't flip the cake or it will fall apart. Gently compress cake between your hands to meld crumbs to the crab cake. (Keep cake plump; don't flatten.)
Set each formed cake on lined baking sheet. When all cakes are formed, place sheet in the refrigerator for at least 15 minutes.
While the cakes chill, combine mayonnaise, sriracha and green onions in a small bowl. Serve alongside cakes.
Remove sheet pan from the refrigerator and place on middle shelf of the oven. Bake until golden brown, about 20-30 minutes.
NOTE: Adding some grated coconut and fresh mint or basil to the fish mixture is also delicious. This recipe is fabulous with crab, too!
Posted on October 2, 2022