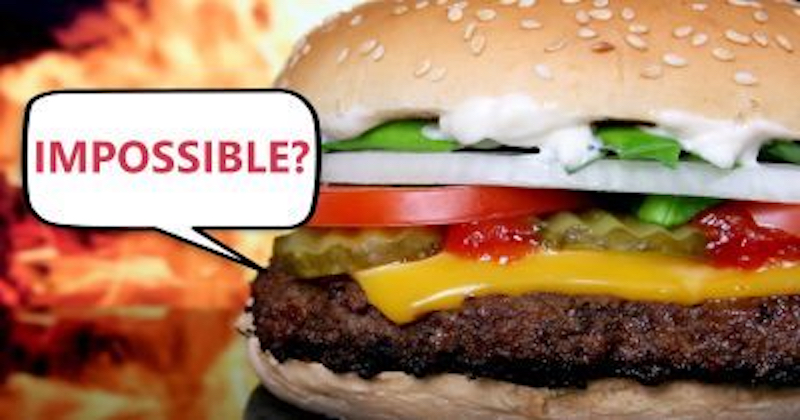 A couple of articles have come across my radar lately that are worth noting, and they fit in with some conversations I've been having, both casually and work-wise. Those conversations have to do with genetically modified organisms (GMOs), laboratory-produced synthetic meat products—the industry likes the hygenic "clean meat" label because it doesn't have the "dirty" association with farms and killing animals for food—and glyphosate, the active ingredient in the pesticide Roundup made by Monsanto, which has been found guilty of causing plaintiffs' cancers in three recent trials, as well as being labeled a carcinogen by the state of California.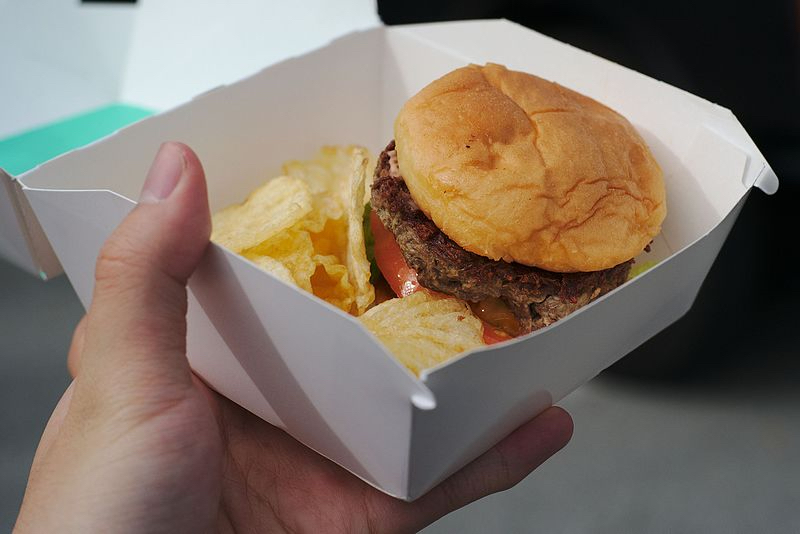 The articles involve the Impossible Burger, which its manufacturer enthusiastically lauds as "making meat using plants, so that we never have to use animals again. That way, we can eat all the meat we want, for as long as we want. And save the best planet in the known universe." It claims to taste just like meat, too, and to "bleed" (i.e. leak juices) when cooked just like a normal hamburger.
All this good news has the tech-bros in Silicon Valley and the VC dudes weak in the knees and climbing over each other to finance products that can be industrially manufactured by the zillions and sold to a public clamoring for healthy, climate-friendly, humanely produced food.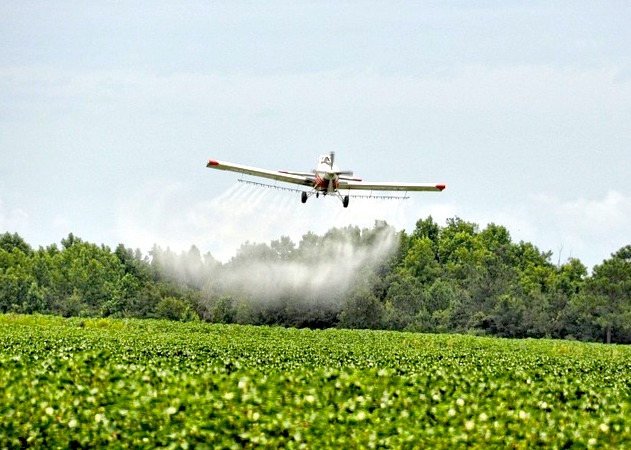 What the manufacturer, Impossible Foods, has neglected to say amid all this hoopla is that the soy proteins used in its burgers are derived from soybeans that were genetically modified to resist applications of Monsanto's Roundup—sold as "Roundup Ready" seeds—that is used to kill weeds that might compete with the soy plants in the field and/or impede harvest. Roundup is also sprayed on fields just before harvest to dessicate, or dry out, the soy plants before harvest.
The organization Moms Across America, with a mission to educate the public about the dangers of GMOs and toxins in the food supply, recently published an article titled "GMO Impossible Burger Positive for Carcinogenic Glyphosate" that describes tests done by Health Research Institute Laboratories showing that the levels of glyphosate detected in the Impossible burger "were 11 times higher than the Beyond Meat burger [a competing lab-produced product]. The total result (glyphosate and its break down AMPA) was 11.3 parts per billion (ppb). Moms Across America also tested the Beyond Meat Burger and the results were 1 ppb.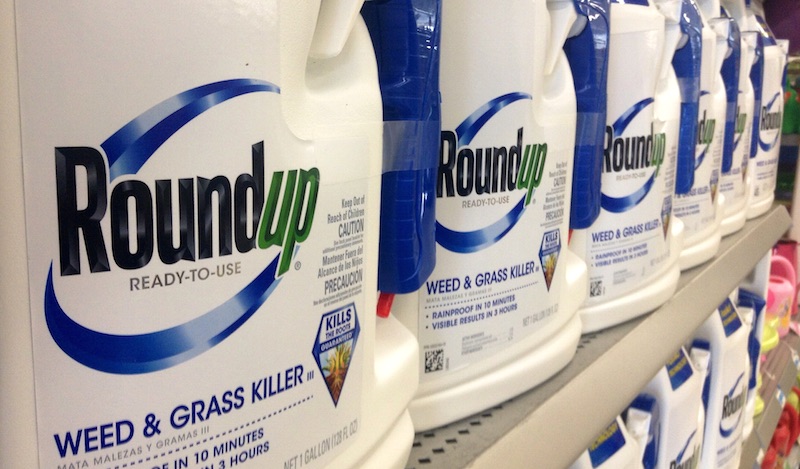 "This new product is being marketed as a solution for 'healthy' eating, when in fact 11 ppb of glyphosate herbicide consumption can be highly dangerous," according to Zen Honeycutt, the founder of Moms Across America. "Only 0.1 ppb of glyphosate has been shown to alter the gene function of over 4000 genes in the livers, kidneys and cause severe organ damage in rats."
It must be noted here that almost no mention is made of agricultural workers and the dangers they and their children face from exposure to this toxic pesticide, which can cause damage during pregnancy and developmental delays in addition to causing cancer and other health issues.
The article goes on to list the ingredients in the Impossible Burger, which it says could contain as much as 80 percent genetically modified ingredients like sunflower oil, potato protein, yeast extract, cultured dextrose, modified food starch and many others in addition to the soy protein.
Another problem with the soy protein in the Impossible Burger is described in an article from the Organic Consumers Association. It states that "in the messy world of soy studies, where 'soy' can be defined as almost anything with soy in it, there are just as many studies showing no or only marginal benefits, and in some cases, potential for harm" from diets high in soy. Contrary to the beneficial reputation of fermented soy products like tofu or miso, these highly processed soy proteins are made from defatted soybean flakes that have been washed in either alcohol or water to remove the sugars and dietary fiber. "Alcohol is the most common process, as it produces products with a neutral taste. But the beneficial isoflavones in soy are removed by this method. Soy protein concentrate has the lowest level of healthful isoflavones—including daidzein, genistein and glycitein—of any form of processed soy."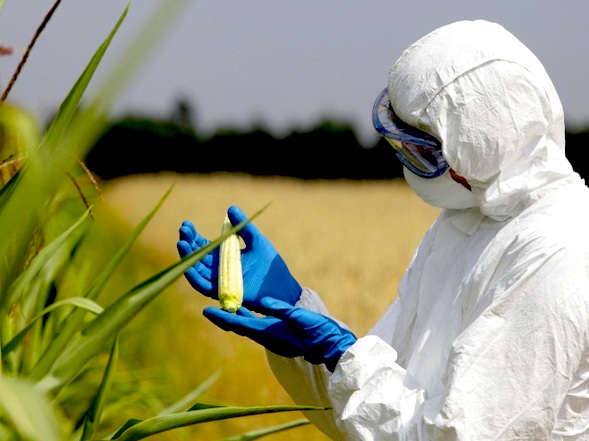 But the biotech industry isn't taking all this lying down. An article describing the steps manufacturers are taking to undermine media reports states that "the biotech industry is particularly focused on taming controversies surrounding GMOs and the chemicals that are used on genetically modified crops, including Monsanto's weedkiller glyphosate. The world's most widely used herbicide, glyphosate is critical for the successful cultivation of GMO corn and soybeans. A recent study found that the chemical's use by farmers has jumped fifteen-fold since 1996.
"One tactic industry allies employ to discredit questions about GMOs is to narrow the discussion to food safety. Pro-GMO scientists and writers mock experts and critics, by portraying them as loonies who think eating a bag of corn chips is akin to ingesting a bottle of arsenic. But this is a misleading line of attack, since GMO concerns are wide-ranging, including how well they are tested for safety, their impact on agriculture and the ecosystem, and the toxicity of glyphosate."
The article quotes author Michael Pollan as saying, "The industry's PR campaign to reframe the GMO debate and intimidate journalists through harassment and name-calling has been remarkably successful in my view."
It remains to be seen if the recent guilty verdicts have any effect on people's willingness to subject not just themselves, their children and their pets to these pesticides, but their communities and the air, water and climate that we all depend on.
Photo of boxed burger from Wikipedia.
Posted on May 24, 2019