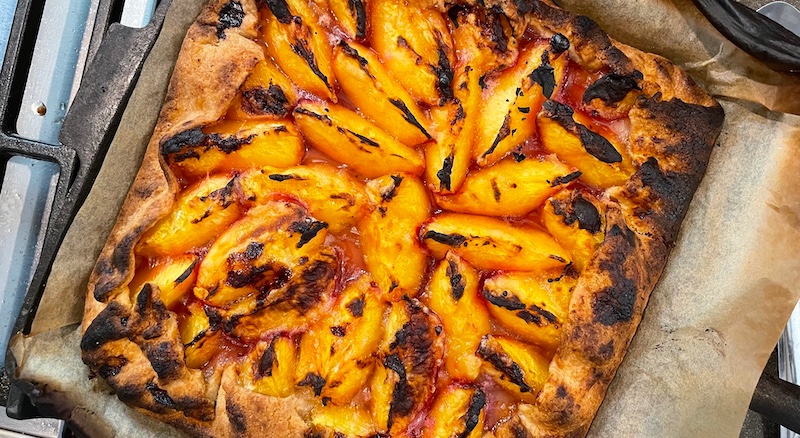 There's a new member of the family I've been meaning to introduce, and now seems like the perfect time. And no, we didn't add another Cardigan to our two-dog herd, much to Kitty and Silas's relief.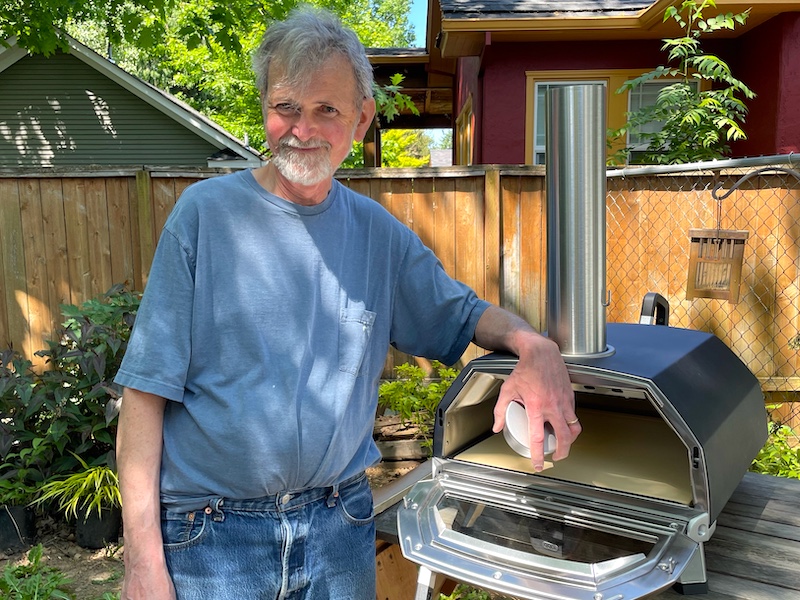 A few months ago Dave mentioned that a gas and wood-burning pizza oven he'd been eyeing was on sale. Not cheap, but on sale. Now you have to know that he's been talking about wood ovens and reading books on them for years—at least a decade or more—from building a cob oven to constructing a brick oven to buying one of the newer portable pizza ovens made by companies like Ooni and Roccbox.
Several friends we know have invested in them, with varying degrees of satisfaction. Most are okay for pizzas, but what Dave wanted was an oven he could use for baking, in particular one that would be big enough to fit the cast iron lidded cooking pots he uses for baking his sourdough bread.
The idea was to make it feasible to bake bread in the summer, since running the oven at 500 degrees for several hours had a tendency to heat up the house to Mojave Desert levels. Plus I wanted to be able to use the oven's residual heat for roasting squash or braising meats once the bread was baked.
Oh, and it had to be one that wouldn't break our fairly limited budget. Good luck, right?
It turned out that Ooni had just come out with its Ooni Karu 16" Multi-Fuel oven that ticked all those boxes. And while it would cost several hundred dollars, the price was less that what we had estimated for the fire bricks to build our own. So I convinced him to put in an order, and it arrived a couple of weeks later.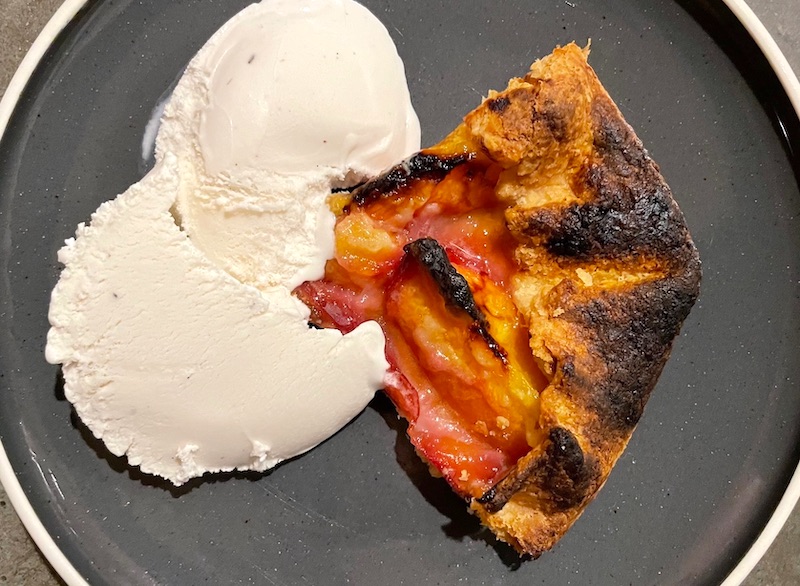 Since then he's been baking bread, of course, but also making galettes, cinnamon rolls, biscuits and, yes, pizza, too. I've been roasting squash, making platters of roasted vegetables from our CSA, and roasting meat for stock—the Ooni's ceramic floor fits a full-sized sheet pan. It holds the heat quite well and it's easy to stoke the fire if the temperature starts dropping.
All in all, we're looking forward to more adventures with our new family member, like the nectarine galette below that Dave made last week. I've included the instructions for baking it in the oven, but using the wood-fired option in the Ooni is almost as simple.
Nectarine Galette
For the pastry:
1 1/2 c. all-purpose flour
1 1/2 tsp. sugar
1/4 tsp. salt
1 stick plus 2 tablespoons cold unsalted butter, cut into small pieces
1/3 c. ice water
For the filling:
1 1/2 lbs. nectarines (Dave used 5 medium-sized nectarines)
2 Tbsp. flour
1/4 c. sugar
Pinch of salt
Preheat the oven to 400°.
In a food processor, combine the flour with the sugar, salt and butter and process for about 5 seconds. Sprinkle the ice water over the flour mixture and process until the pastry just begins to come together, about 10 seconds; you should still be able to see small pieces of butter in it. Transfer the pastry to a work surface, gather it together and pat into a disk. Wrap the pastry in plastic or wax paper and refrigerate until chilled, about one hour. (You can also roll out the pastry and use it right away or make it ahead and refrigerate overnight.)
Cut nectarines in half and remove pits. Cut each half into thirds. Set aside.
On a lightly floured work surface, roll out the pastry to a 12-13"" square and transfer to a large parchment-lined baking sheet.
In a medium-sized bowl mix together flour, sugar and salt. Add nectarines and toss to coat. Arrange coated nectarine slices skin side down and close together onto the rolled-out crust, leaving about 1 1/2" border around the edges. Carefully fold and pinch the edges up around the nectarines.
Bake the galette for about 35-45 minutes, until the pastry is nicely browned and crisp and the nectarines are tender. Transfer to a rack and let the galette cool. Serve warm or at room temperature, with ice cream if you like.
Posted on August 27, 2023