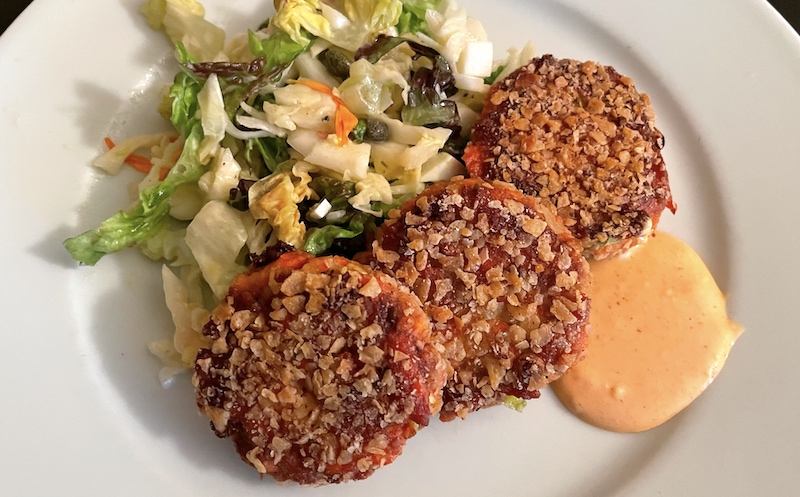 This is the time of year when the fishing is good, for Oregon's fishing families and fishing communities, as well as for shoppers looking for a great deal on some of our most treasured local food. So when I saw that whole sockeye salmon was on sale at our local supermarket for a fraction of its usual price, I called and pre-ordered two fish.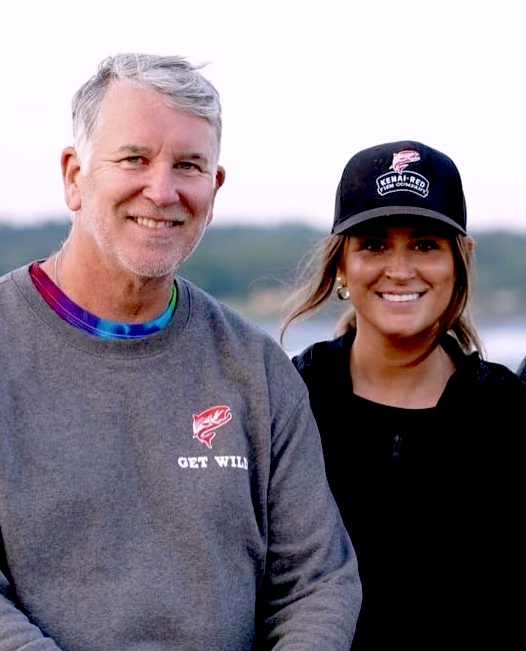 I was even more excited when I found out that my fish was brought to us by Portland-based Kenai Red Fish Company, founded by father-daughter team Clint Benson and Allison Jones. Kenai Red is dedicated to responsible fishing practices and a transparent and direct supply chain starting in the waters of Alaska's Cook Inlet, to its processing plant in Ninilchik, Alaska, to its Community Supported Fishery subscribers and its retail partners.
If you're tempted to order whole fish, you can have the store filet it (usually at no charge), but be sure to ask for the head and bones to be included. After all, you're paying for them, too. There's good meat left from the fileting process that's easy to strip off the bones after they're roasted, and then the stripped bones can be dropped into a pot of water and simmered for stock. (See my guide to buying, freezing and using whole fish.)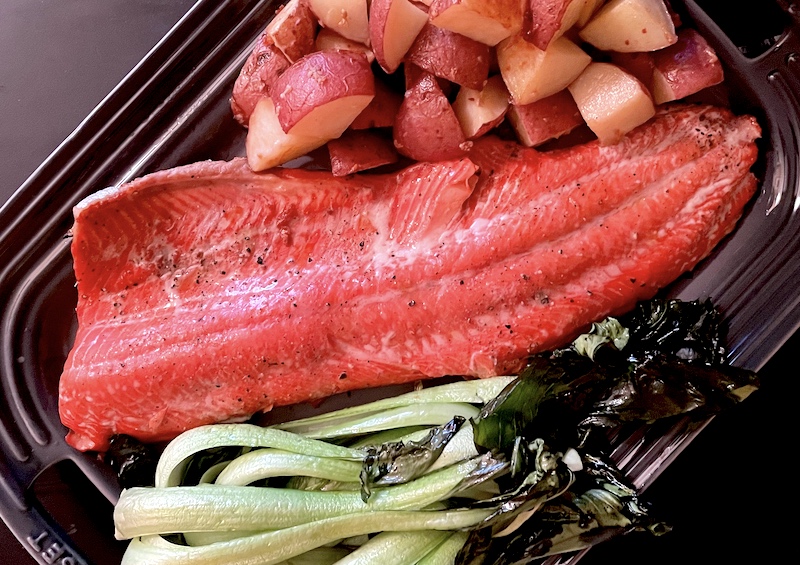 After bagging and freezing three of the four gorgeous, deep pink filets for later in the summer, Dave claimed the last one for grilling that evening with roasted potatoes and grilled bok choy (left). I roasted the bones for a half hour at the same time as the potatoes, then stripped the meat—almost a pound!—for salmon cakes. The cooked (or any leftover) meat can also be used in salads, quiches, chowder, omelets, schmear…whatever strikes your fancy. The stock is my secret ingredient for a rich paella on the grill, and fish soups or chowders are always deepened by its presence.
The recipe for salmon cakes below is based on one from my friend Hank Shaw—who literally wrote the definitive book on catching and cooking fish in his Hook, Line and Supper—via his pal Bryan Voltaggio's recipe for Maryland crab cakes. I substituted the cooked salmon for raw, and also used David Leite's recipe for homemade Old Bay-style seasoning mix, then made a quick sriracha mayonnaise to go with it (top photo).
Alongside a simple slaw, it's definitely a keeper, and one that'll adapt for almost any fish or crab.
Sockeye Salmon Cakes
1 lb. cooked salmon
1/3 c. salted crackers like Saltines, crushed in a processor
3 green onions, finely sliced
1/4 c. mayonnaise
1 egg
1/2 tsp. sriracha or other hot sauce
2 tsp. Old Bay seasoning
1 tsp. Worcestershire sauce
1 tsp. dry mustard
1/2 c. extra crushed crackers, crushed tortilla chips or panko, for coating
1/4 tsp. crushed red pepper flakes
3 Tbsp. canola oil
In a large bowl, mix together all ingredients except for extra crushed crackers and the canola oil.
In a cake pan or other rimmed pan, mix crushed crackers (or whatever crumb coating you're using) and red pepper flakes.
Gently mold the fish mixture into small cakes about 2-3" in diameter and 1/2" high, and gently place in pan of coating mixture, patting quickly to embed the mixture and flip to coat other side.
Heat oil in a large skillet over medium heat until it shimmers. Carefully place fish cakes, in batches, in pan and fry until browned, about four to five minutes. Flip cakes and fry on other side until golden brown, about four minutes. Serve warm.
Posted on July 11, 2023