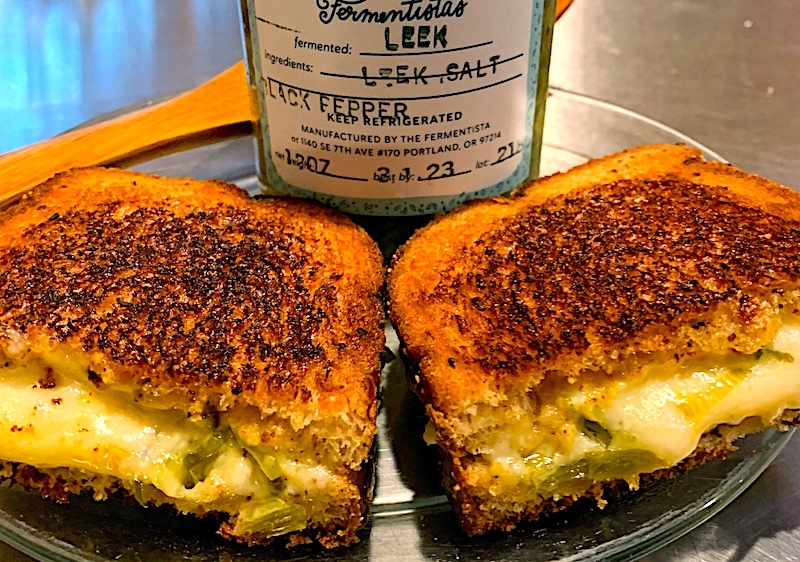 I had another one of those slap-my-forehead moments when I was reading Ginger Rapport's weekly newsletter from the Beaverton Farmers Market. As Market Master—I love that title—it's part of her job to not only recruit, interview and decide on vendors, but to test their products as well. This week she sampled a fermented product from Sarah Pesout of The Fermentista, putting it in a grilled cheese sandwich which she—like me—had never even thought of.
Grilled cheese sandwiches are a go-to favorite for most meals because they are easy, delicious and highly customizable. Over the years we have seen dozens—maybe hundreds—of combinations of bread, condiments, cheese and add-ins, all resulting in a gooey tasty sandwich. However, we have to confess that it never occurred to us to use sauerkraut as a solo add-in until we saw a recipe for a grilled cheese with sauerkraut and Dijon sandwich from Umami Girl.
When we think of sauerkraut on a sandwich, most of us think of the classic Reuben which is made with corned beef, sauerkraut and Swiss cheese on rye bread slathered with Russian dressing. The sauerkraut acts as a counterbalance to the richness of the cheese, meat and dressing, much the way pickles do on other types of sandwiches.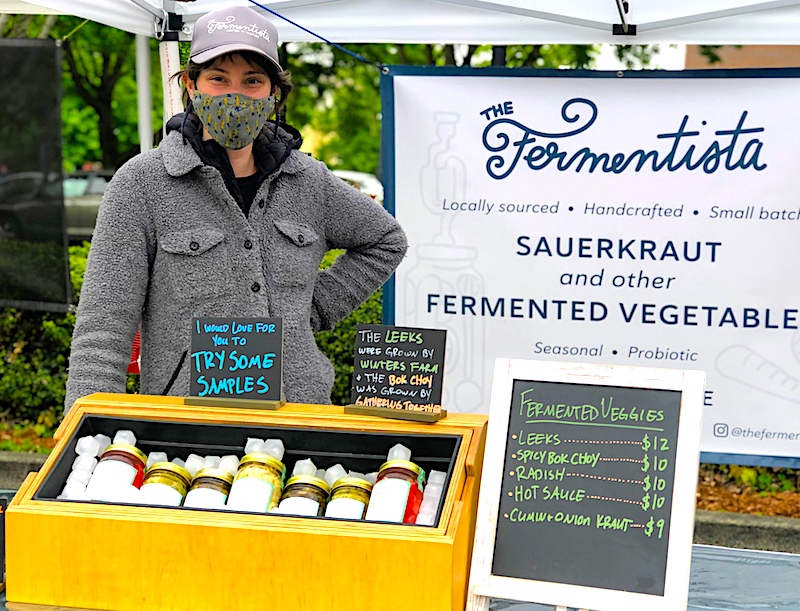 The sharp fresh taste of the kraut helps cut through the rich fat of the cheese, making for a more balanced bite. This is especially true if you are using aged or sharp cheeses with a lot of flavor and fat. Once the idea of adding sauerkraut to a grilled cheese made sense to us, the next question was, what kind of sauerkraut do we use? So we turned to the market's expert on the subject, Sarah Pesout, owner and chef of The Fermentista.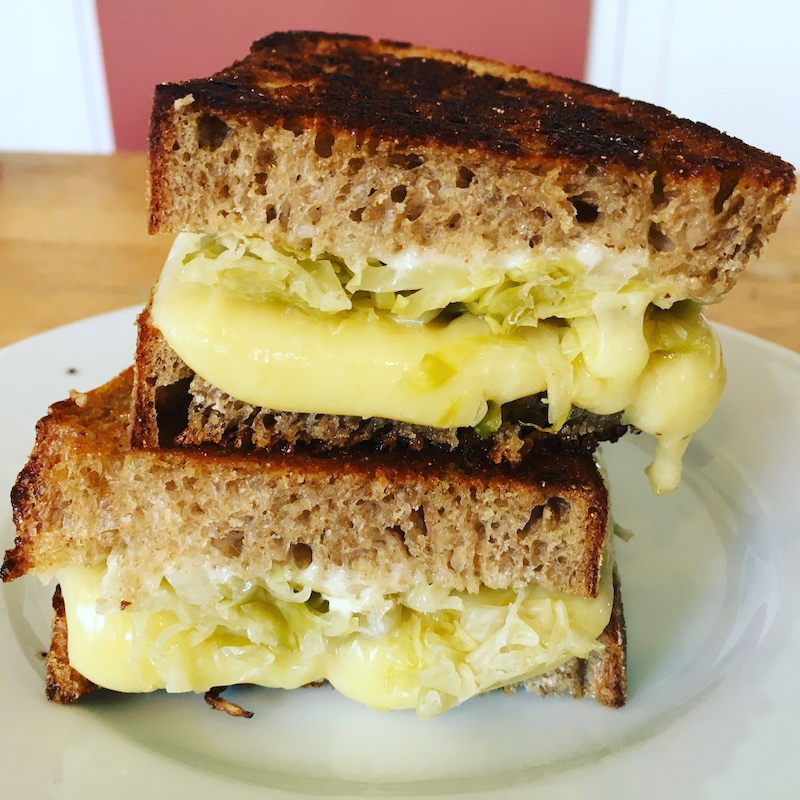 Sarah specializes in fermented vegetables from sauerkraut to salsa. Fermenting gives food a sour flavor without any added acid, which differs from pickling, which involves putting food into an acidic brine. Fermenting is a healthier and, in our opinion, tastier way to preserve vegetables such as cabbage. Sarah makes several delicious krauts so we asked for her recommendation. Market Master Ginger Rapport was leaning toward her Caraway Sauerkraut because she loves the hint of onion that Sarah adds to the mix. However she changed her mind at Sarah's urging and instead picked up a jar of Fermented Leeks with Black Pepper.
Sarah explained that the leeks, like pickled onions, are a perfect accompaniment to grilled cheese and wanted us to know that she and her assistant hand-cut every leek she uses. Despite the resulting tears shed by the duo, they are committed to finely shredding the leeks by hand to avoid bruising and mangling of the otherwise sturdy allium. The final result is a product that is crunchy but not tough, full of flavor but not overpowering, and is a perfect match for a sharp cheddar and fontina grilled cheese on Jewish rye bread with Dijon mustard.
Note: In Ginger's first sandwich she was very conservative with the leeks, not knowing what to expect. They were surprisingly gentle so she was much more generous with them in subsequent sandwiches and they were a big hit with her family.
The Beaverton Farmers Market one of the generous sponsors of Good Stuff NW. Top photo and middle photo by Beaverton Farmers Market. Bottom left photo of the sandwich I made with my husband's fabulous sourdough, organic sharp cheddar and my homemade sauerkraut!
Posted on March 24, 2022