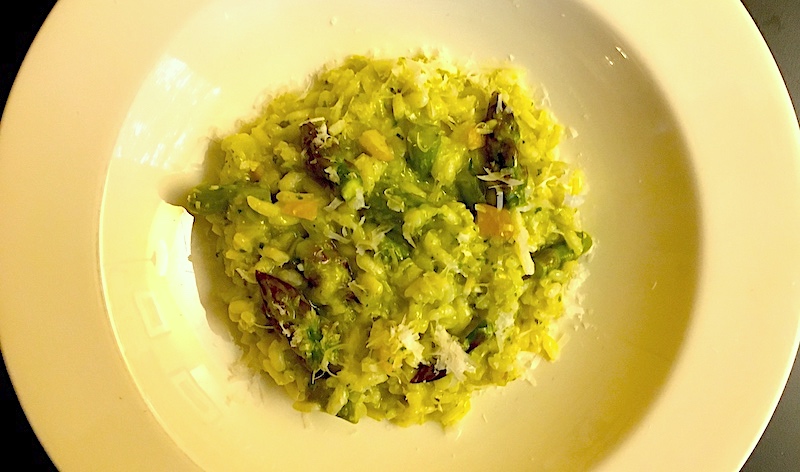 Author's Note: First of all, apologies for not posting for so long…having a new puppy will do that to a schedule! Waking up an hour earlier every day, taking the youngster outside every hour for potty breaks, plus the exercise it takes to tire out a nine-month-old—fortunately we've found out he loves to play soccer—has filled up our days but limited my writing time. (And we wouldn't trade the experience for the world!)
Plus it's spring! I've been seriously indulging in asparagus at every opportunity, mostly in the simplest way possible (puppy, remember?), that is, drizzled with olive oil and pan roasted in a 350° oven for 20 minutes, then served with a squirt of lemon. Heaven!
But when I've had that umpteen times and want to change it up a little, I'll make a risotto that does double duty as a main dish and veg…though if someone in your household happened to grill up some salmon or chicken to go alongside, that would be hard to turn down.
Asparagus Risotto with Sorrel Pesto and Preserved Lemon
For the pesto:
2 c. sorrel leaves (some peppery arugula or spinach would be fine, too)
2 c. cilantro or parsley
3 cloves garlic
1/4 c. pine nuts or filberts (aka hazelnuts)
1/2 c. olive oil
1/2 c. grated parmesan
For the risotto:
1 lb. asparagus, peeled, trimmed and cut into one-inch-long pieces, tips reserved

2 Tbsp. extra virgin olive oil

3 Tbsp. butter or margarine
1/2 onion, diced

1 Tbsp. garlic, finely chopped
2 c. arborio rice

1 c. white wine
4 c. chicken or vegetable stock
1/2 c. sorrel pesto

1/2 c. grated Parmesan cheese
1/2 c. preserved lemon, chopped (or zest of one lemon)
Salt to taste

To make the pesto, place the sorrel, cilantro, garlic and pine nuts in the bowl of a food processor. Begin processing while slowly adding the olive oil until the mixture is a smooth purée, scraping down as necessary with a spatula. Remove to a bowl and stir in the half cup of parmesan.
Clean the processor, then put half of the chopped asparagus stalks in the food processor and add just enough water to make a smooth purée; set aside.
Put stock in a medium saucepan over very low heat. Then, in a deep skillet or large saucepan, heat oil and butter over medium heat. When it is hot, add onion and garlic, stirring occasionally until it softens, 3 to 5 minutes.
Add rice and cook, stirring occasionally, until it is glossy, about 2 to 3 minutes. Add white wine, stir, and let liquid absorb into the rice. Add warmed stock, 1/2 cup or so at a time, stirring occasionally. Each time stock has just about absorbed into the rice, add more.
When you have used about half the stock, add the puréed asparagus and asparagus tips, then continue to add stock as necessary. In 5 minutes or so, begin tasting rice. You want it to be tender but with a bit of crunch; it could take as long as 30 minutes total to reach this stage. Add a half cup of the pesto, preserved lemon and parmesan and stir briskly, then remove from heat. Taste and adjust salt. (Risotto should be slightly soupy.) Serve immediately.
Posted on May 29, 2021