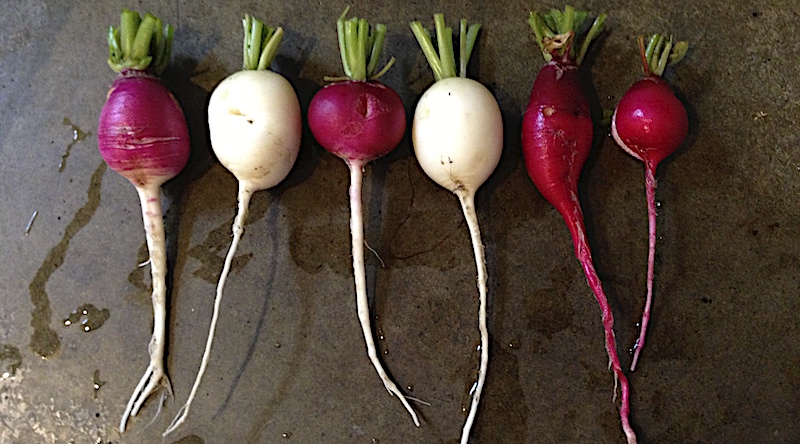 Radishes are coming on strong at the farmers' markets and in CSA shares. But just how many can you slice into salads, scatter on butter boards or scoop into a crock of creamy butter? The idea of roasting them was a revelation, one I'll be forever grateful to a long-forgotten writer for describing.
Dearest radish,
I want to like you. I really do. Your blushing cheeks, your round perfection. Your peppery bite that gives a spicy twist to every encounter.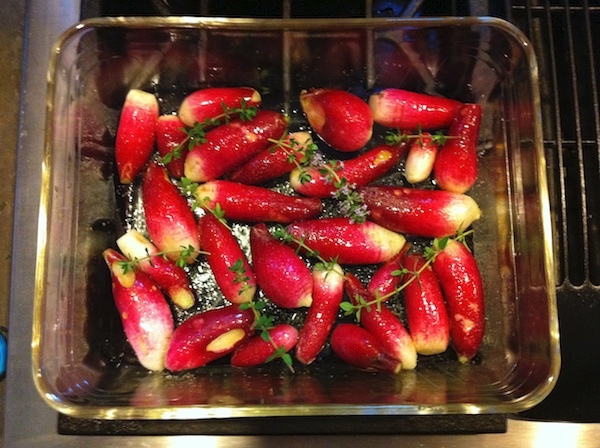 But there's that harsh edge to you that's always held me back. Though other people can't seem to get enough of you; so I keep thinking it's me, not you. After all, it just wouldn't be spring without seeing you out in the garden, the way you reliably pop out of the soil within a couple of days of poking your seeds in the ground.
Then I heard about a way to mellow out those rough edges, even make you slightly sweet without totally losing your crisp appeal. I think we may have a future together after all. How about it?
x's and o's,
Kathleen
Roasted Radishes with Pasta and Radish Greens Pesto
For the roasted radishes:
2 bunches radishes
Olive oil
Salt
Thyme sprigs
For the pesto pasta:
3 c. radish greens
1 c. Italian parsley
3 cloves garlic
1/4 c. pine nuts
1 tsp. salt
1/2-3/4 c. olive oil
1 c. parmesan, grated, plus more for sprinkling
1 lb. dried pasta
Preheat oven to 400°.
Separate greens from the radishes. Set the greens aside, rinse radishes, halving them if they're very large, and dry with a towel. Place in medium bowl and toss with enough olive oil to coat. Place in baking dish and sprinkle with salt and thyme sprigs. Roast in oven for 20-30 min. until skins are crinkled and radishes are tender when pierced with a fork.
While radishes roast, bring a pot of salted water to boil on the stove.
Rinse and dry greens. Put greens, parsley, garlic, pine nuts and salt in bowl of processor. Turn on processor and drizzle in olive oil, processing until mixture is smooth and slightly wet. Pour into medium mixing bowl and stir in cheese.
Cook pasta till al dente. Drain and mix in half of pesto or enough to generously coat pasta. Serve with roasted radishes alongside and extra parmesan for sprinkling.
Posted on June 19, 2023