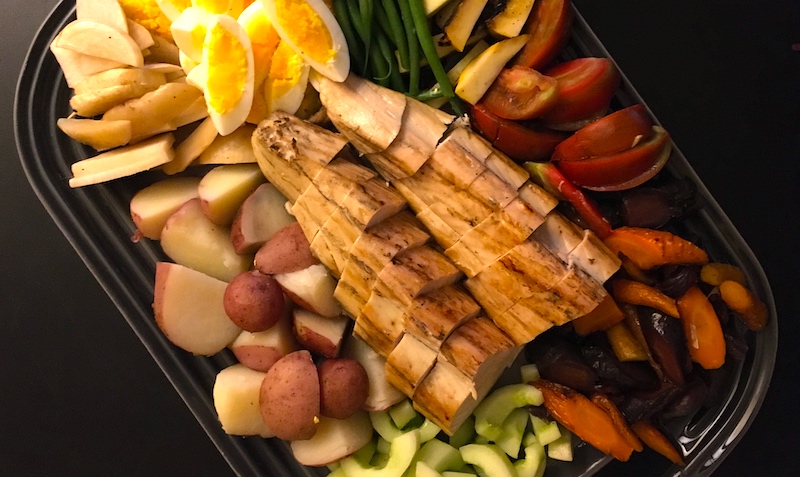 It's summer and the first line and troll-caught albacore of the season are being brought in by local fishing families right off our coast. Beans and cucumbers are being picked from their vines and potatoes and carrots are being pulled from the earth. Hens are laying eggs as if in competition with one another for the most prolific producer in the henhouse.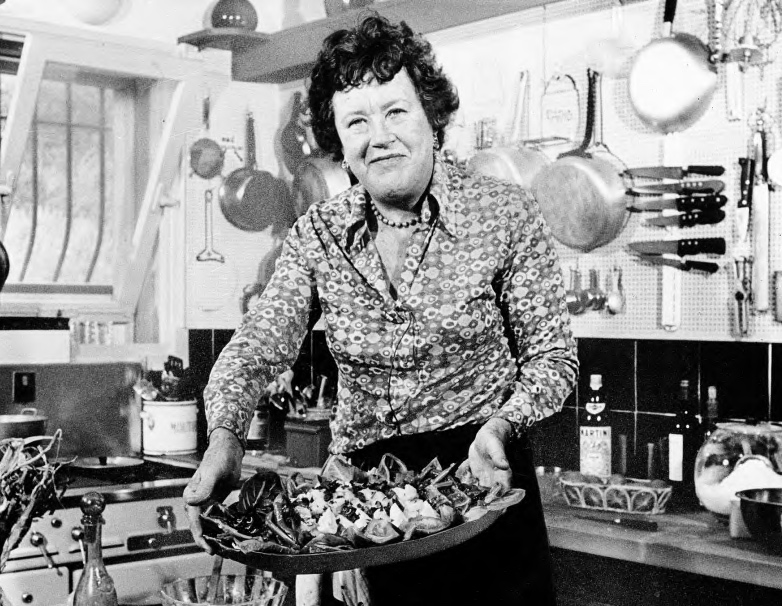 Summer also means temperatures are climbing, and the less time you have to spend sweating over the stove, the better. Which all adds up to a big platter of Salade Niçoise for dinner, one of the most satisfying summer meals I can imagine.
Or, as my hero Julia Child noted:
"A bountiful arrangement in bowl or platter is so handsome to behold that I think it a cruel shame to toss everything together into a big mess. A careful presentation means more work, but it's easily manageable when you ready each of the numerous ingredients separately, which you can do well ahead. Season each just before assembling and serving, and you will have the perfect Salade Niçoise."
The recipe below is a guide, since the ingredients of your salad will depend on what's available and in season, and amounts will vary depending on how many people are at your table. Ms. Child recommends a simple olive oil and lemon dressing, with or without garlic, but I like to add fresh chopped herbs and Dijon mustard, which I like to think Julia would approve of, too.
Oregon Salade Niçoise
For the dressing:
1/2 c. olive oil
1/4 c. lemon juice
1 Tbsp. Dijon mustard
1 medium clove garlic, crushed
1/4 c. chopped green herbs like tarragon, chives, parsley, lovage, oregano, etc.
Salt and pepper to taste
For the salad:
Oregon albacore loin
Green beans (whole haricot verts or sliced romano beans of any color)
Potatoes (red or yellow or fingerlings)
Hard-boiled eggs
Cucumbers, sliced
Tomatoes, in wedges
Roasted carrots, if you have them, or julienne and blanch raw carrots with the beans
To make the dressing, take any tightly lidded container (I often use an empty, clean salsa container, or a lidded glass jar), put all the ingredients into it, put on the lid and shake like the dickens over the sink, in case, as once happened, the lid wasn't as tight as I thought and I ended up dressing the kitchen instead of the salad. Give one last shake just before serving and pour into small pitcher for use at the table.
Slice and blanch the beans and julienned carrots until almost tender (this is a salad, after all). Quarter eggs and arrange with other ingredients around the albacore loin.
Sear the albacore loin over a hot fire on all three sides; check the interior temperature with an instant-read thermometer and pull it off the fire when the interior reaches 90 degrees; cover with aluminum foil until it's time to serve. Cut into 1-inch slices and lay on your platter.
Drizzle dressing over the salad ingredients or have each person serve themselves from the platter and dress their own salads to their liking.
Note: Feel free to add or subtract ingredients with whatever's in season and use any leftover roasted root vegetables or peppers and the like. However, be aware that Julia insisted it wasn't a Niçoise without tuna, tomatoes and potatoes. (Just so you know.)
Posted on July 27, 2021